Types of tent: 10 designs that offer something for every kind of outdoor adventure
We unzip and reveal 10 types of tent, consider the pros and cons of each design and decide which ones are best for different kinds of adventures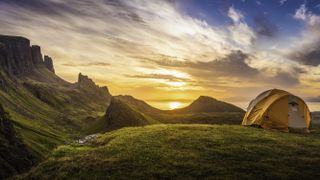 (Image credit: Getty)
With so many types of tent out there, which one should you invest in for your adventures? Whether you're off camping with the family, going to a festival was friends, or heading into the wilderness for a solo winter wild camp, getting the right type of tent is not something you want to get wrong.
To help you choose the best tents for the size of your group, your chosen style of adventure, and the conditions you'll be heading into, this guide will take you through all the ins and outs of the 10 standard types of tent on the market today.
When it comes to choosing the best camping tent for you, you've got to consider what kind of camper you are. This will equate to the type of shelter you require. From pop-up tents all the way through to large tents for camping families, we've detailed all the advantages and disadvantages of each shelter style.
If you're looking for a more in-depth explanation of the specific features and attributes to look for in a tent, check out our guide on how to choose a tent. We've also included our jargon buster, so that you know your hydrostatic heads from your double skins.
10 types of tent: an overview of each type
1. Bivy sack
These solo cocoons are super light, deconstruct into tiny, backpack-friendly packages, and can be very effective at providing protection from wind or rain. But there's virtually no room inside – you'll need to shuffle down as if you're slipping into a sleeping bag, and there's often no room inside for a large backpack. Bivy sacks are really for weight-weenies and fast-and-light expeditions only and vie with one-person tents.
2. A-frame ridge tent
This classic tent design (also known as a ridge tent) has the canvas suspended over a horizontal pole, creating a triangular shape with a wide base and pointy apex. The simple design makes them easy to pitch, and with guylines pegged out properly, the shape is stable and dry – there's nowhere for rainwater to pool, so it should race down the side of the tent.
However, the A-shape compromises head room, and it can be an art to place and tighten the guylines evenly to create a smooth-sided construction.
3. Dome tent
From small tents to family tents, the dome shape is the most commonly seen today. The design allows for both a light weight and reasonable headroom, while the use of flexible poles that criss-cross the centre bring automatic tension to the sides of the tent. It can take a bit of muscle to bend the poles into their webbing foot straps, especially for larger tents, and be careful – the lightweight poles can be damaged.
These tents typically have two layers – an inner (usually sewn to a waterproof groundsheet) and a flysheet, both of which are suspended from the arch of poles.
The design works very well for smaller, backpacking tents, but becomes less stable in high winds for larger family tents.
4. Geodesic tents
When the going gets tough, geodesic tents shoulder aside dome designs and stand square-jawed in the face of the elements.
Multiple poles criss-cross the frame of a geodesic tent, boosting its stability in the teeth of strong winds, while still offering the interior space and headroom of a dome tent.
The extra poles and robust construction mean geodesic tents tend to be heavier and more expensive than dome tents, but the higher up the mountain you venture and the farther you head into the wilderness, the more likely you are to see geodesic designs.
5. Pop-up tents
Popular with instant gratification crowds at festivals, instant or pop-up tents do exactly what they say on the tin – unzip their case and they uncoil, springing immediately into shape.
Even with pegging down the guylines, you're done and dusted in under a minute. The downside is that they tend to be flimsy, are not recommended for storms or monsoons, and can be tricky to collapse and fold back into their cases.
6. Inflatable tents
There's nothing more likely to cause problems on a family camping trip than an erection problem, which must make inflatable tents something of a Viagra of the camping world. The 'poles' of the tent are air chambers, inflated with a foot or electric (powered by a car's 12V cigarette lighter socket) pump. The tent takes shape as soon as the air chambers are full, and the design is remarkably stable; it's very popular for caravan and motorhome awnings, too.
The negatives are the weight of the tent – these are for car camping only – and the relatively high price, although the fabrics tend to be heavy and good quality. You may need to top-up the air chambers during your trip, too.
7. Bell tent / teepee
Suspended from a single, central pole, these large pyramid-shaped tents for couples and families provide excellent headroom and a large living/sleeping space, which makes them popular on permanent glamping sites, where they will often be built with a wooden floor. The impression of space given by their height can be misleading, however, because there's lots of 'lost' unusable space in the angle where the outer meets the ground. Bell tents and teepees are often made from satisfyingly thick cotton or canvas, which makes them heavy to carry. Nevertheless, the simplicity of the design makes them easy to pitch.
8.Tunnel tent
With a series of identical poles, tunnel tents are simple to pitch and score well on the bang-to-buck ratio of space to weight. They do, however, demand careful pegging out to avoid sags where rain might collect. They provide loads of liveable space, and often have zipped chambers inside to keep living and sleeping quarters separate. The typical tunnel tent's size – usually at least a four-person tent or larger – means they tend to be for car camping only.
9. Multi-room pod tent
Designed with family camping trips in mind, these modular tents let campers build extra full-height pods onto both the central 'atrium' and other pods. The primary advantage is that you can decide how much or how little tent to take on each trip, and create separate bedrooms for children and guests, as well as dedicated rooms for living and cooking, and even going to the toilet.
The downsides are the effort involved in pitching, the weight and volume of the tent in a car boot, and the sheer footprint on the campsite – some sites will levy extra fees for a large pod tent, or even set a maximum floor area.
10. Trailer tent
The big daddy of life under canvas, trailer tents are a hybrid between tent and caravan. Towed on a trailer behind a car, as their name suggests, they free up boot space and, more importantly, unfurl into major constructions. With no real weight restriction, trailer tents are spacious, roomy and strongly built, while usually adding the extra advantage of a sleeping platform raised off the ground for extra warmth, comfort and protection from muddy/sandy footwear.
Funkier options rise up from roof boxes to convert Land Rovers and pick-up trucks into overnight accommodation and are popular with drive safaris in Africa.
The downside is the inconvenience of towing, the need to find somewhere to stow the trailer between expeditions, and a hefty purchase price. It also helps to have a couple of people to pitch the tent.
Types of tent: jargon buster
Let's cut through the jargon so that when you talk about types of tent, you can also reel off sentences like: "Yeah, but when all is said and done, a dome tent is only as good as its Hydrostatic Head rating."
Groundsheet: A groundsheet is a fully waterproof piece of tarpaulin sewn to the rest of the tent that forms the floor of your shelter, separating you from the ground underneath. Many tents today have a bathtub style groundsheet, where the edges of the sheet come up at the sides, providing extra protection.
Single-skin tent: A single-skin tent only has one layer of protection between you and the elements, being made from a single layer of waterproof fabric.
Double-skin tent: A double-skin tent has two layers, a mesh inner tent that isn't usually waterproof and a waterproof outer tent, known as a flysheet. The space formed between the two layers helps to insulate the shelter and reduce condensation.
Flysheet: Also known as a rain fly, a flysheet is a waterproof fabric cover that is pitched outside and over the inner tent to form the outer tent, giving your shelter enhanced protection from the elements.
Hydrostatic Head: Hydrostatic Head (HH) is a measure of how waterproof your tent material is. The higher the HH rating is, the more water pressure your tent can withstand. So, a higher HH rating can cope with more rain and hopefully keep you dry.
But where does this rating come from? Well, imagine holding a vertical tube on top of your flysheet and slowly filling it with water. The pressure on the tent fabric would steadily build until eventually water would seep through. The HH rating is how much water is in that tube before this happens. Ratings start from 1,000 mm (the minimum legal requirement) and go up beyond 5,000 mm. A tent with a rating of 3,000 mm will keep you dry in most conditions.
Guy ropes: Also known as guy lines, guy ropes are cords that are attached to the outer tent and are used to stabilize your shelter by pulling them taut, in line with the seams of the tent, and pegging them into the ground.
All the latest inspiration, tips and guides to help you plan your next Advnture!
After spending a decade as editor of Country Walking, the UK's biggest-selling walking magazine, Jonathan moved to edit Outdoor Fitness magazine, adding adrenaline to his adventures and expeditions. He has hiked stages or completed all of the UK's national trails, but was once overtaken by three Smurfs, a cross-dressing Little Bo Peep, and a pair of Teletubbies on an ascent of Snowdon. (Turns out they were soldiers on a fundraising mission.)