What is the red light function on your headlamp for? (and why you should use it)
When you're camping or hiking in the dark, a red light function can help improve your nocturnal experience and may even save your life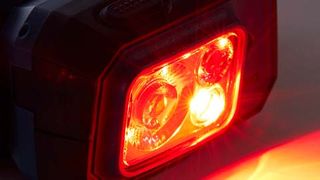 (Image credit: Black Diamond)
The best headlamps for hiking and camping aren't just comfortable and bright – they usually come with a surprising number of functions these days. If you've been using the same old headlamp for years that has a single white beam in high and low and two different tilts, you might be surprised to try a newer model like the Lighthouse elite LED Multifunction Headlight which has three different beam settings plus a red light and flashing red light function.
A red light is becoming increasingly common on headlamps for running, cycling and camping, but what is it for? Does it add special effects when you're up late scaring the kids with stories around the campfire? Is the flashing function for impromptu midnight raves? Well, yes, if you want, but it actually serves a number of other really useful purposes, from enhancing your nocturnal experiences outdoors to potentially saving your life. Read on to discover seven uses for the red light function on your headlamp.
1. Preserving night vision
The main reason for the red light function on your headlamp is that, compared to white light, it preserves your night vision. Basically, your eyes are less sensitive to red light than they are to white, so using a red light allows your eyes to better adjust to the dark while and after you're using it. This means that, while a long beam white light on high mode might let you see further down the trail in front of you, your peripheral vision will be diminished and of course, when you turn your headlamp off, you'll be temporarily blind.
You could use a lower beam, but using a headlamp with a decent red light function instead and you'll be able to see better peripherally, which could improve your safety when it comes to obstacles, wildlife and other other trail hazards, plus you won't need time to adjust when you turn it off.
There's also some argument here that using a white light when you're camping will inhibit the release of the sleep hormone melatonin, while using the red light before bed and for reading in your tent means that you'll drop off faster – and we all want more ways to get a good night's sleep at camp.
2. Not blinding your friends
You've probably been on the receiving end of getting a blinding blast of white light when an unthinking buddy is careening through the campsite on high beam late at night. The white light function on your headlamp doesn't just impair your own vision, it can dazzle your friends which is annoying and temporarily dangerous.
When you're on a late night hike, sitting round in your camping chairs chatting late into the night or moving around camp after your friends have gone to bed, turning your headlamp to red light is a much more sociable way to explore.
3. Deterring insects
Although mosquitos aren't attracted to white light, other insects can be, including midges, flies and even spiders, who know that light attracts other insects they prey on.
Keeping your campsite illuminated by your headlamp after dark may have the unwanted effect of drawing unwelcome visitors into your tent, which can result in lots of biting and scratching the following day. Keeping your headlamp switched to red can help reduce insects in your tent and campsite.
4. Stargazing
Because red light helps to preserve your night vision, it's the best mode for stargazing. Of course, if it's a very clear night and the moon is near full, you may not need any light at all for the actual gazing, but when you're on your way to your stargazing spot and while you're moving around, use only the red light function. I
It can take your eyes hours to totally adjust to the dark after being in bright light, so this can help them adapt faster and allow you a more beautiful stargazing experience.
5. Reducing light pollution
Light pollution is the term for excessive use of artificial light at night, which affects wildlife and the environment. While it's mostly associated with densely populated areas, even using your headlamps excessively when you're camping out in the backcountry could have an impact on the local insects, reptiles, mammals and birds. Keeping your white light to a minimum and relying more on red light can reduce the disruption caused by your presence to local wildlife.
6. Extending battery life
The red light function on your headlamp also preserves the battery life, so if you forgot to bring extra batteries or if you get lost, switch to red light as much as you safely can to keep your headlamp running longer.
7. Emergency scenarios
Speaking of getting lost, that red strobe light on your headlamp can seem a bit unnecessary, and hopefully you'll never have to use it, but it can provide an important safety function. If you are stranded or injured and awaiting rescue, a flashing red light function on your headlamp could be really useful to help mountain rescue or friends locate you in the dark.
All the latest inspiration, tips and guides to help you plan your next Advnture!
Julia Clarke is a staff writer for Advnture.com and the author of the book Restorative Yoga for Beginners. She loves to explore mountains on foot, bike, skis and belay and then recover on the the yoga mat. Julia graduated with a degree in journalism in 2004 and spent eight years working as a radio presenter in Kansas City, Vermont, Boston and New York City before discovering the joys of the Rocky Mountains. She then detoured west to Colorado and enjoyed 11 years teaching yoga in Vail before returning to her hometown of Glasgow, Scotland in 2020 to focus on family and writing.