What is cross training?
If you've heard about cross training but are unsure what it is, whether it's for you and how to get started, read this article to find out what's so great about cross training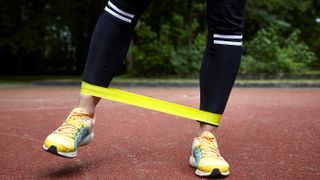 (Image credit: Getty images)
When it comes to athletic training, wisdom has long dictated that if you want to get better at something, you should do more of it. Want to run an ultra marathon? Spend more time in your trail running shoes. Want to finally nail that 5.11 at the crag? Get your harness on and climb.
In recent years, however, the focus for some has shifted from quantity to quality in training, and most athletic coaches are impressing on athletes the importance of cross training. I don't know about you, but I have my preferred activities – hiking and trail running – and for years I was loath to lose any time doing anything else. But as I've gotten a little older, suffered lots of injuries and learned more about training methods and exercise science, I've realized how important cross training is for my health and performance.
If you've heard about cross training but are unsure what it is, whether it's for you and how to get started, read on to find out what's so great about cross training.
What is cross training and why is it beneficial?
Put simply, cross training is implementing other exercises and activities beyond your primary sport to take a more well-rounded approach to training. Though any exercise is generally considered to be good for you, all sports by nature fundamentally imbalance your body. If you're a runner for example, you're likely to have strong legs and lungs, but you may not have such a robust upper body, while rock climbers often demonstrate full body strength but may not have the cardiovascular conditioning of a runner.
For that reason, true cross training isn't just doing anything different from your regular sport, but it should strengthen or mobilize areas that your sport typically doesn't, so that your general fitness is improved. Furthermore, challenging your body in different ways encourages your body and brain to adapt to new challenges, which is something you might be able to draw on when you're in competition.
The benefits of cross training, like anything, depend on what you're doing and how you're doing it, but one of the main potential benefits of cross training is to allow you to continue with higher volume training without becoming prone to repetitive strain and injury. If the cross training you're doing improves mobility in joints that are otherwise only being used in one pattern (as in your hips in cycling) or strengthens muscles around joints that otherwise take a lot of impact (say your knees in running) then it could further decrease your chances of becoming injured.
Furthermore, cross training can be a great way to reduce boredom and keep you feeling motivated and inspired. Now that I've incorporated other activities into my weekly routine, I find that I'm much more excited about hitting the trails for a run than I used to be.
What is an example of cross training?
Cross training can take a lot of different forms. If you're a runner, for example, you might incorporate regular swim workouts to further your cardiovascular strength while giving your joints a break from your typical high impact activity levels, but you could also try weight training and resistance training to help with bone density and avoid stress fractures.
If you're a cyclist, it's important to cross train using some form of resistance training, since your sport isn't a weight bearing sport. Meanwhile, if you're a rock climber, swimming and running could be great to support your cardiovascular fitness while yoga can be good to improve your overall mobility.
Personally, I tend to focus on hiking, trail running and yoga, so I consider my time spent bouldering three times a week to be a form of cross training, as well as a fun hobby, because it's a great way for me to work on my upper body strength without lifting weights. I also make sure to swim once a week because the non weight-bearing motion feels really soothing for my joints.
How do I start cross training?
Getting started with cross training is really as simple as looking at what you regularly do, and figuring out where your weaknesses lie. If you only do cardio, consider adding strength training and vice versa. If your sport involves a lot of repetitive movement, like running and cycling, seek out activities that move your joints in other ways, such as crabwalks with resistance bands to strengthen your outer hips.
Once you've figured out what your cross training activity or activities will be, integrate them into your training schedule anywhere from one to three times a week. If it's a lower intensity session like yoga, pilates or swimming, you might do it more than you would if you're incorporating running into your cycling or climbing routine.
If you are in training for competitive events, it's a good idea to work with a trainer to figure out the right cross training plan, and if you're just seeking a more well-rounded approach to fitness, you could really mix up your workouts throughout the week with different activities on each day.
What are the disadvantages of cross training in fitness?
One arguable disadvantage of cross training is that you could ultimately spend less time focusing on your sport. However, if you're smart about your approach and have a good training plan, your cross training sessions could become active recovery and you might even be able to double up your workouts, for example scheduling an upper body resistance workout the same day as you have a base run.
If you're doing something different every day, it could be argued that you don't see as much improvement in any one area as you might if you went a little deeper into one activity, but truly if your goal isn't to improve in a particular sport and you just want to live a long and healthy life, that really isn't a problem.
There's also the possibility that the cross training you choose is the wrong type, and that can create problems. For example, my friend Sarah was a Nordic ski racer for the University of Minnesota, where coach had her lifting a lot of weights. She discovered that under the right conditions, she was able to gain a lot of muscle in her legs quickly which made it difficult for her to ski, so in that case, her cross training was either wrong type or intensity.
Finally, if you pick a new activity like weight lifting or running and you don't ease in carefully, you could end up getting injured, which could be really frustrating if it then prevents you from participating in your chosen sport. I got a little too excited when I got back to bouldering and tweaked my knee. It didn't stop me from running but I could feel it for the next week and it was a good reminder to be ultra careful.
Should I do cross training everyday?
Regardless of whether you're doing cross training to supplement something like your running regime, or just trying to maintain overall fitness, you shouldn't do it every day. If your aim is to support your existing training, one to three times a week is enough and even if you're just mixing up your workouts for general fitness, it's important to schedule in at least one rest day each week to give your body ample time to recover.
All the latest inspiration, tips and guides to help you plan your next Advnture!
Julia Clarke is a staff writer for Advnture.com and the author of the book Restorative Yoga for Beginners. She loves to explore mountains on foot, bike, skis and belay and then recover on the the yoga mat. Julia graduated with a degree in journalism in 2004 and spent eight years working as a radio presenter in Kansas City, Vermont, Boston and New York City before discovering the joys of the Rocky Mountains. She then detoured west to Colorado and enjoyed 11 years teaching yoga in Vail before returning to her hometown of Glasgow, Scotland in 2020 to focus on family and writing.