What is packrafting? Find out why hikers and trail runners will enjoy this outdoor activity
A guide to the increasingly popular hobby of packrafting, that links trails, hills and water for one exciting adventure in the wilderness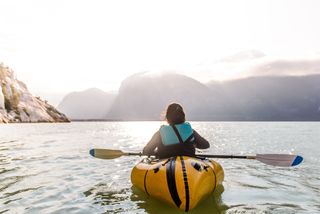 (Image credit: Getty Images)
Packrafting is a fun and exciting outdoors activity that allows you to hike, trail run or cycle between water with the raft on your back and then, when you reach water, you unpack the raft, inflate it and continue by paddling.
More details: Wwhat is Packrafting?
A packraft is a one-person inflatable boat that is designed to be small and light enough to pack into a rucksack.
The activity of packrafting includes walking or cycling to where you find a river, lake or loch.
Packrafters simply unpack the raft, inflate it and carry on with their journey on water.
On reaching land again, the raft is deflated and packed into a rucksack to be carried on the next part of the walking, running or cycling journey.
Who invented packrafting?
While rafts have long been used to make water crossings, the packraft is said to come from Alaska, where portable-style boats were used to make it easier to journey in untracked wilderness.
These days packrafting as seen as an adventure activity and it is a popular activity in many countries worldwide.
Typically, packrafts are carried to cross and float on rivers, streams and lakes as part of a longer journey on foot.
It could be that a packrafting trip mixes hiking or trail running with sections of water travel.
Andy Toop, of Back Country in Aviemore, guides packrafting in Scotland. He also sells and hires packrafts.
He said: "Packrafting allows you redefine how you look at a map. The blue bits are no longer barriers, instead they are squiggles on the map that connect the journey together."
What kit do I need for packrafting?
The essential items include a packraft, pump, paddle and buoyancy aid, as well as a rucksack to carry the kit.
It's a good idea to wear a waterproof jacket and trousers – the type that you use for hiking are ideal. Some people choose to wear shorts and t-shirt, depending on the season or weather.
For cold conditions, you might want to wear neoprene gloves and boots for warmth.
A waterproof rucksack, or the best hiking backpack you have with a dry bag or two inside, will ensure items of clothing and essential kit stay dry while you are in the packraft.
Where to go packrafting
If you are new to packrafting, the best idea is to join a guided trip to learn how house and paddle the craft.
Alternatively, you could hire a packraft and find a sheltered loch or lake so you can try it out for yourself.
From there, the best way to plan a journey is to look at a map and join together a hiking or running trails and paths via water crossings.
It's vital that you stay safe and so the best rule is to paddle with someone else.
Packrafting is rising in popularity and it;'s easy to see how it gives hikers and trail runners the chance to get off the beaten track. You could turn packrafting into a longer journey by camping in your best tent overnight.
All the latest inspiration, tips and guides to help you plan your next Advnture!
Fiona Russell is a widely published adventure journalist and blogger, who is better known as Fiona Outdoors. She is based in Scotland and is an all-round outdoors enthusiast with favourite activities including trail running, mountain walking, mountain biking, road cycling, triathlon and skiing, both downhill and back country. Her target for 2021 is to finish the final nine summits in her first round of all 282 Munros, the Scottish mountains of more than 3,000ft high. Aside from being outdoors, Fiona's biggest aim is to inspire others to enjoy the great outdoors, especially through her writing. She is also rarely seen without a running skort! Find out more at Fiona Outdoors.