What is runner's knee? And how can you avoid it?
What is runner's knee? We explore the most common source of pain among runners including steps you can take today to reduce your risk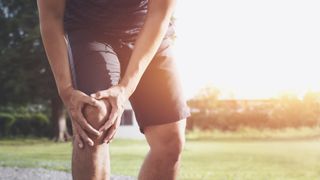 (Image credit: lovelyday12)
While trail running is one of the most budget friendly and low-apparatus outdoor activities out there, it sometimes comes with a different type of cost – knee pain. We've previously written about trail running injuries including plantar fasciitis and stress fractures, but it turns out that the most common condition affecting runners is Patellofemoral Pain Syndrome, better known as runner's knee. So what is runner's knee? This article contains everything you need to know about this common condition, including steps you can take to reduce your risk of runner's knee.
What is runner's knee?
Runner's knee isn't an injury and doesn't involve damage to tissues such as torn ligaments; rather, it's a term given to describe dull pain you feel around and behind your kneecap (patella). According to Johns Hopkins Medicine, the pain you feel with runner's knee occurs during activity or during long periods spent with your knee bent. It can also be accompanied by feelings of weakness or instability.
Runner's knee isn't limited to runners either – it can be caused by other athletic activities and can be the result many factors including:
Structural defect
The mechanics of your running technique
Weak leg muscles
Being overweight
Repetitive stress caused by overuse
Another injury
However, it is the most common condition affecting runners and reportedly affects over 22% of the adult population each year in the US, according to the journal PLOS One.
How long does runner's knee last?
If you've started to notice pain in and around your kneecap while you're running, you should contact your medical provider for a diagnosis and treatment plan. If you are diagnosed with runner's knee after an examination, your treatment plan will vary according to factors like your age and the intensity of the pain, but you can expect to be told to rest your knee for a while. Most cases of runner's knee resolve without treatment in around 4-6 weeks, and you should have a plan for returning to running after injury so it doesn't reoccur. However, if you keep running through it, runner's knee can become chronic and lead to other issues and injuries.
How can you prevent runner's knee?
Because runner's knee can be the result of a structural defect that you're not likely to know about until it's too late, you may not be able to avoid runner's knee entirely if you love trail running, however there are always measures you can take to help support your joints in movement. Here are some steps you can take to reduce your chances of experiencing runner's knee and continue to enjoy the trails, pain free:
Wear proper footwear
Runner's knee can be the result of your gait, which can be affected by wearing the wrong shoes. If you're getting out regularly or going long distances, you definitely want to protect your joints with proper trail running shoes. Specifically, you want to understand how your trail running shoes should fit for optimal performance and choose a pair with the right drop for your stride. Finally, if you're getting a lot of miles in them, even the best pair won't last forever – make sure you know when to replace your running shoes.
Pay attention to your form
Runner's knee can be caused by your running gait – or how your foot strikes the ground – so it's worth reading up on understanding your running gait type and learn how to do an at-home test or seek out an expert analysis so you can approach your running in the most supportive way possible.
Don't overdo it
Runner's knee can be caused by overuse and for many of us who love running, it can be hard to take a day off. However, it's vital that you schedule in rest days to allow your body to recover, and are diligent about post-run recovery such as foam rolling for runners and yoga stretches for runners.
Increase your activity gradually
If you are increasing your distance or speed, it's vital that you do so gradually to avoid runner's knee. This requires knowing where you're starting from and where you want to get to, but for example, if your goal is to increase your distance, you should do so in increments of only 10% a week. That means if you're already running 5km a week right now, next week you should only increase to 5.5km. Check out our trail running training plan for more ideas on approaching your training.
All the latest inspiration, tips and guides to help you plan your next Advnture!
Julia Clarke is a staff writer for Advnture.com and the author of the book Restorative Yoga for Beginners. She loves to explore mountains on foot, bike, skis and belay and then recover on the the yoga mat. Julia graduated with a degree in journalism in 2004 and spent eight years working as a radio presenter in Kansas City, Vermont, Boston and New York City before discovering the joys of the Rocky Mountains. She then detoured west to Colorado and enjoyed 11 years teaching yoga in Vail before returning to her hometown of Glasgow, Scotland in 2020 to focus on family and writing.