Should you go hiking in wildfire smoke?
Should you go hiking in wildfire smoke? We examine the health issues involved and present some steps to take when the air gets hazy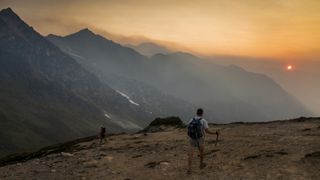 (Image credit: Cavan Images)
When is wildfire season? This has become a question that, at least for hikers out west, has become part of our regular safety checks. In addition to checking the weather forecast for afternoon lightning storms, packing your bear spray and filling your water bottle, it's becoming increasingly important to be aware of what fires are burning near you, and when it's too smoky to hike.
Due to increasingly warm temperatures and dry conditions combined with years of unfavorable fire suppression, wildfire season is getting longer, the fires more intense and wildfires are burning more acreage than in decades past. We've already discussed how to help prevent fires and stay safe from fires in our article on wildfire safety, but in this piece we examine another aspect of wildfire season that's becoming part of daily life for outdoors lovers in the west – the issue of increased prevalence of wildfire smoke and whether hiking and trail running during smoky conditions is a good idea.
When is wildfire season?
In years past, we'd have said that wildfire season is during the summer months, and while June to September still sees the majority of fires, recent years have shown that in western states, wildfire season has almost no limits anymore. In 2021, California's wildfires kicked off in Ventura in mid-January and the state burned until November with a total of 8,835 fires according to CAL Fire. The Montana Free Press reported a similar early start and late finish to their wildfire season, while in Colorado, where wildfires are commonplace in the front range during the summer months, 2021 ended with the devastating Marshall fire which broke out on December 30 and tore through suburban Boulder County driven by unusually high winds.
According to scientists at NASA, who examined 35 years worth of wildfire data, fire season has lengthened across 25% of the earth's vegetated surface and in parts of the western US it is more than a month longer than it was 35 years ago.
Perhaps more tellingly, the EPA reports that while wildfires haven't necessarily increased in frequency in the last 30 years, they've increased in intensity and are burning far more acreage. In addition to the obvious destruction and threat to life, this all means more months of the year when wildfire smoke may be dangerously high in the places that we love to hike, from the Sierra Nevada to the Rocky Mountains.
Should you go hiking in wildfire smoke?
If you live or play in the west, you already know that wildfire smoke is becoming a regular presence during the summer months, and it's not just when there is a fire nearby either. Smoke from California's wildfires frequently drift east and creates unhealthy conditions as far away as Colorado's Rockies, where locals are aggrieved to find their already short hiking season cut even shorter.
We all know that intense smoke inhalation is seriously dangerous, but does a light haze from a distant fire pose a health risk? If the trail is open, does it mean it's safe to hike?
Wildfire smoke does more than just obscure the views on your favorite hike. According to the EPA's guidelines on inhaling wildfire smoke, doing so can result in relatively minor irritation such as burning eyes and a runny nose to serious health conditions like aggravated chronic heart and lung diseases and premature death. Certain sectors of the population are more at risk, such as those with chronic heart and lung conditions, children and the elderly, diabetics and pregnant women, however even if you're not in that category, exercising outdoors and breathing heavily will increase the amount of smoke you inhale and increase your risk.
Can you wear a face mask to protect against smoke?
Since we're all well practised in wearing face masks these days, and you no doubt have a drawer full of them at home, a fair question is whether you could make your hike safer by wearing a face mask. Interestingly, a 2021 study by Colorado State University concluded that N95 masks do in fact offer "robust" protection against wildfire smoke, while cloth masks do not. But whether you actually want to wear one while you're hiking is another question altogether.
Hiking in wildfire smoke: what can you do to protect yourself
There will be months when not a day goes by without some haze or smoke in the air. Does this mean you should give up hiking altogether? Given the immense benefits of exercise and spending time outdoors, few would recommend that. Instead, here are a few steps you can take to help protect your heart and lungs against wildfire smoke:
1. Check the AQI
Even if there aren't any wildfires burning near you, you may notice the sky looks hazy and you might be able to smell smoke. When this happens, it's time to check the Air Quality Index before heading out. The easiest way to do this is to use the government's Air Now website and enter the zip code of the location where you plan to hike.
Swipe to scroll horizontally
Air Quality Index scale

| | | | |
| --- | --- | --- | --- |
| AQI Value | Color | Concern level | Description |
| 0 - 50 | Green | Good | Get outside and have fun |
| 51 - 100 | Yellow | Moderate | Satisfactory air quality, but those of high sensitivity may be at some risk |
| 101 - 150 | Orange | Unhealthy for Sensitive Groups | Sensitive groups may experience health effects, others are less likely to be affected, consider reducing time spent outdoors |
| 151 - 200 | Red | Unhealthy | Health effects for sensitive groups may be more serious, members of the general public may also notice effects, consider reducing time outdoors or staying indoors |
| 201 - 300 | Purple | Very Unhealthy | Health alert, risk is increased for everyone, stay indoors |
| 301 and higher | Maroon | Hazardous | Emergency conditions, stay indoors or evacuate |
If the AQI in your area is green, you're good to get your hiking boots on and go. If you're part of the population with increased sensitivity to smoke, you'll want to think twice when the AQI is showing as yellow or orange, and everyone should avoid spending long periods of time outdoors when the AQI is red, purple or maroon.
If you're already out in the wild and not able to get online, check in with park rangers or other officials that will have up-to-date information on smoke conditions, especially before setting off on a longer backpacking trip.
2. Consider going for intensity over duration
Speaking of longer trips, even though exercising outdoors will increase your lungs' exposure to wildfire smoke, there's no evidence yet that higher intensity workouts are more damaging. In fact, a 2014 study in the British Medical Journal found that cyclists pedalling at high intensity didn't display more markers of diesel exhaust inhalation than those that were pedalling at an easy pace. So, if trail running is your thing, there's no reason to think it will be more harmful than hiking, but going out for long periods of time will increase your exposure, so you might be better off doing shorter, more intense workouts during smoky conditions. After all, exercise has its own benefits and not doing so for an entire season won't do you much good either.
3. Know when to go indoors
Whether you live in the west or have a summer hiking trip planned, the most important tool to have in your kit is knowing when to abort mission. If you head out and the air hurts to breathe, turn back. If the AQI at dangerous levels, it is probably time to take your exercise to the swimming pool or a well air conditioned gym where the windows are closed. Though nothing is a true replacement for the joys of hiking and trail running, you can make the most of it and explore other aspects of training.
Here are a few of our favorite options:
All the latest inspiration, tips and guides to help you plan your next Advnture!
Julia Clarke is a staff writer for Advnture.com and the author of the book Restorative Yoga for Beginners. She loves to explore mountains on foot, bike, skis and belay and then recover on the the yoga mat. Julia graduated with a degree in journalism in 2004 and spent eight years working as a radio presenter in Kansas City, Vermont, Boston and New York City before discovering the joys of the Rocky Mountains. She then detoured west to Colorado and enjoyed 11 years teaching yoga in Vail before returning to her hometown of Glasgow, Scotland in 2020 to focus on family and writing.