Windbreaker vs rain jacket: which is best for hiking and running?
Should you fend off a driving rain with a stiffer shell, or go light in the breeze with a windbreaker?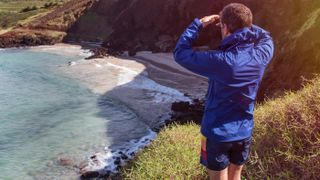 (Image credit: The Good Brigade)
We've always told you never to head for the hills without a waterproof jacket, but these days, lots of fast-paced adventures (including us) are increasingly opting for lighter windbreakers either as an outer layer, or an emergency back up. But are these two layers interchangeable just because we've started using them as such? As it turns out, the two jackets both perform quite differently when you're on the trail, and which you choose can have a big impact on your comfort and experience, so we decided to compare windbreakers vs rain jackets to help you choose the best shield for your next adventure.
Windbreaker vs rain jacket: weight and packability
Though waterproof jackets are getting lighter and more packable with each passing day, windbreakers will always win out in this category. This is because a good quality waterproof jacket will be constructed using at least two, and possibly three, layers, including the outer shell which is usually treated with DWR, and waterproof membrane. A windbreaker, on the other hand, will consist of a single, much thinner layer with a tight weave, making it lighter and more packable.
As an example, I often run in my North Face Lightriser Futurelight running jacket which is waterproof. At seven ounces (200 grams) it is super lightweight and folds up to about the size of a softball. My Montane Lite-Speed Trail Pull-On windbreaker, however, squeezes down smaller than a tennis ball and barely tips the scales at all at just over two ounces (60 grams). Obviously, weight and packability varies between styles, but to save the most weight and space in your backpack, you'll always want to go with a windbreaker.
Windbreaker vs rain jacket: rain and wind protection
So a windbreaker helps you save on space and weight, but can it really provide the same level of protection as a rain jacket? Well, when it comes to rain, the secret lies in the name. A rain jacket (or a good one at least) is designed to fend off a heavy downpour, what with its DWR treatment and waterproof membrane. You should be able to hike or run in a deluge with a rain jacket for quite some time before wetting out. A windbreaker will definitely work against a light drizzle, but it's not designed to keep out heavy rain.
When it comes to wind, both options should provide a pretty comparable – and good – barrier against a cold wind, meaning as an outer layer they'll both serve to help keep you warm if it's windchill, rather than just low temperatures, that's causing you to be cold in the first place. That said, the more breathable a garment is, the less windproof it will be, so if you're looking for something you can move fast in, such as a windbreaker for trail running, you'll sacrifice some wind resistance for breathability. Since you're going to be picking up the pace and getting warmer, this probably won't be a problem, but it's good to know if you plan to use your windbreaker for less sweaty endeavors such as hiking.
Windbreaker vs rain jacket: comfort and breathability
Both a rain jacket and a windbreaker are designed to be worn as outer layers, meaning they won't touch your skin, so they're not necessarily designed with comfort in mind the way a base layer is. That said, you still want to be comfortable in any piece of outdoor gear and there are a couple of factors that will affect your comfort level.
Rain jackets tend to be made from stiffer material (although my Montane Phase Lite waterproof jacket is pretty soft) and they're not designed to be breathable at all, since their job is to keep the elements out. Finally, they don't tend to have added stretch; rather, they're made from synthetic materials that tend to have natural stretch (my Phase Lite is 100% nylon). All of this means that, if you're working up a sweat, your waterproof jacket may not be the most comfortable item in your closet, but it's a necessary means to an end.
Windbreakers on the other hand tend to have a "barely there" feel to them, made from super light and soft material. They're more breathable, meaning you don't get as clammy when you're running in them, and the fabric may have a little more give in it to allow more dynamic movement. All in all, a windbreaker is likely to be a bit more comfortable.
There is one other aspect to both garments that might affect their comfort, depending on what you're doing in them, and that's their fit. Rain jackets are usually cut with the assumption that you'll be layering them over a base layer and a mid layer (and possibly a down jacket, too) so they'll be a bit more roomy. This means on warmer days, they'll hang a bit looser and be comfortable, if not flappier in the wind. Windbreakers are often designed to be pulled on over a running top, and have a more snug fit to them, which means they won't be as comfortable if you try to layer them over something bulkier.
Windbreaker vs rain jacket: durability and price
Your protective layer may be built to withstand the elements, but will it hold up against a thorny branch on the trail? If you're wearing a windbreaker, possibly not, since the single, thin layer of fragile fabric does tear easily. A good waterproof jacket should be ok when it comes to typical trail obstacles, however.
The sturdier construction of a waterproof jacket also comes with a higher price tag, generally speaking. My Montane Phase Lite retails for $399, whereas the Lite-Speed Pull-On is just $80, which is a huge difference. You can find both budget and high end versions of both options, of course.
Swipe to scroll horizontally
Windbreaker vs rain jacket

| Header Cell - Column 0 | Windbreaker | Rain jacket |
| --- | --- | --- |
| Weight and packability | Ultralight, packs down small | Light, but heavier than a windbreaker, won't pack down as small |
| Rain and wind protection | Protects against wind and a light drizzle, but the more breathable it is, the less protection you get | Protects against wind and heavy rain |
| Comfort and breathability | Usually very comfortable with a "barely there" feel and some stretch, very breathable | Stiffer fabric, less stretch and not at all breathable, but a roomier fit |
| Durability and price | Very fragile, but usually more affordable | Sturdier, can be very expensive for a good quality jacket |
Windbreaker vs rain jacket: the verdict
So, which will it be? The more robust waterproof jacket that shields you from a heavy shower, or the lighter windbreaker? The answer is that it really depends on where you are and what you're doing. Here in Scotland, I really need a waterproof jacket for most adventures, and you might too if you're in the Pacific Northwest or the east coast. They're also more versatile, since they'll work against light and heavy rain as well as wind. But back in my old stomping grounds of Colorado? A windbreaker would definitely get the job done.
As you've probably noticed, I own both, and I use them for different adventures. For hiking, I prefer a waterproof jacket, though in blue skies I'll definitely substitute a windbreaker to save space in my pack. For trail running, I have occasionally worn my waterproof jacket when I'm traveling and it's my only option, but I definitely prefer a windbreaker when I'm going to sweat.
All the latest inspiration, tips and guides to help you plan your next Advnture!
Julia Clarke is a staff writer for Advnture.com and the author of the book Restorative Yoga for Beginners. She loves to explore mountains on foot, bike, skis and belay and then recover on the the yoga mat. Julia graduated with a degree in journalism in 2004 and spent eight years working as a radio presenter in Kansas City, Vermont, Boston and New York City before discovering the joys of the Rocky Mountains. She then detoured west to Colorado and enjoyed 11 years teaching yoga in Vail before returning to her hometown of Glasgow, Scotland in 2020 to focus on family and writing.