Cross country skiing vs trail running in winter
We take a look at the benefits and downsides of cross country skiing vs trail running in winter to help you choose the best fast-paced adventure this season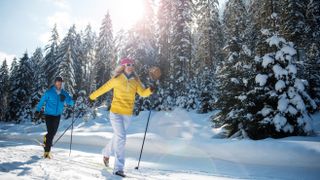 (Image credit: Westend61)
For a lot of trail runners, winter's arrival is no excuse for hitting the treadmill. Snow-covered trails can provide some great training ground, making you work leg muscles that you don't normally need to recruit. But there's another way you might make strides over frozen ground in winter months, and that's on a pair of cross country skis. These two disciplines share some surprising similarities and some obvious differences, and choosing between the two might come down to how time and money you want to spend, how far into the backcountry you like to go or how much of a workout you want to get. In this article, we take a look at the benefits and downsides of cross country skiing vs trail running in winter to help you choose the best fast-paced adventure this season.
Cross country skiing vs trail running: impact and muscles used
One of the first things most people note when they try cross country skiing for the first time is that the movements largely mimic those of running, with one glaring exception: it has an extremely low impact on your ankles, knees, hips and spine. Because you're not lifting your legs, you're saving the soft tissue in these joints from taking the force of each step. Obviously if you choose to completely replace trail running with cross country skiing for the winter, you'll need to ease back into running come the spring to give your body time to adapt again, but as a form of cross training, it's a great way to get more workouts in each winter with less wear and tear on your joints. Purely from the standpoint of your joints, cross country skiing wins over trail running.
Because the motions of cross country skiing and trail running are similar, you can expect to condition similar muscles, but cross country skiing will require more from your core, hip flexors, quads and glutes, the latter of which are often underused in running, while using poles will give your upper body a better workout than swinging your arms when you're running.
Cross country skiing vs trail running: intensity and calories burned
When you love trail running but the conditions aren't great, every other workout can seem a bit wimpy in comparison. Not cross country skiing. Cross country skiing will feel like a serious lung buster to even the most seasoned runners, especially as you get used to the gliding motion of pushing your skis along a track.
How many calories you burn running depends on various factors, but one thing is for sure – nothing beats cross country skiing, which has been found to be the best cardiovascular exercise out there, ahead of activities like long distance running, snowshoeing, cycling and rowing.
Cross country skiing vs trail running: pace
If you love trail running, you probably love moving swiftly, so having to slow down to contend with snowy conditions underfoot, or even wearing traction devices, can feel a bit disappointing. Now we've no idea what your standard running pace is, but the fitness tracking app Strava in 2015 revealed data that showed the average speed for men in America was 9:03 minutes per mile (1.6km) and for women it was 10:21 per mile, or around six miles per hour. Get some cross country skis on your feet, however, and you can get that pace up to 10 miles per hour no problem, faster if you're skate skiing. This means you'll get to see more of that beautiful winter landscape in less time!
Cross country skiing vs trail running: access and time commitment
One of the fabulous things about trail running is that you can do it in a lot of places, especially if you have the right gear in winter. You've got hiking trails, country roads that turn into trails when they're snow covered, and you can take it through forests and across open plains and hills that when frozen might be easier to run on than during their usual muddy conditions. When it comes to running in deep snow, however, you'll be a bit limited and this is where cross country skis can give you access to spaces that you might not be able to run on.
That said, cross country skiing does require a certain amount of snow to even get going, and if there isn't tons of snow in low lying areas you might be limited to Nordic ski centers, which can be great, but you might not find you have as much widespread access on skis as you do on foot.
Another beautiful thing about trail running is that it doesn't have to take a lot of time to get ready, especially if you're lucky enough to live near a great trail. Basically you just pull on your best trail running shoes and go. Cross country skiing is going to take a bit more getting organized, what with packing up your car, driving to a Nordic center or area with lots of snow, and getting your boots and skis on. With practice, you'll get to be a pro at the routine, but it's not likely to be as time efficient as running. Since you burn more calories, there could be an argument that you could ski for a shorter period of time than you'd spend running, but who wants to do that?
Cross country skiing vs trail running: gear and expense
Another area where trail running definitely wins out over cross country skiing is when it comes to the gear needed, and the costs incurred. We all love trail running for its low maintenance appeal – lace up your shoes, layer a running jacket over your top and pull on some running gloves and a headband and you're good to go. Specialized running gear is nice, but let's be honest, you can even make do with hiking gear you have around the house, like a breathable waterproof jacket and your thermal leggings.
For cross country skiing, however, you can't simply make do. You'll need to get yourself cross country skis, boots, bindings and poles at a minimum. If you're skiing at Nordic centers, you'll have to pay for access, too, whereas you can go trail running for free in most places except maybe National Parks. Though the gear and ski passes are nowhere near as expensive as they are for downhill skiing, cross country skiing is definitely going to come with a bigger price tag, so if you're on a budget or not sure about cross country skiing, trail running is your best option.
Swipe to scroll horizontally
Cross country skiing vs trail running

| Header Cell - Column 0 | Cross country skiing | Trail running |
| --- | --- | --- |
| Impact and muscles used | Low impact, extra work for your core, glutes, quads, hip flexors and upper body | Higher impact on your joints, less work for your upper body and core |
| Intensity and calories burned | High intensity, this is the best known form of cardiovascular exercise | Lower intensity and burns less calories than skiing |
| Pace | 7-10 mph, faster if skate skiing | 6 mph is average, may be slower in winter |
| Access and time commitment | You need a decent amount of snow and may be limited to Nordic centers, however you can get deeper into a snowy backcountry | You can trail run almost anywhere, except for where there's deep snow |
| Gear and expense | Skis, boots, bindings, poles and Nordic center access all come with a price tag | All you really need to buy are trail running shoes |
Cross country skiing vs trail running: the verdict
If you don't mind splashing a little cash and you have the time, there are loads of great arguments for cross country skiing over trail running in winter – it's kinder on your joints, delivers a better workout and can let you get deeper into the backcountry without being hindered by snow. That said, trail running in winter can be a beautiful thing and it's hard to argue with the convenience of it. However, ultimately we really don't think you should have to decide between the two, if you love them both. Cross country skiing makes an excellent cross training companion to trail running, and you can use it to give your fitness a real boost during the colder months, especially if you're eyeing up some big races in the spring or summer.
All the latest inspiration, tips and guides to help you plan your next Advnture!
Julia Clarke is a staff writer for Advnture.com and the author of the book Restorative Yoga for Beginners. She loves to explore mountains on foot, bike, skis and belay and then recover on the the yoga mat. Julia graduated with a degree in journalism in 2004 and spent eight years working as a radio presenter in Kansas City, Vermont, Boston and New York City before discovering the joys of the Rocky Mountains. She then detoured west to Colorado and enjoyed 11 years teaching yoga in Vail before returning to her hometown of Glasgow, Scotland in 2020 to focus on family and writing.