16 winter trail running hacks
These winter trail running hacks cover everything from getting you out of bed to keep your running gels from freezing on frigid jaunts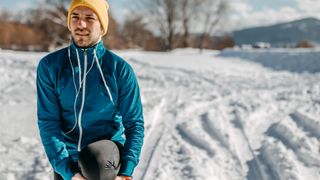 (Image credit: eclipse_images)
When the alarm goes off at 6 a.m. on a cold, dark, January morning, do you spring out of bed, pull your trail running shoes on and get out the door, or hit snooze for another hour and a half then fumble your way through getting ready for work? When you're not prepared, the temperatures are below zero and trails are so snowy you just know you can't hit your usual distance, it's understandable that you'd go for the latter option, but with our 16 winter trail running hacks, you can still get those miles in on the trail, stay reasonably comfortable while you're doing it, and avoid all those pitfalls of winter running, from frozen water bottles to dying phones. Read on to discover everything you need to do to stay on top of your running goals this season.
1. Lay your kit out
We probably don't need to tell you that the hardest part of getting out on a winter run can be physically getting out there, especially when your bed is so warm and cozy. Prepare everything you need the night before – lay out your running kit, fill your hydration bladder, leave your shoes by the door and ready work clothes that you need to change into. You can even fill your breakfast bowl with cereal for after your run! The less you have to organize, the more you can focus on getting yourself upright and your feet on the floor, making it easier to get to the door.
For those of you who find it difficult to even get conscious, check out the tips in our article on waking up in winter.
2. Warm up indoors
In summer, you can easily get away with a few minutes of brisk walking, but in cold weather it's a good idea to extend your warm up to a more thorough series of movements and make sure your feet, ankles and knees are ready for impact. In very cold weather, you'll be keen to get trotting as quickly as possible so spend 5 - 10 minutes doing these dynamic warm up exercises for runners before you set out, then you can pick up the pace quicker when you hit the cold air.
3. Switch to thermals
For very cold weather, consider ditching your usual running leggings and synthetic running top in favor of merino wool-based thermal underwear and a base layer. These will wick sweat once you start to warm up (which happens quicker than you think), will continue to insulate when damp, and dry quickly when you're finished, plus they have better odor control than your synthetics.
Even if it's not wet out, it's a good idea to layer a waterproof running jacket over the top that will keep a cold wind off. If you get too warm, unzip it down to your waist, shrug your arms free and tie the sleeves around your waist. For more tips on what to wear, check out our ultimate winter running gear checklist.
4. Have a stash point for your mid layer
In case you misjudge the temperatures, or you simply can't get yourself out of the house without a mid layer, have a predetermined stash point where you can hide any extra clothing such as your fleece jacket. That way you can pick it up on the way back – just remember where you left it!
5. Pack it in
You might love the simplicity and ease of running naked, but in winter, you simply need more gear, such as running gloves, a headlamp (see our guide to the best headlamps for some good options) and traction devices for your shoes. In addition to a stash point for excess gear, you'll need to be running with some storage, so consider a running jacket or running tights with pockets, pin gear into the waistband of your leggings or invest in a small running backpack such as the Vango Sprint 3 hydration pack.
6. Shield your face
In sub zero temperatures, you want to protect your face and ears from frostbite. Running with a neck gaiter or a lightweight balaclava covers up a lot of that delicate skin, while if the air is so cold it's difficult to breathe, you can cover your mouth with them and warm up your breath. If it's not that cold or you can't stand the idea of covering your face, slather some vaseline on your skin before you go to protect it. Use a headband to keep your ears toasty and that way you'll still be able to release some heat through the crown of your head.
7. Safeguard your feet
If you're going to be running through cold puddles, slush or snow, you'll want to waterproof your feet as much as you can, so consider waterproof trail running shoes for winter, or at least a pair with good breathability and mesh panels. Running gaiters help keep moisture from entering through the collar of your shoe, and just like the rest of your body, merino wool running socks are best for continuing to insulate when wet.
8. Get some grip
What you wear on your feet really depends on the conditions, but for icy conditions, a pair of Yaktrax or Microspikes meant for runners is a really good choice to keep you from taking a spill. Packed snow can be easier to stay upright on without traction if you slow down, whereas deep snow may require running in snowshoes.
9. Run for time
If you're running on snow, mud or mixed conditions, you're going to have to accept that you'll be moving slower than your usual pace. However, you'll also be expending more energy to propel yourself forward, so don't sweat it. If you usually run 10km in an hour, forget about the distance and just run for an hour – consider any slow, arduous sections as excellent cross training for muscles that rarely get used.
10. Take some laps
Shorter days and more treacherous conditions may mean that you quite reasonably don't want to go as far as you might in summer – this holds especially true if you don't want to carry the 10 essentials in your backpack. A great solution to staying closer to home without actually getting on a treadmill is to find a shorter loop and run it several times.
11. Try new trails
We like to think that all trails are more accessible in the summer, but the truth is that there may be trails you have avoided because they're overgrown, or muddy in the summer. Use the advantages of less shrubbery and frozen ground to try some new trails.
12. Rule the roads
No, we're not suggesting you switch to tarmac just because it's the winter, though that's certainly an option. If it's very snowy, however, roads take on most of the characteristics of trails anyway, and you can run on a softer surface that may have been helpfully packed down by cars and pedestrians. Of course, you'll have to practice road running safety, but some country roads make for great trail running in the snow.
13. Keep your water liquid
Running for over an hour requires that you carry water, and very cold weather can mean you end up with a frozen tube on your hydration pack. To help prevent your water from freezing, start with warm water (not hot) in your hydration bladder, wrap the bladder in an insulated sleeve, and make sure you blow into the tube after every sip so there isn't any water hanging out inside it. that can freeze and block it
14. Palm your gels
If you're running for longer distances, you might be carrying running gels for energy, but in very cold temperatures these can freeze and thicken, making them difficult to eat. Try carrying them in the palms of your hands, secured into place with rubber bands, so that they stay gooey for when you start to bonk.
15. Fortify your phone
Running with your phone is a good idea in winter, but if your battery dies in cold weather, you're just adding deadweight and not increasing your safety. Charge your phone fully before you leave the house, turn on low power mode, and carry your phone in an inner pocket close to your body. Read our article with more tips for how to keep your phone warm in warm weather.
16. Strip off quickly
As soon as you're back indoors, get your wet kit off no matter how hungry or tired you are, since keeping wet clothing on can make it harder for your body to regulate its temperature. Hang your clothes up so they're dry for the next run and get in a hot shower to warm up.
All the latest inspiration, tips and guides to help you plan your next Advnture!
Julia Clarke is a staff writer for Advnture.com and the author of the book Restorative Yoga for Beginners. She loves to explore mountains on foot, bike, skis and belay and then recover on the the yoga mat. Julia graduated with a degree in journalism in 2004 and spent eight years working as a radio presenter in Kansas City, Vermont, Boston and New York City before discovering the joys of the Rocky Mountains. She then detoured west to Colorado and enjoyed 11 years teaching yoga in Vail before returning to her hometown of Glasgow, Scotland in 2020 to focus on family and writing.