What wildlife can you see at Yellowstone National Park?
Grab your binoculars for these 12 amazing animals your can view in Yellowstone National Park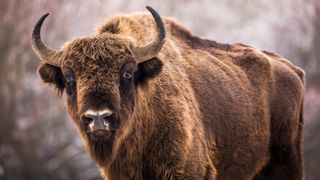 (Image credit: Getty)
When you start planning a trip to Yellowstone National Park, the chances are you'll be aiming to squeeze in as many spouting geysers, bubbling mud pools and other geothermal wonders as you can into your time. But in addition to its incredible hiking and geography, Yellowstone is brimming with another kind of adventure: out-of-this-world wildlife viewing.
In addition to those hiking boots, you'd better pack your best binoculars, because Yellowstone National Park wildlife delivers a veritable Noah's Ark, with 67 species of mammals, nearly 300 species of birds, 16 species of fish, five species of amphibians and six species of reptiles. In fact, whether you're exploring the plains or alpine tundra, there are opportunities for spectacular wildlife viewing from tiny pikas all the way up to burly bison. There are far too many animals to list in one article, but here's a quick guide to some of the most exciting Yellowstone National Park wildlife viewing you can do, plus where to go for your best chances of a glimpse.
Make sure to read our tips on wildlife safety before you go, to protect yourself and these precious animals from harm.
1. Bighorn sheep
Bighorn sheep are a type of wild sheep that live in herds in the mountains. They sport short brown fur rather than fluffy wool, cloven hooves allow them to climb steep, rocky terrain and the rams bear large, curved horns. Rams do engage in fighting behavior by clashing their horns together at speeds of around 20 mph, and the noise can be heard echoing for miles around. They tend to blend in with their surroundings, but the best place to see them is in Gardner Canyon between Mammoth and the North Entrance, and in the summertime on Mount Washburn.
2. Birds of prey
It can be easy to get distracted by all the big mammals in Yellowstone and overlook the overhead excitement in the skies, but the park has some pretty memorable bird watching too. Head to Hayden Valley for the best chance to get your eyes on amazing bald and golden eagles, osprey and peregrine falcons soaring down the river. The park is awash with dozens of types of owls if you're embarking on any nocturnal adventures, and in addition to raptors there are water birds and songbirds. Other recommended places for bird watching include Blacktail Ponds and Floating Island Lake, between Mammoth and Tower Junction, and the Madison River west of Madison Junction.
3. Bison
Yellowstone is the only place in the country where bison have continuously lived since prehistoric times. The American bison is the largest mammal in North America, where the species is native. Bison have an impressively broad, heavy head and short, curved horns, a pronounced hump at the shoulders and a dark brown, shaggy coat. Yellowstone's bison herd is the oldest and largest public bison herd in the country. In 2021, there were estimated to be 5,450 bison in the herd. Read up on how to avoid being gored by a bison before you go, and enjoy these gentle giants from afar in Hayden and Lamar Valleys.
4. Black bear
Many view the black bear as the symbol of Yellowstone, and it's quite common to see them in the park, especially on the northern range. The Greater Yellowstone Ecosystem is one of the few areas south of Canada where black bears coexist with the grizzly bears. Find out what to do if you meet a bear, and tread cautiously.
5. Bobcat
A bobcat is a medium sized wild cat, also known as a red lynx, that is native to North America. Bobcats are nocturnal and as such, even though they exist in large numbers – reportedly up to one million in the US – it is not common to see them, but keep your eyes peeled in rocky areas and near rivers. Unlike the far larger and scarier mountain lion, bobcats grow up to about double the size of an average house cat, and weigh up to 30lbs and prey on small game like squirrels, mice and birds. These beautiful cats are brown or brownish red with a white underbelly, black markings on their legs and a short, stubby black-tipped tail.
6. Elk
You are highly likely to spot some elk while you're touring the park, especially during the summer months when up to 20,000 graze in Yellowstone. Elk are characterized by their large size – though not as big as moose – short tails and light-colored coat. Elk are social animals, moving in herds called gangs which can reach up to 400 in the summer. To see them during rutting season in the fall, head to the northern range.
7. Gray wolf
The northern range is one of the best places in the world to see gray wolves. The gray wolf, also known as the timber wolf, is the largest non-domesticated member of the canine family. Basically, it's a very large wild dog. Gray wolves were classified as an endangered species in 1974 and efforts to reintroduce them began in 1995 in Yellowstone National Park and Idaho. As of 2016, approximately 100 wolves were estimated to live in the greater area of Yellowstone. Your best opportunity to view gray wolves is at dawn and dusk.
8. Grizzly bear
Grizzly bears were listed as a threatened species in the lower 48 states in 1975, but as of 2016, approximately 700 grizzly bears were estimated to live in the greater area of Yellowstone. A grizzly bear sighting is certainly thrilling, but unlike a lot of wildlife, they should always be considered dangerous. They are most active at dawn and dusk. To view them from a distance, head to the Hayden and Lamar valleys, the north slopes of Mount Washburn, and the East Entrance.
9. Moose
The mighty moose are the largest members of the deer family, standing on very skinny legs at an average of six feet tall from hoof to shoulder. The males feature splendid antlers up to six feet wide. These enormous creatures are vegetarians and live solitary lives after their first year of nursing. With less than 200 of them in Yellowstone, sightings aren't common but look out for them in marshy areas of meadows, lake shores and along rivers and make sure you know what to do if you see a moose.
10. Mountain goat
Mountain goats aren't native to the area, but there are now believed to be up to 300 of them here. Despite their name, mountain goats are not actually goats at all. Rather, they are in the same cloven-hoofed family that comprises animals like gazelles, antelopes and bison. In appearance, however, they do very much resemble goats, albeit ones with long, shaggy white hair. These beautiful creatures sport curved black horns and if you're lucky, you might see one at higher elevations in northeastern and northwestern portions of the park.
11. Mountain lion
Mountain lions, alternatively known as cougars and pumas, are one of Yellowstone's top predators and one of the largest cats on the continent. These elusive cats are hard to track, but there are thought to be around 40 on the northern range. It's very unlikely you will see a mountain lion, but make sure you know what to do if you meet a mountain lion on the trail.
12. Pronghorn
Though they're often referred to as antelope, an assignment perhaps mistakenly assigned by Lewis and Clark, pronghorn is actually the sole surviving member of the ruminant family that evolved in North America over 20 million years. They do have a deer-like body, but are distinctive due to their white rump and underbelly, large eyes and long curved horns which they shed annually. There are about 500 of them in Yellowstone, found in Lamar Valley in the summer and between the North Entrance and Reese Creek in the winter.
All the latest inspiration, tips and guides to help you plan your next Advnture!
Julia Clarke is a staff writer for Advnture.com and the author of the book Restorative Yoga for Beginners. She loves to explore mountains on foot, bike, skis and belay and then recover on the the yoga mat. Julia graduated with a degree in journalism in 2004 and spent eight years working as a radio presenter in Kansas City, Vermont, Boston and New York City before discovering the joys of the Rocky Mountains. She then detoured west to Colorado and enjoyed 11 years teaching yoga in Vail before returning to her hometown of Glasgow, Scotland in 2020 to focus on family and writing.