How to go hiking in the rain: 8 tips for a successful hike
By Julia Clarke
Knowing how to go hiking in the rain means you can soak in nature's majesty in any weather – our guide covers what to wear, what to bring and where to go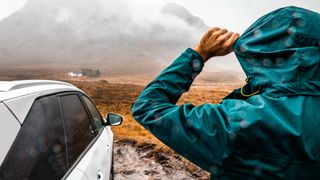 (Image credit: Artur Debat)
There are many beautiful places in the world where if you wait for a dry day to hike you might never get on the trail. Knowing how to go hiking in the rain means you can soak in nature's majesty in any season.
In fact, hiking in the rain can be a wonderful experience. The trails will be less crowded than on a bluebird day meaning your adventure will be more peaceful and you might get closer to wildlife, while rain and mist can be refreshing and atmospheric.
Our tips for how to go hiking in the rain won't keep you dry, but they will help you have fun and stay safe on the trails no matter the weather. So get out your best waterproof jacket and your dry bag, and get ready to hit the trails...
1. Pick the right trail
If you check the weather forecast and there's rain on the way, the best thing to do is pick a well-established trail that you're already familiar with – you don't want to get lost in poor conditions. These will be less challenging underfoot and easier to navigate if visibility is poor. The best kinds of trails will be forested, since trees provide good coverage from wind and rain. Avoid exposed and steep trails that can turn into rivers in the rain and those that are on smooth rock surfaces that can become slick underfoot – especially ones that take you near steep drop offs.
2. Dress the part
Needless to say, you'll want to pick your rainy day hiking wardrobe carefully. Avoid cotton, which holds onto moisture and dress in moisture-wicking materials including a base layer and waterproof trousers for starters. Layer a good waterproof jacket over the top and if it's cold weather hiking you're doing, wear a softshell jacket rather than a fleece or down jacket that will get soggy. A hiking hat with a brim or even a baseball cap will help to keep the rain out of your eyes and gloves are a good idea as your hands may feel colder in these conditions.
Finally, bring a change of clothes for when you get back to the trailhead so you're not shivering all the way home.
3. Avoid wet feet
Squelching down the trail is no one's idea of a good time, so you'll either want sturdy hiking boots for rough trails or consider trail runners which will dry out faster. Waterproof boots and shoes are a blessing and gaiters are also helpful to keep from getting waterlogged feet. Another factor to consider is that damp socks are more likely to rub and cause blisters, so use sock liners on wet days.
4. Waterproof your backpack – and its contents
Your backpack might say it's waterproof, but if you haven't tested it out in the rain, don't depend on it for keeping your gear dry – waterproof treatments wear off over time and rain often seeps in through the zippers. You can get a waterproof cover for your pack, or read our article on how to waterproof your gear using waterproofing spray.
In addition, put anything inside your bag that you really don't want to get wet, like your camera and map, inside ziploc bags to keep them safe.
5. Use trekking poles
Even if you don't usually hike with trekking poles, they can be a good idea for when you're hiking in the rain. The trail gets slick under foot and you might find yourself crossing small streams that aren't usually there – poles can help keep you upright and you can use them to test the water for depth before you step in.
6. Bring food you can eat on the go
One thing that's not so fun about hiking in the rain is the picnic lunches. Don't plan on being able to sit down and enjoy a nice sandwich. You might want to keep moving, so bring easy snacks like nuts and dried fruit that come in waterproof packaging that you can easily eat while staying on the move.
7. Remember to drink water
It's a funny thing, but when you're out in the rain you tend not to feel as thirsty when you're hiking. You can get dehydrated in any weather though, so remember to drink as much water as you would on any other hike. Carrying your water in a hydration pack makes it easier to take frequent sips without stopping to pull out your bottle each time.
8. Practise safety
Finally, practice basic safety. Ideally, don't hike alone and tell someone where you're going. Your chances of getting lost hiking could be higher in bad weather, so stay alert and make sure someone else knows where you are and what time you're meant to be home.
Julia Clarke is a staff writer for Adventure.com. She is an author, mountain enthusiast and yoga teacher who loves heading uphill on foot, ski, bike and belay. She recently returned to her hometown of Glasgow, Scotland after 20 years living in the USA, 11 of which were spent in the rocky mountains of Vail, Colorado where she owned a boutique yoga studio and explored the west's famous peaks and rivers. She is a champion for enjoying the outdoors sustainably as well as maintaining balance through rest and meditation, which she explores in her book Restorative Yoga for Beginners, a beginner's path to healing with deep relaxation. She enjoys writing about the outdoors, yoga, wellness and travel. In her previous lives, she has also been a radio presenter, music promoter, university teacher and winemaker.
All the latest inspiration, tips and guides to help you plan your next Advnture!
Thank you for signing up to Advnture. You will receive a verification email shortly.
There was a problem. Please refresh the page and try again.