How to care for leather hiking boots: our top tips
We guide you through how to care for leather hiking boots in order to maximize their life on the trail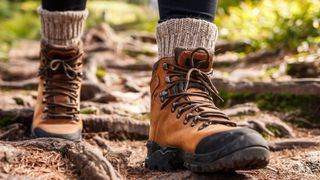 (Image credit: Getty)
Knowing how to care for leather hiking boots will enhance the performance and lifespan of your trusty pair. If you've made the investment in a quality pair of leather boots, you'll know that they're worth every penny, enabling great hiking adventures in the backcountry. However, you'll also be aware that said backcountry is an unforgiving place, which is one of the reasons we get out there in the first place.
However, it's your boots, more than anything else, that bear the brunt of the rugged trails. We demand a lot from them. On any given day, they negotiate a gauntlet that may contain sharp, rocky edges, deep snow, claggy mud, ice-cold rivers and foot-swallowing bogs.
So, regardless of how durable and robust your best hiking boots are, they're going to need a little TLC once in a while. As with any waterproof piece of gear, their water-repelling qualities will need a periodic helping hand too. On top of the general wear and tear, leather is prone to drying out and cracking, unlike boots constructed from synthetic materials. Knowing how to care for leather hiking boots is therefore crucial, whether your boots are made from full-grain leather or rough leather like nubuck and suede.
So, follow our steps below to get your leather hiking boots back to their trail conquering, peak-bagging best.
Clean your boots
The first step is, unsurprisingly, to clean your boots. In an ideal world, you should clean your hiking boots after every use. It's important that you don't use dish soap or detergent, which work fine for synthetics but are damaging to leather. Get yourself a dedicated leather product, like Nikwax's Leather Cleaner. To properly clean your boots, follow these steps:
Remove the shoelaces and the insoles.
If the laces and insoles are dirty, these can be washed with standard detergent and hung to dry.
Use a boot brush to remove any dirt. It's worth taking your boots outside to do this.
Rinse your boots under lukewarm water, before spraying the boot with leather cleaner and scrubbing with a soft cloth.
Rinse the cleaner off the boots.
Usually, you'll only need to clean the outside of your boot but every now and again, it's important to show the inside a little love too. A good tip for after every outing is to take the insole out and give the book a shake to liberate any trail debris. As mentioned earlier, you can wash the insole with standard detergent. As for the inner lining of your boot, use clean, lukewarm water and a sponge and give it a good wipe. Don't be tempted to get in there with the boot brush you used on the outer, as this can damage the more delicate inner.
Conditioning and proofing
Now that your boots are clean, it's time to add conditioner so that they retain their performance and waterproof qualities. This works best while your boots are damp from cleaning and ideally should be done straight away. Products like Nikwax's Conditioner for Leather feature an easy to apply sponge and are great for getting into all the seams and welts.
You should also reproof your boots during this stage using a dedicated product, which is usually either sprayed or sponged on – read the product's guidelines before applying. Reproofing maintains your boot's water repellency and its breathability, so is well worth doing. Bear in mind that full-grain leather may need a different proofer to nubuck and suede. For example, Nikwax have a Fabric & Leather Proof product and a Nubuck & Suede Proof product.
How often you condition and reproof your hiking shoes depends on how intensively you use them. As a good rule of thumb, if you go out hiking in your boots most weeks, you should look to condition and reproof about once a month.
Dry and store them properly
The key to drying your boots is to let them dry naturally at room temperature in a place with low humidity. It's vitally important that you don't try to speed the process up by using a heat source like a fire, radiator or similar, although a fan can be used.
Many hikers swear by stuffing the boots with newspaper or kitchen roll, which absorbs the moisture. If you opt for this, make sure you replace the newspaper or roll once it's damp, as it will no longer absorb any more moisture from the boot.
Once dry, if you're putting your boots into storage for an extended period, make sure its somewhere with stable, moderate temperatures and not anywhere too humid. Places like garages and attics are a big no-no, as the temperature can fluctuate much more and they have a tendency to be damp.
All the latest inspiration, tips and guides to help you plan your next Advnture!
Alex is a freelance adventure writer and mountain leader with an insatiable passion for the mountains. A Cumbrian born and bred, his native English Lake District has a special place in his heart, though he is at least equally happy in North Wales, the Scottish Highlands or the European Alps. Through his hiking, mountaineering, climbing and trail running adventures, Alex aims to inspire others to get outdoors. He is currently President of the London Mountaineering Club, training to become a winter mountain leader, looking to finally finish bagging all the Wainwright fells of the Lake District and hoping to scale more Alpine 4000ers when circumstances allow. Find out more at www.alexfoxfield.com