Best wellington boots: rubber footwear for keeping feet and legs warm and dry
In some weather, only the very best wellington boots can keep the wet and wild elements from getting to your feet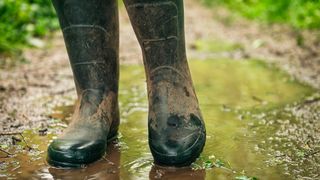 (Image credit: Getty Images)
No one likes cold, wet feet and that's what the best wellington boots can save you from. Some weather even defeats Gore-Tex hiking boots, but when the ground's a soggy, muddy minefield of puddles, wellington boots offer a fully waterproof option for getting out and about without suffering sodden socks and freezing toes.
From their origins as military attire, through being the footwear choice of farmers and festival goers, the wellington boot has trodden quite the undulating muddy path over the last 200 years.
It was Arthur Wellesley – the 1st Duke of Wellington, two-time British Prime Minister and military genius – who first popularized the boot, and subsequently lent it his name to it. The best wellington boots back then were made of high-grade leather of course, not rubber, and they almost certainly weren't available in polkadot pink (although they usually did have quite a heel on them).
Wellingtons have evolved in myriad directions since the Iron Duke pulled a pair on and booted Napoleon's derrière at Waterloo in 1815, but the basic design remains the same: it's a long, waterproof, slip-on boot, which (ostensibly at least) prioritizes functionality over style, and subsequently crosses all class divides to find a home in almost every rural and suburban home.
In this guide to the best wellington boots, we've tried and tested a number of different interpretations of the wonderful welly.
The best wellington boots for winter
Why you can trust Advnture Our expert reviewers spend hours testing and comparing products and services so you can choose the best for you. Find out more about how we test.
Muck Boot Arctic Ice Mid
Chunky, insulated mid-height wellies with the sole of a hiking boot
RRP: $180 (US) / £180 (UK) | Gender specification: Men's and women's | Insulation: Full fleece lining and 5 mm CR Flex-Foam | Sole: Vibram Icetrek | Weight: 907g / 2lb | Sizes (US) (men's): 7-17 | Sizes (US) (women's): 5-12 | Colors (men's): Black | Colors (women's): Green & Camo / Black & Pink
Able to handle brutal cold
Stretchy calf
Fully waterproof
Also available in tall
Best for wide feet
Limited colors
Made for winter weather, Muck Boot's Arctic Ice wellies put 5mm of neoprene-like CR Flex-Foam and a full fleece lining between your feet and the cold – not only are they among the best rubber boots you can buy, they're also good for keeping your feet warm. A deeply lugged Vibram Icetrek sole has pods of Vibram's Arctic Grip Outsole for traction on wet and dry ice. The rubber-coated lower part of the boot is fully waterproof. So is the Spandura-coated foam. The neoprene cuff is stretchy, and the boot is rated for temperatures down to -40°F / -40°C. On extended test, these boots proved they could handle the coldest temperatures, the sloppiest weather and dirtiest tasks. After a quick rinse off, they're ready for the next project.
Bogs Crandall II Tall
Tall, warm, waterproof and environmentally friendly
RRP: $145 (US) / £105 (UK) | Gender specification: Women's only | Insulation: 3MM Neo-Tech waterproof insulation and low-pile faux fur | Sizes: 6-12 | Colors: Black / Dark Green
Slip-resistant outsole for slick winter surfaces
Luxurious lining
Cutouts in the sides make the boot easy to pull on
Women's only
A 100% waterproof boot rated to -40°F / -40°C, not only is the Bogs Crandall II Tall warm, it's also all-day comfortable. Made from rubber in the boot and 3mm neoprene-like foam in the tall cuff, the boot is insulated without being stiff. A steel shank in the midsole adds walking stability.
The Crandall II is light on the planet, too. The boot uses Bloom, an eco-friendly, algae-based EVA in its footbed – amazingly, the algae is harvested from polluted water sources (see also: The best eco-friendly outdoor brands).
On test, we found the cuff to be narrower than any of the other boots, but you can adjust the neck, and overall the Crandall II Tall is the most comfortable winter welly we tried out. The steel midsole shank makes these a great choice for long winter walks and hikes too, and a snowshoe strap support on the heel keeps snowshoes from slipping off.
Gumleaf Viking Wide Calf Wellington Boot
Neoprene-lined, wonderfully warm wellies with a Vibram sole and extra-wide calf cuffs
RRP: $155 (US) / £115 (UK) | Gender specification: Unisex | Insulation: 4mm neoprene | Sole: Vibram | Sizes (US): 4-12 | Colors: Dark Green & Brown Trim
Neoprene lining
Wide cuff for wearers with large calves
No kick-spur
Limited colors
The Viking welly battles bad weather like a boot-shaped berserker. Obviously they are waterproof – as all of the best rain boots are – but these tall boots are lined with stitched-in neoprene to provide decent thermal protection (Gumleaf claim comfort levels down to -10°C/14°F), and also boast an excellent Vibram outsole, supplying the sort of traction and grip in mud that you would normally expect only from a high-end hiking boot or running shoe.
Made by a British brand with their own factories in Europe, the other main feature on the Viking is the wide cuff, which can accommodate even the biggest calves (although the neck is gusseted and has a genuinely effective tightening strap, so you don't need to have legs like tree trunks for these to fit you securely). On the downside, there is no kick-spur on the heel, which makes them harder to get off.
The Viking is a good-looking boot, which comes in dark green with a brown trim.
The best year-round wellington boots
Helly Hansen W Veierland 3
Stylish woman's wellington boot with a great midsole
RRP: $100 (US) / £70 (UK) | Gender specification: Women's | Insulation: Wafer-thin brushed synthetic | Sizes (US): 4-9 | Colors: Beluga / Navy
Excellent midsoles
Suitable for hikes
Good looks
Decent tread
Barely-there lining
Not overly warm
An ostensibly fashion-orientated full-length welly from Scandinavian brand Helly Hansen, these boots have a surprise under the hood in terms of the quality of their midsole.
The Veierland takes its name from an island off the coast of Norway, and these are stylish Scandi boots, which will keep you dry no matter how muddy or wet the conditions are, but with a minimalist lining, you will need some proper welly socks to keep your pinkies warm in winter conditions – so factor that into the sizing.
The upper is manufactured from good-quality rubber, and the colors and anchor pattern make them easier on the eye than some wellington boots, so for festivals across spring, summer and fall, they're a good choice. They are also nice and light, and they have a good quality EVA midsole – a technical ingredient expected in quality hiking boots and trail running shoes, but not necessarily in the best rain boots, which makes them much more comfortable to wear on longer walks across a range of terrain.
The tread on the outsole is good too, although the lug arrangement can collect mud in sloppy conditions. Other features include an elasticated expansion slit on the calf, fronted by a decorative circular buckle.
Xtratuf 15-inch Legacy Boot
Iconic, stylish winter boots from Alaska
RRP: $145 (US) | Gender specification: Men's and women's | Insulation: Optional | Weight: 1361g / 3lb | Sizes (men's): 8-13 | Sizes (women's): 6-11 | Colors: Brown / Black
Fun patterns available
Variety of configurations
Not a lot of underfoot support
One width only for most styles
Do-it-all boots made famous by Alaskan outdoors people, Xtratuf's 15"-inch Legacy boot will get you through a commercial fishing season, a hike, a kayaking trip, and more.
There are many configurations to choose from, including insulated options, and boots with steel toes and more. They are 100% waterproof and acid chemical resistant. The boots roll down in warm weather, or any time you want to show off one of the fun inner prints, which include designs by the Salmon Sisters, two young Alaskan fisherwomen. (You can choose boots with neutral lining if you prefer.)
On extended test, this lined rubber boot has proved to be light on support, but heavy on slip resistance.
Hunter Original Tall Rain Boots
Posh looking welly with a tall price tag and an adjustable cuff
RRP: $160 (US) / £115 (UK) | Gender specification: Men's and women's | Insulation: None | Sizes (men's): 7-13 | Sizes (women's): 5-11 | Colors (men's): Dark Olive / Arctic / Moss Green / Black / Navy | Colors (women's): Black / Navy / Tundra Gray / Olive Green / Military Red / Yellow / Hunter Green / Bitter Indigo
Stylish
Adjustable cuff
Many colors
Can get sweaty
No turn down option
Designed for full-weather protection in above-freezing temps, the Original Tall Rain Boot is a Hunter heritage product that has been around since 1956. The boot looks simple but it takes a three-day process for the Hunter elves to assemble the natural rubber boot from its 28 hand-cut parts.
The boot is hand-assembled on Hunter's proprietary last before being vulcanized. The Original Tall is lined with polyester to prevent that clammy rubber boot feeling – because it's not insulated, it is best for moderate temperatures. Wear it with Hunter's sock, which rolls over the cuff to prevent wear on the boots or your calves. It boasts a top-of-the-calf buckle for fine adjustment.
On test we found the sole to be grippy, and the boot had good underfoot support.
Barbour Bede Wellingtons
Traditional welly from a brand with deep roots in the British countryside
RRP: $100 (US) / £65 (UK) | Gender specification: Men's | Insulation: Thin tartan cotton | Sizes (US): 5-11 | Colors: Black / Navy / Olive
Kick-spur makes taking them off easy
Vulcanized rubber upper
Cotton lining has little thermal benefit
Calf buckle ineffectual
Putting aside their waterproof qualities, which are a given in the best rubber boots, our favorite thing about these boots is an ostensibly simple bit of additional rubber on the heel – the kick spur. Despite the horse-worrying sound of that name, the purpose of this spur, as we understand it, is to help the wearer get the things off. How many times have you floundered around trying to pull your feet out of wellies without getting mud all over the place? Well this will resolve that problem.
The Bedes also feature vulcanized rubber uppers, and an outsole with a pronounced heel (another horsey element, harking back to when wellies were worn by military blokes on horseback with their feet in stirrups), front grooves and rear chevrons for braking control on downhill mud slides.
The lining is, frankly, flimsy cotton, which does nothing in the keeping-you-warm department, so we'd say these are two- to three-season boots. The buckle and strap on the side of the calf also appears to be entirely ornamental.
The Bede is manufactured for men, with the closest Barbour boot for women being the slightly more expensive, but much better-featured, neoprene-lined, gusseted Amble.
FitFlop WonderWelly
Wellies with a surprise superpower hidden in the heel
RRP: £90 (UK) | Gender specification: Women's | Insulation: Brushed fabric | Sizes (UK): 3-9 | Colors: Black / Grey / Navy
Very comfortable
Excellent heel
Questionable durability
It's all about the midsole with the WonderWelly, which looks like most other wellington boots from the outside, but has a superpower hidden in its heel and forefoot.
British brand Fitflop have fitted these boots with a cleverly contoured sole that has a "honeycomb heel", designed to soak up the impact of repeated foot strikes, bouncing you back off hard surfaces such as bitumen and tarmac, with a springy forefoot also adding to the overall suspension system. This definitely works, and our testers found the WonderWellies to be super comfortable, but the only thing is, wellies aren't really the footwear of choice for hard surfaces, where this bouncy midsole technology is most noticeable (soft, muddy conditions aren't hard to walk on).
That aside, the overall feel of the boot is good, with a brushed finish lining adding to the comfort. They also have a gusset and calf strap for fine tuning the fit, and a slip-resistant sole. They seem to size quite large, so can be worn with socks. On extended test, there were some issues around the robustness of the sole, so we're not sure this is a welly that will see you through multiple wet seasons.
The best budget wellington boots
Decathlon Solognac Warm Short Wellies
Budget-friendly short wellington boots with a fluffy warm lining and great grip
RRP: $25 (US) / £20 (UK) | Gender specification: Men's and Women's | Insulation: Fleece | Sizes (US) (men's): 7-12 | Sizes (US) (women's): 3.5-7.5 | Colors: Black
Great price
Warm lining
Excellent grip
Heel spur
Lining rips
Lack of color options
There are plenty of things to love about these boots, beyond the bargain price. We tested the short version with a warm fleecy lining, which are good for many scenarios, but the Solognacs are also available in longer iterations, some with neoprene lining – plus, of course, a slighter steeper (but still comparatively cheap) price tag.
Besides the snug lining (which will allow wearers to work outdoors for 40 minutes in temperatures as low as -21°C / -6°F, or comfortably stand still for half an hour at -12°C / 10.5°F according to the brand), features include a heel spur, to help get them off, and an outsole that offers really excellent grip, thanks to some serious lugs. What lets them down is the way the lining connects to the main boot, via a pull loop that isn't really fit for purpose and tears easily.
What to look for in the best wellington boots
Wellies come in lots of styles – some insulated and some not – with many heights to choose from and various features. What the best wellington boots all have in common is that they're fully, truly waterproof.
Choose the best rubber boots based on the weather you will most often wear them in. You will likely want some thermal protection against the cold, but if you're looking for a welly you can wear year round (including at summer festivals) you won't want one that is too toasty – remember, wellington boots often size quite large, so you can wear thick hiking socks, or multiple pairs of socks, as well. Beware buying rubber boots that are too large, though, otherwise they will rub when you don't wear them with thick socks.
Buy a boot with a good sole and enough support for the range of tasks you'll do while wearing it. Then, get ready to make a splash. Following are some more considerations to think about before buying the best rain boots for you.
Height
For late fall and winter use, opt for tall, insulated boots with a sole that grips on ice. For spring and summer splash-abouts and festival shenanigans, an ankle-high or mid-height boot might be best.
Materials
You can stay traditional with full rubber, or opt for a hybrid that pairs a wellington lower with a neoprene or leather upper. The lining material is important – for comfort levels and thermal protection against the cold. Fleece linings are warm, but need to be removable so you can wash them to prevent odors building up. Neoprene linings are also good in cold conditions. Brush-finished synthetic fabric inners are good for a welly you can wear year round, adding socks for thermal protection against the cold if and when required.
Sole
The best wellington boots have evolved a lot in recent years, and they're no longer simply rubber boots. One of the biggest and best developments has been in the improvement of the mid and outsole. You can now buy wellies with properly cushioned midsoles, making them wearable on hikes, and well designed outsoles with aggressive and carefully positioned lugs to provide traction and braking control on muddy ascents and descents. The best rubber boots sometimes even feature Vibram outsoles.
Adjustability and Features
You can choose wellington boots with all sorts of extra features these days, from heel spurs (which help when you're trying to get them off) to gusseted calves with straps and buckles, which allow you to adjust the fit. Zips are another feature you see sometimes, but you obviously need to ensure that these are reliably waterproof.
Writer, editor and enthusiast of anything involving boots, bikes, boats, beers and bruises, Pat has spent 20 years pursuing adventure stories. En route he's canoed Canada's Yukon River, climbed Mont Blanc and Kilimanjaro, skied and mountain biked through the Norwegian Alps, run an ultra across the roof of Mauritius, and set short-lived records for trail-running Australia's highest peaks and New Zealand's Great Walks. He's authored walking guides to Devon (opens in new tab) and Dorset (opens in new tab), and once wrote a whole book about Toilets (opens in new tab) for Lonely Planet. Follow Pat's escapades here (opens in new tab).
All the latest inspiration, tips and guides to help you plan your next Advnture!
Thank you for signing up to Advnture. You will receive a verification email shortly.
There was a problem. Please refresh the page and try again.