Learn how these famous US National Parks got their names
How is there a reef in the middle of the desert? A dry island surrounded by water? Learn how these famous National Parks got their names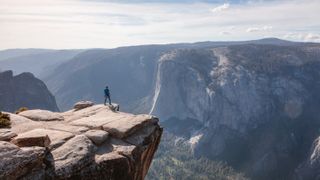 (Image credit: Matteo Colombo)
There are National Parks where you can easily understand how they came by their names, like those that are named for the mountain ranges they protect such as Rocky Mountain in Colorado, Grand Teton in Wyoming, and Olympic in Washington. Then there are those whose names are a bit of a mystery. How is there a reef in the middle of the desert? An island surrounded by water that's dry? And why so many French names? If you're a National Park junkie, you love learning more about the areas that you love to explore in your hiking boots, so we delved into the history of some of the most unusually-named National Parks to explain how they got their designations.
Acadia, Maine
Before it was part of New England, this most northeasterly state was part of New France. Acadia was an early French colony in the 17th and 18th centuries consisting of the Maritime Provinces now known as New Brunswick, Nova Scotia, Prince Edwards Island and Maine. If you've spent much time in Maine, you'll have noticed many French names exist to this day, and some Down Easters are fiercely loyal to these roots, even though the British took control of Maine during the war of 1812.
Acadia National Park is named in honor of the early French settlers and some sources report that the French word translates to 'idyllic place', which is certainly a fitting name for this northeast coastal gem. Interestingly, the park's name was originally Lafayette National Park, in tribute to an influential French supporter of the American Revolution, but was changed after only 10 years.
Badlands, South Dakota
Like a lot of National Parks, Badlands is named for the type of terrain it protects, it's just that not everyone knows what badlands are. Badlands are a type of dry terrain characterized by steep slopes, ridges and other rock formations that are caused by a combination of soft and non-permeable rocks, weathering and erosion.
For the Lakota tribe, this dramatic landscape was especially difficult to cross, and so they called it 'mako sika', meaning 'bad lands'. In reality though, these lands are enchanting, especially now there are roads to travel through them and you can do so from the comfort of your car.
Capitol Reef, Utah
This Utah National Park is perhaps one of the most mysterious of all the National Park names, located as it is over six hundred miles from the nearest stretch of water in Baja California. Though some armchair geologists have wondered if it's so-named because the striking rock formations here once formed a reef when the landscape was covered by oceans millions of years ago, the explanation is a little more creative.
In fact, early pioneers noticed that the white domes of the Navajo Sandstone bore a resemblance to the white dome of the Capitol building back in DC, which was erected in 1793. Meanwhile, the park centers around a geological 'wrinkle' in the earth called the Waterpocket Fold. As NASA explains, this fold or ridge is called a reef because it blocks travel across the land, just the way a reef blocks ships trying to cross the ocean.
Death Valley, California
Surpassing even Badlands, Death Valley has the most foreboding name of all the National Parks in the US, and if you've ever driven across it in the summer, you might have suspected that it's so named because if you broke down, you wouldn't last long, while other believe that it's because nothing grows here.
The first theory is not too far off base. The area was named by a group of pioneers, known today as the Lost 49ers, who became lost here in 1889 in their rush to find gold. According to the NPS, only one of the group is known to have actually died, but it's safe to say that the others feared for their lives until they were rescued. As for the second theory, Death Valley is actually rich in diverse lifeforms, from fish and reptiles to birds and wildflowers, especially after a rainfall, so make sure you bring your binoculars.
Dry Tortugas, Florida
Lying 70 miles off the coast of Key West, Dry Tortugas National Park is a Florida National Park that offers a magical hideaway with crystal clear waters – so why is it called dry turtles? Well, it's simple really. The area is rich in marine life and five species of turtles regularly nest here on the island. However, despite being surrounded by salty sea water, the island itself lacks any freshwater, which Spanish explorer Ponce de Leon discovered when he arrived at the island in 1513.
Mesa Verde, Colorado
If you have a little Spanish, you'll know that 'mesa verde' means 'green table', but if you've only seen photographs of this park, you'll know that the main attraction of this Colorado National Park is the 600 well-preserved cliff dwellings built by the Ancestral Puebloan Indians between 650 CE and the 12th century. Visit in real life, however, or zoom out a little, and you'll see that this National Park sits on a broad, flat-topped mountain, known in geography as a mesa, which is covered in piñon and juniper trees which remain green year-round.
Voyageurs, Minnesota
Voyageurs protects four tranquil takes up in northern Minnesota near the Canadian border and this aquatic ecosystem is popular for water sports and fishing. The French name means 'traveler' and the Voyageurs were the early French-Canadian fur traders who used these waterways to transport their goods by canoe.
Yosemite, California
One of the most famous US National Parks has one of the most unusual-sounding names, to which most of us have become familiar thanks to the Looney Tunes character Yosemite Sam. To its native people, the Miwok tribe, this area is actually known as Ahwahnee. However, according to Kuykendall's Early History of Yosemite, the word 'Yosemite' is a corruption of the Miwok word for bear. Though there are hundreds of black bears in the area, Kuykendall writes that the valley was so-named because the white people who first came in contact with its native inhabitants called them Yosemites.
Inside Yosemite National Park, a battle between the native and settler names has made the headlines, with the historic Ahwahnee hotel being controversially renamed the Majestic for three years before having its native name restored.
Zion, Utah
The religious overtones of this park name are lost on few. The word 'zion' is used synonymously with Jerusalem in the Hebrew bible/Old Testament and also refers to a hill that has prophetic connotations. If you've had the experience of setting eyes on Zion Canyon for the first time, the name might not be such a stretch as the experience is truly awe-inspiring and the location worthy of pilgrimage. So it's no surprise then, that the name can probably be traced back to Isaac Behunin, an early adopter of Mormonism in Utah and settler in the area. That said, it's worth noting that to the native Southern Paiute people, Zion National Park is known as Mukuntuweap, which means 'straight canyon' or 'straight arrow'.
All the latest inspiration, tips and guides to help you plan your next Advnture!
Julia Clarke is a staff writer for Advnture.com and the author of the book Restorative Yoga for Beginners. She loves to explore mountains on foot, bike, skis and belay and then recover on the the yoga mat. Julia graduated with a degree in journalism in 2004 and spent eight years working as a radio presenter in Kansas City, Vermont, Boston and New York City before discovering the joys of the Rocky Mountains. She then detoured west to Colorado and enjoyed 11 years teaching yoga in Vail before returning to her hometown of Glasgow, Scotland in 2020 to focus on family and writing.