What are badlands? And are they really that bad?
Badlands are anything but bad – learn how this captivating desert terrain forms, and what you'll need to visit it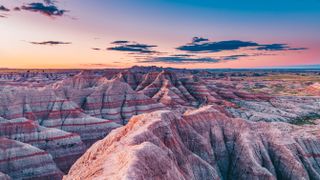 (Image credit: Cavan Images)
There are probably activities that are more exciting than hiking, like paragliding, and there are definitely activities that will make you richer, say, playing the stock market, but I can't think of too many that get you up close and personal with so many different types of ecosystem and terrain, especially if you're will to travel.
Sure, you can study geography at university, but then most of your experience happens in classrooms. You can take lots of vacations, but then a lot of the terrain you explore might be hotel rooms. But hiking? Then you get your feet, or your hiking boots anyway, on the ground. You can stride up mountains, stroll through forests and jungles and cross glaciers and deserts, taking in not just the sights but the sounds of the wildlife and the whistling wind, touching the local flora and breathing in the scents that accompany each terrain.
Of all of the different types of terrain that you might encounter on a hike, badlands are some of the most distinctive and memorable and I'll never forget finally seeing badlands in real life on a visit to Capitol Reef National Park years ago. Coming from Scotland, I felt like I'd landed on another planet. But what are badlands anyway? And are they actually all that bad?
What are badlands?
If you grew up watching Westerns on TV, you grew up looking at badlands even if you weren't raised out west. Badlands form the quintessential backdrop of films like How the West Was Won and Dances with Wolves.
Badlands are a type of terrain rich in soft sedimentary rocks such as mudrock and sandstone, as well as impermeable clay-rich soil that has been subject to extensive weathering and erosion. Badlands often have a striped appearance and their exterior gives you a glimpse into the passage of time. They exist in desert conditions and as a result are characterized by sparse vegetation as well as steep slopes and a high drainage density due to infrequent but severe rainfall that cannot penetrate clay soil and therefore cuts deep channels into the soft surface. As a result, badlands tend to feature canyons, ridges, gullies and ravines as well as rock formations like hoodoos and buttes.
Some badlands develop underground cavities and caverns known as piping systems as water seeks the path of least resistance. Most badlands are formed naturally, but there have been instances of such terrain forming due to human behavior such as mining and farming, with examples of such in both Spain and Ontario.
Why do they call them badlands?
Based on nomenclature alone, if you've never been to any badlands, you might think that they are dangerous or creepy places, but in reality they are anything but bad. Badlands are exquisitely beautiful, so how did they get landed with the name?
According to the National Parks Service, the Lakota tribe have called Badlands National Park 'mako sica', meaning 'bad lands', for centuries, and when the French fur traders came to the area in the 1700s, they called it 'les mauvaises terres a traveser' which means 'bad lands to travel across'. For these earlier humans, this was most likely a pretty accurate description – badlands make for difficult travel even today, but back when you were trying to do it on horseback, you'd encounter a jagged landscape that is difficult to navigate, high winds, temperatures extremes and hardly any water to speak of (or drink). There's no doubt that many explorers perished in these lands before there were roads cut through them and air conditioned cars in which to comfortably traverse them.
That said, in today's world, badlands can make for some of the most captivating landscapes to hike and camp in, so long as you're well-prepared for desert conditions. Many areas of badlands are also magical for stargazing.
Where can I visit badlands?
You might think that badlands only exist in South Dakota, and certainly those are the most famous ones, but in fact, badlands exist on every continent except for Antarctica. These are some of the top badlands to visit on your hiking travels:
Badlands National Park, South Dakota
Theodore Roosevelt National Park, North Dakota
Makoshika State Park, Montana
Henry Mountains, Utah
Capitol Reef National Park, Utah
Goblin State Park, Utah
Dinosaur National Monument, Colorado
Toadstool Geologic Park, Nebraska
Big Muddy Badlands, Saskatchewan
Cheltenham Badlands, Ontario
Red Deer River, Alberta
Valle de la Luna, Argentina
Garhbeta, India
Aliano, Italy
Göreme National Park, Turkey
Putangirua Pinnacles, New Zealand
What you'll need for hiking in badlands depends a bit on where you're going and the season, but you'll always want proper footwear, while dressing in breathable hiking layers and wearing hiking pants is recommended to protect your legs against low scrub. Wear a hiking hat to protect your face and head from the sun. Most importantly, carry a lot of water, either in your water bottle or a hydration pack, because there may be no water sources available.
All the latest inspiration, tips and guides to help you plan your next Advnture!
Julia Clarke is a staff writer for Advnture.com and the author of the book Restorative Yoga for Beginners. She loves to explore mountains on foot, bike, skis and belay and then recover on the the yoga mat. Julia graduated with a degree in journalism in 2004 and spent eight years working as a radio presenter in Kansas City, Vermont, Boston and New York City before discovering the joys of the Rocky Mountains. She then detoured west to Colorado and enjoyed 11 years teaching yoga in Vail before returning to her hometown of Glasgow, Scotland in 2020 to focus on family and writing.