What to take thru-hiking: from tents to backpacks and a good pair of socks
Packing for a thru-hike is art and science combined – a balancing act between bringing too little and taking too much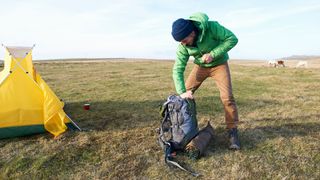 (Image credit: Getty)
When you think about what to take thru-hiking, selecting the right gear to wear and take will have a big bearing on how enjoyable the experience is. The less weight you carry, the less toll the hike will take on your body, but you don't want to be halfway through Maine's Hundred Mile Wilderness, near the northern terminus of the Appalachian Trail, only to run out of food or fuel, or break your ultralight poles.
There are many styles of thru-hiking. I prefer a fast and light approach without going uncomfortably minimalist. But every hiker will have to decide for themselves what their limits of minimalism are. Sometimes 'ultralight' is synonymous with 'fragile', and that's not what you want for a thru-hike. But sometimes ultralight gear will save pounds in your pack, so you can hike longer more comfortably.
What you should pack will be determined by where you're hiking. And the weather. When I hiked Vermont's Long Trail in early May, I needed a head net for bugs, and a warm sleeping bag and clothes. I hiked in freezing rain for most of a week. Hike the same trail in September and you won't need either of those things. Consider poison oak and poison ivy soap if you'll encounter those itchy plants, or a snakebite kit if regionally appropriate. Gear up with sunscreen, bug dope, and layers as dictated by Mother Nature.
To help us hone in on the best thru-hiking gear, we recruited Chris Reimer who is the camping department head at Outdoor Gear Exchange in Burlington, Vermont. Reimer has personally completed the Appalachian Trail, the Pacific Crest Trail, and the Long Trail (twice), and will set out on the Continental Divide Trail next year, and when he's not walking himself, he helps hundreds of thru-hikers get geared up each year.
Reimer's best nugget of advice for first-time thru-hikers is this: once you have what you think you need, do several multi-night shakedown hikes.
"Once you've used your kit on the trail, you can go through your pack again and see what you didn't use and consider leaving that home," he says. "Also – ultralight isn't always best. If your tent is five ounces lighter but it takes 45 minutes to set up, you're not winning. Balance weight, comfort, and the practicality of whatever gear you're considering buying with where you're going."
Backpack
When you're carrying everything you need to provide shelter, sustenance, safety, warmth and comfort for multiple days, it's crucial you have the best hiking backpack for the job. For thru-hiking, I like my backpack to have enough support that I'm not taking the brunt of the load on my shoulders and back. But I don't need loads of organizer pockets because I sort my gear inside my pack with ultralight dry bags and stuff sacks. I want a pack that's light, tough, and well-padded with a sturdy harness, like Granite Gear's Crown 2. Reimer recommends Gossamer Gear's Mariposa, which is affordable and has a supportive frame, and is great for first time thru-hikers.
Sleeping bag
I sleep cold, so when selecting the best sleeping bag I usually opt for a rating that's warmer than the weather I expect to encounter, and as light as possible. Synthetic sleeping bags are still warm when wet, but they're generally bulky. I prefer down because it's extremely compressible and cozy in a way that only down can be. I store my sleeping bag in a waterproof, breathable stuff sack in my pack to protect it from moisture, and I make sure to air it out in the morning after I get up so that any moisture can escape. I always sleep inside a silk liner sheet inside my bag. In warm weather, it's sometimes all I need, and I can leave my sleeping bag unzipped. And all the time, it keeps my sleeping bag clean. For sleeping bags, I like Rab's Mythic 200, which is compressible and cozy. Reimer uses a quilt most of the time. "It's a little bit of a learning curve with the quilt," he says. "Sometimes I use it as a blanket. Sometimes I strap it around my sleeping pad." He opts for Enlightened Equipment Revelation and also recommends the Sea to Summit Ember.
Sleeping pad
Buy a good-quality sleeping pad that's insulated, tough, and easy to repair. I prefer an air mattress that packs small, but gives me a sleeping platform that's wide enough for me to flip and flop on during the night. I use an insulated air mattress because even on a warm summer night, the colder than body temperature ground can suck away your body heat and make you feel cold. I don't pack the tiniest sleeping pad, but one that packs small because it helps me sleep better. My favorite is Nemo's Tensor. Reimer goes for the lightest available, Thermarest NeoAir Uberlite because the warmth-to-weight ratio can't be beat.
Tent
Whether you're best with a freestanding or a trekking-pole supported tent depends on the terrain. Consider buying a backpacking tent with a little extra space, which may be more comfortable when you get stuck in it during bad weather. On some thru-hikes, like the Long Trail, there are enough shelters that you may just need an emergency bivvy instead of a tent in case you finish your day and the shelter is full – check out our one-person tent vs bivvy bag to see the benefits of each. Reimer likes Gossamer Gear's The Two, which is light, affordable, and quick to set up.
Boots
Heavy boots effectively weigh more than the weight you carry on your back. That's because you're swinging or lifting your feet, and the boots on them, with every step. If you need ankle support, buy a good hiking boot, but preferably something light and durable, with a well-cushioned midsole. Or, if your load is light enough and your ankles stable enough, I'd wear a stable and rugged hiking shoe. I like Salewa's Dropline or Dropline GTX which has a springy and energetic midsole and a little bit of sole rocker that helped propel me into my next step. It's available in Gore-Tex and non-Gore-Tex versions, in men's and women's. Reimer wears the Topo Mountain Racer, a similarly rockered running shoe-style light hiker.
Socks
Caring for your feet should always be front of mind for a thru-hiker. If you get bad blisters, a bad case of athlete's foot, or some other malady, it can end your thru-hiking dreams in a flash. Buy merino socks. You shouldn't need a liner sock underneath. Reimer and I both like Darn Tough Hiker Boot Socks, because they're guaranteed for life, even if your life includes a several-hundred to several-thousand-mile thru-hikes. Spending $20 or more on a pair of socks may seem frivolous, but it's worth it. Spend it, and buy more pairs than you think you need. Carry more socks than you think you need. Then, ship some of your new socks to one of your food resupplies along the way. New socks and fresh socks can solve a lot of what's wrong in the world when you're a thru-hiker.
Food and water
When thinking about what to take thru-hiking, take high-calorie food that's quick to prepare and that won't leave you with heavy trash.
If you're making your own backpacking meals, consider filling a heavy-duty plastic bag with a base of heavy cream powder or coconut milk powder, veggie or chicken broth, salt, texturized vegetable protein. Add it to rice noodles. Bring packets of spices, like curry or other premixed spice blends, to change the flavor so you won't get bored. I also carry olive oil in a Platypus Soft Bottle. I like a warm breakfast of oatmeal doctored up with high-calorie raisins, nuts, powdered heavy cream, and maple sugar. Reimer opts for pop tarts, makes wraps for lunch, and Knorr Sides for dinner.
If you're buying pre-made just-add-water meals, we both like Good to Go. They're free of artificial ingredients, delicious, made in Maine, and there are loads of flavors to choose from.
Bars get old. Mix them up with candy, dried fruit, and whatever else you crave when you walk into a grocery store. "If you let a hungry six year old loose in the grocery store, their cart and my cart would look about the same at checkout," said Reimer. However many calories you're eating, you will lose weight on your thru-hike. So indulge when you can.
There are many ways to carry water and many ways to treat water so it's safe for drinking. I always carry a chemical water treatment either as my primary treatment or as my backup. I like Purinize, the only liquid water purifier that naturally disinfects and clarifies water without chemical disinfectants. Purinize uses a mineral-based formula that eliminates/reduces 200+ contaminants. Reimer recommends the Sawyer Squeeze filter, which screws onto clean and dirty water bags, a bottle, and more. Backflush it when you stop to resupply and the flow will stay strong. Reimer's lasted him the whole PCT.
I carry water in Platy Soft Bottles because they pack flat when empty and weigh almost nothing. If I'll be in colder weather, I also bring a liter Nalgene so I can have a bottle of tea on the trail.
Reimer opts for PowerAde Sports Drink bottles that he buys on resupply days in town, "because PowerAde is delicious and I hate to throw out a perfectly good bottle."
Clothes
Bring all the layers you'll need, like a down jacket, a waterproof jacket or poncho, a hat and gloves as well as a hiking shirt, pants and/or shorts and underwear. Each thru-hiker has to figure out how bad they're willing to smell. Having at least two pairs of pants, shirts, and underwear means you can wash and dry one while you're wearing the other. But some people will need to pack another shirt or more underwear, or maybe pants and shorts to stay sane. Long underwear can add warmth to your sleeping bag, and also layer under hiking pants and top when temperatures drop.
First aid, repair, and emergency gear
Reimer says: "Bring what you're comfortable with and know how to use." I like to pack my first-aid kit with more than just the basics. I add blister treatment – moleskin or liquid bandage, which stays on for multiple days while the blister heals underneath. If you'll be really far out there, consider carrying an emergency suture kit. Have matches or a backup lighter. I also bring treatment for bruising and muscle soreness, like arnica or CBD. Bring a small mirror if you won't always have a charged phone. Get a bug in your eye, or a wound somewhere you can't see, and you'll need a mirror or phone with a camera to understand the problem so you can fix it.
A Garmin InReach Mini, which is smaller than a pack of cards, or some similar satellite emergency locator beacon that also lets you communicate with friends and family in an emergency, is especially critical for thru-hikers traveling solo. Pair it with your phone for up to date weather reports, or subscribe to InReach's weather reports.
Duct tape, zip ties, a needle and thread, and perhaps an extra buckle like the one on the waist of your pack are all good for repairing gear. And items like dental floss can cross over from toiletries to repair. I've used it as extra-durable thread for sewing a torn pack.
Everything else
Bring a light, powerful and efficient head lamp, like the Black Diamond Storm Headlamp, with a set or two of back-up batteries and/or a small solar panel to recharge that, your Garmin, and your phone. Choose a cup that's also a cookpot, and use it with a tiny folding camping stove, like Reimer's favorite, the Optimus Crux, which is the only piece of gear that will triple crown with him. I usually thru-hike with a Jetboil MicroMo which has a dedicated pot that also serves as a cup or bowl. The stove and gas store inside the cup for travel. Bring a spork or spoon instead of a spoon and fork. Pack a multitool with a knife for repairs and cooking. A bowl that folds flat and doubles as a cutting board will add little weight and take almost no space in your pack, but it will let you drink and eat at the same time. Reimer and I agree – trekking poles are a must-have.
Indulgences
Most thru-hikers bring at least one thing that's not completely necessary. Maybe it's a trail mascot, a special snack, massage oil, a candle lantern, a kindle, or a pour-over coffee filter like GSI's Ultralight Java Press. I like to bring something that feels luxurious or indulgent, like the coffee filter, because I can. Reimer won't leave for a trek without his Nemo Fillow Elite camp pillow. "I'm a pillow guy," said Reimer. "And on this one, you can wash the pillowcase."
All the latest inspiration, tips and guides to help you plan your next Advnture!
Vermont-based writer, photographer and adventurer, Berne reports on hiking, biking, skiing, overlanding, travel, climbing and kayaking for category-leading publications in the U.S., Europe and beyond. In the field, she's been asked to deliver a herd of llamas to a Bolivian mountaintop corral, had first fat-biking descents in Alaska, helped establish East Greenland's first sport climbing and biked the length of Jordan. She's worked to help brands clean up their materials and manufacturing, and has had guns pulled on her in at least three continents.