Why choosing the right running socks and insoles can be a gamechanger for your feet
Finding the best running socks and insoles for you is as important as right shoes. Here's how they can help with nine common running problems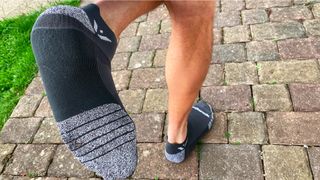 (Image credit: Pat Kinsella)
Do not underestimate the importance choosing the best running socks and insoles for your needs when it comes to keeping your feet in trailworthy condition. Using either or a combination of both could make a considerable difference to your running experience.
What are insoles?
According to coach and physio Tim Pigott from HP3 Coaching, "Off-the-shelf insoles replace the ones that come as standard in your shoes. They're designed to alter the external forces applied to the foot and reduce the stress to internal structures (muscles, bones, tendons and ligaments). This is done through the shape of the insole and the materials.
"They differ from custom orthotics, which are medical devices made by trained professionals (usually podiatrists) to treat specific medical conditions or injuries, often for short-term use. However, many studies have shown that even for medical conditions, an off-the-shelf insole is just as effective as a custom-made orthotic."
It seems obvious to focus on the shoes if you're having problems with fit, foot pain, hot spots and blisters. But before you consign your latest pair of trail pounders to the back of the wardrobe and splash out on yet another different model or brand, try experimenting with some different insoles and running socks first. (And if you're wondering how often you should be replacing your running shoes, then check out our guide for some advice.)
Using these two much cheaper items you can alter the fit, sizing, support and cushioning of the shoe, which may help alleviate any problems you're having. This can also work if you have differently-sized feet – there's no law saying you must wear the same socks and insoles in both shoes.
Running-specific insoles start from around $33 / £25 and socks from around $13 / £10, but you can pay a lot more for both depending on how much R&D has gone into production, build quality, special features and the materials used.
Let's find out how changing your running socks and insoles can help combat nine common foot care problems that runners experience.
Problem 1: shoe too big
If your shoe feels too big no matter how tightly you lace it up, here's where an insole and a thicker sock can help.
Choose an insole with a higher level of cushioning and / or support to fill the shoe up slightly. You'll be surprised at the difference even a couple of millimeters of extra height can make, especially if you have a low-volume foot and feel space over the top of the midfoot.
Add to this a more padded sock, perhaps a double-layered one, or one with individual toe holes, and as long as you're not completely in the wrong-sized shoe, you should be able to create a snug, comfortable fit.
Problem 2: shoe too small
This is unfortunately a trickier problem to solve as running shoes don't "give" in the same way that an old-school, leather hiking boot might be worn in. Replacing the insole is also less likely to work as these are usually more substantial than the originals (see Problem 1).
However, all is not lost – take a look at your socks. Could you wear a pair made from thinner material? If you're currently wearing padded, double-layer or toe socks you'll be amazed at how much room a well-designed, snug-fitting, thinner pair of socks can give you without sacrificing too much comfort from the reduction in padding.
Problem 3: one foot bigger than the other
How annoying! Most people have slightly differently sized feet but some can be a half or even a whole size different. Rather than buying two pairs of shoes or trying to find someone with the opposite problem to you to swap with, go for the shoe that fits the larger one of your feet, then use socks and insoles – as per Problem 1 – to make the smaller foot comfortable.
Problem 4: foot moving / rubbing in the shoe
Whenever your foot is not snugly encased in the shoe and allowed to slide around, this can lead to run-ending and race-destroying hot spots and blisters. Common examples are movement in the midfoot, rub at the arch and slippage at the heel. If you've experimented with tighter lacing and heel locks to reduce heel movement but had no success, it's time to experiment with insoles and socks.
For some, using a more padded sock and cushioned or supportive insole can work. Or it might be that using a double-layered sock can help with this, as the two layers of sock fabric move against each other instead of your skin. Other socks feature areas of silicone grip that actively prevent movement within the shoe. Insoles can also help here if they have a grippier surface than the original one supplied with the shoe.
Problem 5: sock slipping down and rucking up
It's very time-consuming to keep pulling the back of your sock up after it's wriggled its way down your heel for the hundredth time on your long run, so we always advise wearing ankle-length socks (and higher!) rather than anything cut lower down. This means they're less likely to work their way downwards, and, on the odd occasion that they do, at least you have a substantial amount of material at the ankle to pull it back up again.
If your socks are routinely ruckling up inside the shoe, causing discomfort and inflicting blisters, it's time to consider a new or higher quality pair with different elasticated zones across the foot to hold it in place snugly. These are more expensive, but they are definitely worth it for this anti-ruckle-up (the technical term?) technology.
Problem 6: blisters between the toes
For blisters between the toes try toe socks, a genius invention with a toe hole for every digit, like the fingers on a glove. This protects each toe from rubbing against the other and can be an absolute lifesaver.
You can get toe socks with different levels of thickness, but having material in between each digit does splay the toes a little wider, so watch out for further toe-squash if you're using a shoe with a narrow toe box. If you do want to wear toe socks, it might be worth looking into wider-fitting running shoes.
Problem 7: wet feet
Socks that hold on to water rather than drying quickly can cause issues with trench foot and maceration on longer races, so it's well worth investing in a pair of high-quality running socks that use quick-drying yarns. If you're not sure what your current sock is made from, assess how dry it is when it comes out of the washing machine. If it's soggy and saturated, it's worth investing in a better pair, but if they seem almost dry to the touch, that's a good sign.
As long as you're wearing running shoes that drain water efficiently, it is possible to effectively dry out on the run if the sun comes out and your gear wicks moisture well enough. Some runners swear by waterproof socks for preventing wet feet and the subsequent blister problems, but others find they wind up with soggy toes anyway because sweat can't evaporate, and that the waterproof socks are not as comfortable and snugly elasticated as quick-drying sports socks. This all boils down to personal preference and requires experimentation.
Problem 8: sole pain
Especially on long-distance events like ultra marathons, the soles of your feet take an intense bashing , which is hardly surprising considering that when we run our feet are absorbing three to five times our bodyweight with each foot strike. As the miles build up this can lead to pain from the impact of pounding the ground over and over again.
This is where a good-quality pair of insoles comes in to provide cushioning and support to absorb more of the shock and alter the forces on different parts of the foot, all of which alleviates pain. Studies have shown that reducing the forces on the foot might be advantageous for long, endurance runs, but for short distance racing and sprinting there's actually a negative outcome in terms of performance. So save your insoles for ultras and swap your originals back when you're chasing that parkrun PB.
Problem 9: plantar pain
Seeing a specialist sports physio is definitely the first port of call for running injuries like plantar fasciitis, but an insole with more support or possibly arch support may also form part of your treatment plan, along with strengthening exercises, of course.
Arch support and heel stabilization can help to reduce the stress on the plantar by reducing the inward roll of the foot. Not every runner will need or feel comfortable using this level of support but it's worth giving it a try if your physio recommends it as part of your rehab. Insoles can't solve running injuries but they can play a part in the solution.
All the latest inspiration, tips and guides to help you plan your next Advnture!
The co-founder and former editor of Trail Running magazine, Claire now runs the YouTube channel Wild Ginger Running, creating films packed with trail- and ultra-running content. An award-winning journalist, writing for outdoor and adventure sports magazines and websites, her first book The Ultimate Guide to Trail Running 5k to 50k is out in January 2021. Claire also speaks and presents at events and races.