How to say goodbye to blisters while running
Blisters aren't an inevitable part of running – learn how to deal with them in motion, and prevent them from hampering your performance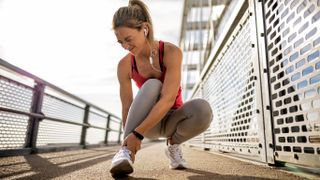 (Image credit: Nastasic)
Hikers are used to dealing with blisters, what with their heavy hiking boots and long distances, but just because we runners like to fly down the trail in lightweight foam soles doesn't mean we're off the hook. Whether you've recently started running past the 10k mark and started to notice painful blisters where there were none before, or perhaps, like me, you have certain areas like your instep or big toes that always tend to blister, you're going to want to know how to deal with these fluid-filled menaces if you don't want to be limping to the finish line at your first half marathon. Read on to discover what might be causing your blisters, how to deal with them mid-race and how to prevent them from ever occurring again, no matter the distance.
Why am I suddenly getting blisters when running?
In general, blisters when you're running are going to be caused by the combination of increased body heat and moisture from sweat which creates an ideal environment for friction between your sock or shoe and your foot. In response to the rubbing, your body cleverly forms a little pouch of liquid to prevent any further damage to the dermis. Additionally, after the first couple of miles, your feet will swell up which means your shoes fit differently than they did when you put them on back at the trailhead.
If you've suddenly started to get blisters while running when you didn't before, however, the culprit could be your shoes. New shoes can fit differently, even if they appear to be the same model as your old pair – a lesson I've learned the hard way – and may need breaking in or could just be the wrong shape for your feet. Similarly, if you've been wearing the same shoes for a while and are suddenly developing blisters, it could be that the wearing down of the soles and uppers is causing your previously perfect shoes to rub. Read our article on how often you should replace running shoes to figure out if you are ready for a new pair.
One final possibility is a change of location or season. If you're suddenly running in warmer or more humid conditions, or at higher altitude than you're used to, you may experience more sweating or swelling.
Is it OK to run with blisters?
Naturally, any podiatrist would encourage you to let a blister heal before running again, but we all know that you're not likely to let a blister get in the way of your training plan, so let's just say that you can run with a blister, depending on where it is and how big it is, but it's a good idea to cover it up using some sports tape, a Band Aid or some moleskine before you head off.
If the blister is so painful that it's actually affecting your gait, it's best not to run with it and let it heal while you work on some cross training and shop for some new shoes.
All of this said, if you have blister prone areas on your feet, it's helpful to let those areas toughen up and allow protective calluses to form, so stay away from the pedicures and pumice stones.
How do runners deal with blisters?
Some runners are more prone to blisters, but even if you're not, if you're running long distances, one could definitely develop at mile 15 or 20. You don't want to let it sideline you, so always head out prepared and carry moleskine or some of that sports tape in your running backpack or hydration pack. As soon as you feel a hot spot sensation on your feet or toes, stop, remove your socks and shoes, and cover up the affected area. This may be enough to prevent the blister from developing further while you reach the finish line, whereas if you wait, it may be too late.
How do I prevent blisters when running?
Obviously, the best way to deal with blisters when running is to prevent them from arising in the first place, so that you don't lose precious minutes dealing with them mid-race. If you're prone to blisters, or worried about developing one during your first marathon, it's best to come at the issue from all angles, starting at the shoe shop.
1. Choose the right shoes
There's lots to consider when you're choosing a pair of trail running shoes or picking out road running shoes, from weight and drop to grip and waterproofing, and it's a good idea to spend some time figuring out exactly what you need in a running shop with an expert. Trail running shoes tend to have stiffer soles and uppers than road running shoes, and may take more breaking in. I love the bounciness of a maximalist running shoe, but I'm learning they can rub at my instep and I may be better off with a lighter, lower profile shoe.
Obviously, your shoes can't be too small or too big, but you'll need to make sure there's a little room for your feet to swell without your feet moving around too much.
Make sure your chosen shoes are breathable and if you're not running in extreme cold conditions, you may want to forgo any waterproofing as that can hold moisture in and choose quick drying shoes instead.
2. Consider neoprene insoles
If you're not dealing with over supination, you may never have considered insoles for running, but there is some evidence, such as a 1995 study published in Sports Medicine, that indicates neoprene insoles in reducing the instance of blisters.
3. Tape up
If you have areas where you know you are prone to rubbing and blisters when you're running no matter which shoes you're wearing, don't carry tape on the trail with you and wait for them to rear their ugly heads – preventatively tape those areas before you go.
4. Lubricate… or dry your feet
This area is a little contentious. Some swear by lubricating their feet with Vaseline to protect against rubbing, which generally works for me, while others opt to use talcum powder to help their feet stay dry, also to protect against rubbing. Who's correct? Whoever doesn't have blisters at the end of the run, really. That said, since Vaseline will get partially absorbed into the skin and mostly absorbed into your socks, it may become less effective when you're running over long periods of time.
5. Be smart about socks
If you're running regularly and for longer than about 30 minutes at a time, you really want to invest in some proper running socks and not just any old pair of cotton socks lying around in your drawer that you don't wear to the office. Running socks will contour to your feet, may have extra padding in blister-prone areas, and most importantly must be made from a breathable, moisture wicking fabric that won't trap moisture. Merino wool and bamboo are best for your skin and the planet, while synthetic socks share those same performance properties. Further, you may want to consider toe socks for running if it's your toes that tend to blister.
6. Lace up
Choosing the right running shoes only gets you so far if you don't lace your shoes properly. Too tight and your shoes will pinch, too loose and your heel may shift in your shoe. Read our article on how to use the extra lace holes in your running shoes to tie a heel lock.
7. Get some gaiters
Running gaiters can help you avoid blisters if you're running in a downpour, or if you're on a rough trail. In wet conditions, they can keep your socks from getting soaked and rubbing, and in rough terrain, they'll prevent pesky pebbles from working their way into your shoes, which can be the culprit of rubbing, and very annoying, too.
All the latest inspiration, tips and guides to help you plan your next Advnture!
Julia Clarke is a staff writer for Advnture.com and the author of the book Restorative Yoga for Beginners. She loves to explore mountains on foot, bike, skis and belay and then recover on the the yoga mat. Julia graduated with a degree in journalism in 2004 and spent eight years working as a radio presenter in Kansas City, Vermont, Boston and New York City before discovering the joys of the Rocky Mountains. She then detoured west to Colorado and enjoyed 11 years teaching yoga in Vail before returning to her hometown of Glasgow, Scotland in 2020 to focus on family and writing.