What hiking teaches you about living: 7 valuable lessons
Hiking can make some pretty excellent training for the real world – here's what it teaches you about living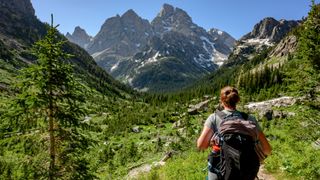 (Image credit: kellyvandellen)
We've written extensively about preparing for hiking. Working up slowly and increasing your fitness for those long, steep days on the mountain. Getting the right pair of hiking boots and knowing how to lace them properly. How to adjust a backpack to protect your back and even what hiking snacks to bring for fuel. But in turn, hiking itself can prepare you for a whole heap of challenges that life throws your way once you get off the trail.
Hiking is an amazing way to escape the frenetic pace of urban life and downshift your nervous system, but after untold hours spent on hiking trails around the world, we've come to the conclusion that hiking can also make pretty good training for the real world. Here's what hiking teaches you about living:
1. Patience
Good things come to those who… walk? In why walking helps us think, British scholar and researcher Graeme Tiffany discusses the virtue of the slow pace of hiking versus faster-paced pursuits like running and cycling. Hiking might lack speed and competition, but it compensates with plenty of reward, just not in the shape of a trophy. Instead, it teaches us that beautiful experiences and amazing accomplishments often take effort, but are often better reached through a slow immersion than a teeth-gritting bolt to the finish line.
2. Gratitude
Gratitude has been clinically shown by the Heartmath Institute to be good for your health, but it can be hard to put into practice when you're constantly just trying to juggle your obligations and make ends meet. Another benefit to slowing down in nature while hiking is that you have time to actually experience – and appreciate – the simple things in life. Life can be a little flavorless if you're always focused on getting to the end, but the experience of a hike begins the moment your feet hit the dirt and continues with every step. As the overquoted and misattributed saying goes, it's about the journey, not the destination.
3. Problem solving
As you age and your life becomes more routine, you might butt up against less problems to solve, which can get you out of practice when life gets complicated and you suddenly have to figure out how to get two kids to different places at the same time. Hiking is full of problem solving, from reading a map and using a compass to navigate to responding to changing weather conditions and staying safe. Having to solve problems under challenging circumstances might not always feel like fun, but it will make navigating your next spreadsheet at work feel like a breeze.
4. Change is the only constant
Perhaps the greatest truth in life is the one that we all struggle with the most. You cannot step into the same river twice, and while everyone from Heraclitus to Buddha philosophized about this subject, we still have difficulty letting go of our favorite sweater, car, or person without heartache. When you hike, especially if you hike the same trail regularly, you become aware of the constant life cycles occurring in nature, watching the same trees bud, bloom and return to seed, and you can learn to appreciate that as a beautiful aspect of life, and one that is necessary for the cycle to begin, rather than an adversity to be resisted.
6. Perseverance pays
Knowing when to turn back is a vital part of hiking safety, but oftentimes you can do more than you think when you're on the trail, even if it means slowing down. How many times have you almost quit on a hike, pressed on and then rounded the bend to see the most spectacular waterfall or vista and thought to yourself, glad I kept going? Hiking rarely rewards you with anything other other than beauty and wonder at the end, and can be a valuable lesson in trading a little comfort for the fruits of perseverance and effort.
6. Humility
As humans, we're hardwired to find what we're good at and stick to it. This is a great way to develop our unique skills and feel a sense of achievement and it's how people like Serena Williams rise to the top of their game. But once we get good a something, we have a tendency to get complacent.
Get complacent on the trail, however, and the trail gets you. For all its rewards, hiking can be arduous even among the fittest, especially on long treks, and being out at the mercy of nature and perhaps the odd bear has a special way of making you feel small in comparison. Nature is powerful and a regular dipping into it can help keep you from becoming arrogant or conceited, which arguably leaves you more open to learning since you never feel like you've mastered it.
7. An ounce of preparation is worth a pound of cure
How many times have we said that there's no bad weather, only the wrong clothing? Hiking can pit you against all the elements in extreme conditions, such as windchill, high altitude and high winds, all of which become less of a problem when you've done the right training and brought the right gear. If you only ever drive to the office and back in your heated and air conditioned car, it's easy to lose preparation skills for life, but when you're regularly prepared for avalanches and flash floods, figuring out how to fly with camping gear and three kids is no problem.
All the latest inspiration, tips and guides to help you plan your next Advnture!
Julia Clarke is a staff writer for Advnture.com and the author of the book Restorative Yoga for Beginners. She loves to explore mountains on foot, bike, skis and belay and then recover on the the yoga mat. Julia graduated with a degree in journalism in 2004 and spent eight years working as a radio presenter in Kansas City, Vermont, Boston and New York City before discovering the joys of the Rocky Mountains. She then detoured west to Colorado and enjoyed 11 years teaching yoga in Vail before returning to her hometown of Glasgow, Scotland in 2020 to focus on family and writing.