Are hiking shoes good for running?
By Julia Clarke published
Are hiking shoes good for running? We look at the attributes of hiking shoes vs running shoes to determine whether you can get away with a one-pair-fits-all approach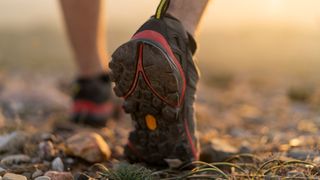 (Image credit: Getty)
Are hiking shoes good for running? Like many adventurers, you might have switched over to the lighter and more versatile hiking shoe in recent years, reserving hiking boots for only the gnarliest mountain conditions. If you like to mix things up on the trails and enjoy a spot of running too, you may be wondering if your hiking footwear is suitable or if you need designated shoes for each activity. Let's take a look at the attributes of hiking shoes and running shoes to determine whether you can get away with a one-pair-fits-all approach.
What's the difference between hiking and running shoes?
Though hiking shoes and running shoes are starting to look more and more alike on the shelves, and even often have identical drop, there are some key differences that prevent them from being completely interchangeable.
Weight
Generally speaking, hiking shoes are going to be a bit heavier than your running shoes. You can expect hiking shoes to weigh between 10-15 ounces whereas trail running shoes come in at around 9-11 ounces. In short, that means that you'll be carrying a little more load on the ends of your legs making it slightly harder to achieve your normal stride. This isn't necessarily a bad thing once in a while, but it may slow you down, making hiking shoes less good for running.
Comfort
Running shoes are usually made from material that offers a bit more stretch and give than your hiking shoes do, to support freedom of movement at higher velocity. Hiking shoes, on the other hand, tend to be a bit sturdier and designed to hold up against rocky surfaces. This is preferred for tougher terrain but again might affect your speed and gait a little.
Protection
Hiking shoes offer greater protection than running shoes against rocky surfaces as well as bashing into obstacles on the trail. They achieve this by being sturdier, as we've mentioned, and therefore there is some sacrifice when it comes to comfort and ease of movement in running, but if you're tackling especially technical terrain, you might actually benefit from wearing hiking shoes.
Insulation
Hiking shoes are often insulated, while running shoes are not. You're expected to be working up all the heat you need running after all. This means that if you go running in hiking shoes, your feet might get quite a bit warmer than you're used to. If you're running in winter, however, this might be ideal.
Breathability
Hiking shoes are often waterproof and take longer to dry out, whereas running shoes are seldom waterproof, preferring instead to focus on breathability and quick drying action. Though your feet will probably get sweaty any time you're heading uphill, they will get more so running so if you're wearing hiking shoes, you can expect your feet to get a bit clammier and your shoes to take longer to dry. This will matter more if you're running in warmer or moister conditions.
Grip
Trail running shoes come in varying degrees of grip, but hiking shoes will generally offer better grip, while running shoes feature less grip. Depending on the terrain, steepness and weather conditions, you might benefit from more grip from time to time when you're running.
| | Running shoes | Hiking shoes |
| --- | --- | --- |
| Weight | Lighter | Heavier |
| Comfort | More comfortable and stretchy | Less stretch and comfort |
| Protection | Less protection | Good protection against rocks and uneven terrain |
| Insulation | No insulation | Usually insulated |
| Breathability | Very breathable and quick drying | Waterproof, not as breathable, slow drying |
| Grip | Less grip | Good grip |
Are hiking shoes good for running?
The short answer is that for occasional running, your hiking shoes will probably suffice. If you're heading up a hill where you're likely to hike a bit, run some and encounter lots of boggy areas, you'll be more comfortable overall in a good pair of waterproof hiking shoes and may want to sacrifice a little speed. Further, if you're on a hiking trip and trying to travel light, you can definitely just pack your hiking shoes and use them for both. And for intermittent running on tougher terrain or in very wet conditions, you might actually prefer hiking shoes.
That said, if you're running regularly and covering lots of ground, you'll want to choose a pair of specialized trail running shoes to help prevent injury by securing your normal gait. It's good to remember that trail running shoes aren't designed to last as long as hiking shoes, so it's best to designate them solely for running so you can get the most mileage out of them.
Julia Clarke is a staff writer for Adventure.com. She is an author, mountain enthusiast and yoga teacher who loves heading uphill on foot, ski, bike and belay. She recently returned to her hometown of Glasgow, Scotland after 20 years living in the USA, 11 of which were spent in the rocky mountains of Vail, Colorado where she owned a boutique yoga studio and explored the west's famous peaks and rivers. She is a champion for enjoying the outdoors sustainably as well as maintaining balance through rest and meditation, which she explores in her book Restorative Yoga for Beginners, a beginner's path to healing with deep relaxation. She enjoys writing about the outdoors, yoga, wellness and travel. In her previous lives, she has also been a radio presenter, music promoter, university teacher and winemaker.
All the latest inspiration, tips and guides to help you plan your next Advnture!
Thank you for signing up to Advnture. You will receive a verification email shortly.
There was a problem. Please refresh the page and try again.