Hiking shoes vs trail shoes: which is best for you?
By Claire Maxted published
Stiff, leather walking boots no longer rule the mountains – now you have a choice of lighter, low-cut options, but what footwear will suit you best on your next adventure?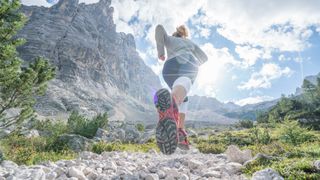 (Image credit: Getty)
There's a little secret that the uninitiated don't know about trail running. It actually involves a lot of walking. We tend to call it 'power-hiking' to make it sound more impressive, but especially on longer runs and ultras, there will be many runners walking up hills the same way a hiker would.
Likewise, not all hikers are lumbering along with great big heavy backpacks and boots over their ankles – lots of walkers like to travel light and fastpack trails, or simply feel more comfortable in low-cut shoes rather than bulky boots, particularly on less technical tracks, with little ankle-threatening terrain.
But, should you ditch boots for hiking shoes, or trail running shoes? And what's the difference anyway? Let's find out:
Hiking shoes
These are a more flexible, lighter alternative to hiking boots for those who don't need the ankle support, protection and warmth that the more traditional footwear brings, because they're tackling less rocky or challenging trails in relatively good conditions.
Some hiking shoes are simply a version of a brand's boot, minus the higher cuff. Compared to trail-running shoes, the main difference is that they are sturdier and more robust, and therefore heavier. They are also often waterproof, typically featuring a Gore-Tex or own-brand membrane, or they might be made of leather.
The sole is usually much more substantial, so there's no need for an internal rockplate to protect your foot from sharp sticks and stones, and the grip is more like a hiking boot, so it will work well on lots of different terrain but is mainly suited to good, well-kept paths.
They tend to look less 'sporty' and are often available in more muted colours (brown, black and navy are very popular), so beyond the mountainside you could wear them to town and down the pub to keep your feet comfy.
If you fancied breaking into a jog while hiking in the hills and mountains while wearing these shoes you could easily do so, but the stiffness, weight and waterproofing means they're not great for all-day running. Compared to hiking boots, however, they will feel light, and they lend themselves perfectly to long walks in good conditions.
And then there's 'approach shoes'. If you're asking, "What are approach shoes?", they're a subspecies of hiking shoe used by many rock climbers to walk to their crag of choice, if it happens to be accessed by trails. These tend to be defined by a stiffer midsole and a stickier rubber undersole, to provide grip and support while scrambling and 'edging' around rocks, but they can also be used simply for hiking.
Trail shoes
These are a cross between a walking shoe and a road-running trainer: lighter, more flexible, highly breathable, and hence less protective and less durable.
They are not often waterproof, as this would make them too hot and sweaty for running. Water is likely to get in over the top of the shoe when runners splash through puddles anyway, and it would drain slower through a waterproof membrane, making the shoe heavy and your foot prone to shrivelling up like a prune in its inescapable, salty, gritty bath.
Trail shoes are often brightly coloured, as if to proclaim "I'm a runner!" loudly at passers-by. As a result, they can be less useful as a multi-use shoe for people to wear casually to the pub or elsewhere (though they're usually so muddy no one would let you in anyway).
Sole-wise, there is much more variation in trail running shoes. They range from having not much more grip than a road-running shoe to featuring deep lugs for multi-terrain use, some with studs almost like football boots for negotiating deep mud and squelchy bogs.
Verdict
Everyone needs proper hiking boots for snowy trails and winter mountain walking, but for much of the year, the more flexible trail or walking shoe will work well for most adventurers.
It depends how fast or light you want to go, how much money you have to spend on shoes for different occasions, and how much space you have on your shoe rack, because the annoying verdict is that it's useful to have both types of shoe available as an option.
If you have to choose and you're primarily a runner, go for the trail shoes. You will have no problems hiking in a multi-terrain trail shoe through most seasons – if you can run in them, you can also walk in the same shoes – but they won't offer the same level of protection or longevity as a proper hiking shoe.
Likewise, if you mostly walk, opt for hiking shoes. With some post-hiking aftercare, they should last many years, and will still allow you to break into a nice trot down the hills if you fancy speeding up. Just don't expect to run all day in these stiffer, heavier options, which would likely overcook your feet.
More options
If you're likely to be exploring more technical rocky sections of trail, or doing a lot of scrambling or climbing the occasional via ferrata, then approach shoes might be best for you.
If you're heading out in warm conditions, or exploring trails with multiple water crossings, then a hiking sandal could be the ideal option.
The co-founder and former editor of Trail Running magazine, Claire now runs the YouTube channel Wild Ginger Running, creating films packed with trail- and ultra-running content. An award-winning journalist, writing for outdoor and adventure sports magazines and websites, her first book The Ultimate Guide to Trail Running 5k to 50k is out in January 2021. Claire also speaks and presents at events and races.
All the latest inspiration, tips and guides to help you plan your next Advnture!
Thank you for signing up to Advnture. You will receive a verification email shortly.
There was a problem. Please refresh the page and try again.