What does it take to maintain your favorite Colorado hiking trail?
We speak to a long time volunteer for the Colorado Trail about what it actually takes to keep hiking trails usable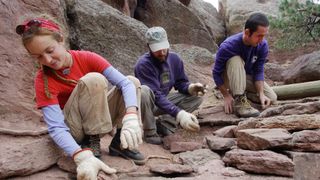 (Image credit: MediaNews Group/Boulder Daily Camera via Getty Images / Contributor)
For most Colorado hikers, it's easy to take the state's trails for granted. In my 11 years living there, I must have averaged at least 20 miles a week in my hiking boots and though I always marveled at the great condition of the trails, I'll admit that I never put much thought into how they got there and why they're so pristine.
The Centennial state is criss-crossed by an extensive system of well-maintained hiking trails (over 17,000 of them by one count) that are easy to research, locate and navigate. If you spend much time in Colorado, it's easy to assume that they've just always been here, and always will be.
But when Vail local Lee Ashley was hiking the Colorado Trail back in 2004 – the 567-mile trail that stretches from Denver down to Durango – his eyes were opened to just how much work really goes into maintaining a single trail.
"I would come across these trail crews working and I was just so thankful they were out there maintaining the trail, making it really nice," recalls Ashley, who says that he found the trail to be so well maintained that during his entire journey, there were only two occasions where he got off the trail before quickly realizing his mistake and backtracking. Like most trails in the state, the Colorado Trail is beautiful and largely accessible, but this doesn't happen by magic, and the work required to keep it that way grows as hiking in the state becomes ever more popular.
If you've hiked elsewhere, you might be aware that such conditions are not always a given. Whereas hiking in other states and countries can often entail a lot of bushwhacking, rerouting and backtracking, even Colorado's most difficult trails provide ample opportunity to stride out and really immerse yourself in your surroundings, instead of constantly looking at your feet to make sure you don't trip over a tree root.
Colorado's trails are maintained by a near-invisible army of volunteers that provide not just hard work but occasional friendship, shelter and nourishment, all things Ashley benefitted from when he came across crews.
"At times I would come across these bigger trail crews that were out for an extended time period and they would have big tents set up in places. They would welcome me in as a backpacker, they would feed me and provide some shelter under their tents if it was raining. Just really hospitable, nice people."
Ashley finished section hiking the CT with a two-week stretch from Salida to Durango and was so appreciative of the hard work that went into ensuring he had a safe and comfortable time on the trail that he decided to join the team.
"I completed the trail and I realized, OK I need to give something back," he recalls.
The Colorado Trail alone is maintained by a crew of over 300 volunteers and 20 different crews. Some people come from other countries to join the team in lieu of taking a more typical summer vacation. Ashley first worked with a couple of different crews to get a feel for what type of work volunteering entails. Then in 2008, he officially adopted a beautiful, high alpine three-mile section of the trail from Searle Pass to Kokomo Pass and every year since, he's been responsible for keeping that section in mint condition for hikers.
If you're an avid hiker, you might be thinking to yourself that three miles sounds like a cake walk, but of course, when you're wielding tools and battling the effects of a long winter, it isn't. For starters, every time Ashley goes out to work on the trail, he has to actually get there.
"It's only a three-mile section, but it requires a lot of mileage to get in there. Just to get to my section requires at least a five-mile hike if you come in from the Camp Hale side and if you come in from Copper Mountain it's a little longer, so all in all to go up and back to work on my trail is a 16-mile day."
With his stretch being high up above treeline, all work takes place between late spring and early fall, when it isn't (often) snowing. If you know anything about treeline in Colorado, however, that means Ashley's efforts are often hampered by afternoon lightning storms, so he typically hikes in at night so he can get to work at daybreak and get back down into the safety of the trees by noon.
That alone is enough to convince most hikers to make a donation instead of actually volunteering, but if you're an early riser, you might be thinking that a summer spent pottering about pruning bushes with views of the Rockies sounds quite enjoyable. However, trail volunteers perform some backbreaking work to uphold the trails for the hundreds of thru-hikers and thousands of day and section hikers plus equestrians and mountain bikers that enjoy the trail every year.
Most of the work on the Colorado Trail involves clearing downed trees – you can't get a pickup truck in there, so that means cutting them into smaller sections with a saw so they can be cleared by hand – while Ashley's section above the trees means he's spared that hardship, but instead has to deal with erosion.
"The section I work on sees a lot of mountain bike activity so the mountain bikes over the years rut out the trails, which we call trenching. The trails get a deeper trench and then water gets into it and the water just erodes the trail so a lot of the work on my trail is maintaining the water diversions. We build these little water diversion dams to get the water off the trail so a lot of the work is clearing debris out of those water diversions or making new ones and also fixing the trenching by widening the trail a little bit."
Now imagine doing that for three miles.
For a couple of years, when his section required more work than can be performed by two hands, Ashley had to call in a trail crew for support, while on easier years his work has involved mostly cutting back some willows and replacing a few rocks. Additionally, there are smaller jobs, like picking up trash that's been dropped on the trail (fortunately, not a widespread problem here) and fixing sign posts that have been knocked down by avalanches over the winter.
"This trail is here through the hard work of volunteers. There's a few Forest Service employees out there, but they really rely on us to do the work and to go out and be the eyes on the trail."
If you've been enjoying the Colorado trails for years, like I did, and are starting to feel a little guilty (like I do) for not contributing more, the good news is that the Colorado Trail Foundation sees a lot of volunteer interest. Moreover, Ashley says that there are other ways you can help support the cause that don't involve digging dams.
"Just continue to be respectful of it, you know, leave no trace. People throw their orange peels down because they're like, oh oranges are biodegradable, it's a natural thing, but you know, there are no orange trees on the Colorado trail."
So step one, follow the principles of Leave No Trace and don't leave anything – a handful of trail mix, a worn-out hiking glove or an orange peel – on the trail, which makes more work for the crews as well as attracting wildlife and diminishing other trail users' experience.
Then you've got the issue of human waste – whether you spend a day, a weekend or a month on the trail, you're going to have to go to the bathroom. Large stretches of the trail are pretty remote, so you might feel like you don't have to stray too far to take care of business, but Ashley says that just because no one is watching doesn't mean you shouldn't behave as though they are.
"The trail is getting more and more popular. Bury human waste well away from any water sources and well away from the trail. Don't leave toilet paper strewn about the place, please."
Finally, he advises, enjoy it, but don't take it for granted.
"It's such a beautiful place and such a beautiful thing to have and we're so lucky to have it."
All the latest inspiration, tips and guides to help you plan your next Advnture!
Julia Clarke is a staff writer for Advnture.com and the author of the book Restorative Yoga for Beginners. She loves to explore mountains on foot, bike, skis and belay and then recover on the the yoga mat. Julia graduated with a degree in journalism in 2004 and spent eight years working as a radio presenter in Kansas City, Vermont, Boston and New York City before discovering the joys of the Rocky Mountains. She then detoured west to Colorado and enjoyed 11 years teaching yoga in Vail before returning to her hometown of Glasgow, Scotland in 2020 to focus on family and writing.