What is treeline? And why is it important for hiking?
What is treeline? We explain what this common hiking term refers to, where treeline is, and what it means for you as a hiker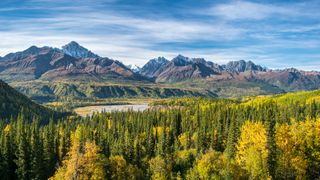 (Image credit: Cappan)
What is treeline? Treeline is one of those terms you come across a lot in hiking guides for alpine areas, but there isn't usually much discussion of what it means, and why you might want to know that at a certain point on a trail, you'll be above treeline. Even if you can figure out what it means from the context, why is it even important for hiking? We answer these questions and provide some tips for hiking above treeline.
What does the term treeline mean?
If you've ever hiked up a mountain and, after a long time in the forest, broken out onto a rocky boulder field on your way to the summit, you've not only been glad you're wearing your best hiking boots – you've actually experienced treeline.
Treeline, also known as timberline elevation, is the elevation at which trees no longer grow. It doesn't apply in coastal areas or any regions which are flat or are close to sea level, however if you find yourself in an alpine zone, you might be able to see a distinct line on the mountain between the forested area and the top part where there are no trees. If you're in a mountainous area where there are no trees at all, there's a good chance that the entire area is above treeline.
What is the height of treeline?
Interestingly, the height of treeline varies enormously around the world, especially in areas more than 30 degrees north of the equator and in excess of 20 degrees south of the equator, known as areas of high latitudes. To give you an idea of how variable treeline can be, here are some examples of treeline in some popular hiking spots:
Swipe to scroll horizontally
Treeline variation around the world

| Location | Treeline in feet | Treeline in metres |
| --- | --- | --- |
| Colorado | 11,500ft | 3,505m |
| Yosemite National Park | 10,500ft | 3,200 m |
| New Hampshire | 4400ft | 1,350m |
| Canadian Rockies | 7,900ft | 2,400m |
| British Columbia | 4,300ft | 1,280m |
| Scotland | 1,600ft | 500m |
| Swiss Alps | 7,200ft | 2,200m |
| Peruvian Andes | 12,800ft` | 3,900m |
| Mount Everest | 16,400ft | 5,000m |
Why do trees not grow beyond treeline?
Trees can't tolerate the harsh conditions found at high altitude, which tends to mean colder temperatures, low moisture, and often high snowpack and high winds. As a result, they prefer to cluster together in areas where the conditions are more hospitable – a lot like humans, really.
It's also worth noting that there are other reasons beyond altitude why there might not be any trees in a certain area, for example high winds or lack of sunlight.
Why does treeline vary from place to place?
We don't actually understand why treeline varies so wildly. Though it always relates to altitude in some way, it doesn't relate to latitude, as you might have noticed – Scotland is much further north than Colorado, for example, but treeline is far lower. According to Nature, the variation might be due to microclimatic factors instead. Just like people in temperate, rainy Scotland might wilt in Colorado's harsh dry, cold winters, perhaps the trees do too. One constant is that treeline does always seem to follow the permanent snow line, which suggests that temperature plays an important role, unsurprisingly.
One other variable that makes treeline difficult to understand is that the term itself is not well defined. It can refer to the end of a forest, or the upper limit at which anything resembling a tree might grow, depending on the scientist. Indeed, while it can appear as a distinct line when looking at it, it can be a much slower progression from forest to tundra when you're actually hiking through it.
Tips for hiking above treeline
Speaking of hiking, why do you even need to know any of this? Well if you're hiking along a coastal path or through a forest in Redwood National Park, you don't. But if you are planning on reaching any real elevation, let's say you're climbing a 14er in Colorado or hiking Ben Nevis in Scotland, you're going to spend at least the latter part of the hike above treeline. As you now know, it doesn't necessarily mean that you're hiking at high altitude, so what does that actually mean for you?
1. You'll be more exposed
The main thing to understand when you're above treeline is that you'll be more exposed to the elements. Without the cover of trees, you'll be more susceptible to the sun's UV rays, wind and any rain, snow or hail the sky feels like chucking your way. Any time you're going to get above treeline, wear sunscreen and pack a waterproof jacket.
2. It can be harder to navigate
Once you get above treeline, soil and vegetation tend to give way to tundra, rocks and scree. Even if the path persists, it's often just harder to see. Everything looks like a pile of grey rocks and your way will often be marked by rock cairns, which are really easy to see on a grassy knoll, but not so much when basically everything is a giant rock cairn. When you're hiking above treeline, you'll want to carry a compass and know how to read a map.
3. The terrain gets trickier
That rocky terrain that makes it harder to navigate is also often more difficult to walk on. Think sharp, unsteady rocks under foot that make every step uncertain. You need to slow down on this type of terrain and keep your eyes on the ground. Using trekking poles and wearing good hiking boots is key.
4. The ecosystem is more fragile
Even though it looks like a bunch of rocks, and rocks are tough, the ecosystem up here can be incredibly fragile. Do your best to stick to the trail (don't run on scree), and avoid disturbing rocks and plants here.
5. You'll get amazing views
Yes, the conditions are harsher up here and you'll need to keep your full attention on the task at hand, but stop every so often and look around you. From this height, with no trees around you, you'll get the best views of the surrounding area.
All the latest inspiration, tips and guides to help you plan your next Advnture!
Julia Clarke is a staff writer for Advnture.com and the author of the book Restorative Yoga for Beginners. She loves to explore mountains on foot, bike, skis and belay and then recover on the the yoga mat. Julia graduated with a degree in journalism in 2004 and spent eight years working as a radio presenter in Kansas City, Vermont, Boston and New York City before discovering the joys of the Rocky Mountains. She then detoured west to Colorado and enjoyed 11 years teaching yoga in Vail before returning to her hometown of Glasgow, Scotland in 2020 to focus on family and writing.