Hiking with diabetes – embrace the outdoors with T1D
Expert tips for for hiking with type 1 diabetes to regain your sense of freedom, without compromising your health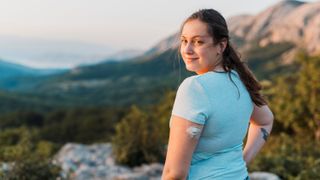 (Image credit: AzmanJaka)
Receiving a type 1 diabetes diagnosis is a life-changing event for anyone, but when what you love to do more than anything is get outdoors and travel the trails in your hiking boots, it can seem like a catastrophe.
Hiking tends to attract people who are fiercely independent, who seek the solitude of remote lands and practice self-sufficiency like they breathe air. So when you suddenly learn you are dependent on medication that needs to be stored at a certain temperature and your hike will be interspersed with constant blood sugar checks and careful refueling, you might feel that you've lost your sense of freedom.
However, as Colorado resident Liz Koskinen learned three years ago when she was diagnosed with type 1 diabetes aged 35, diagnosis doesn't necessarily spell disaster.
"I think if anything has changed, it's for the better because exercising really helps my mental state. It always has but I think it does so even more now, because I'm more conscious of it," says Koskinen, a school teacher and yoga teacher who lives in the Rocky Mountains near Vail.
Approximately 1.45 million Americans live with type 1 diabetes, a condition where your pancreas makes no or very little insulin, making it impossible for your body to manage glucose without the help of medication. It's entirely possible to lead a normal life with type 1 diabetes – and perhaps even an abnormal one where you enjoy wild adventures in the backcountry – but there are some things you should know before you go.
In this article, we take a look at the benefits of hiking for those with type 1 diabetes, and get some expert tips on how to regain your sense of freedom, without compromising your health.
Benefits of hiking for type 1 diabetes
Sheri Colberg, PhD, diabetes and exercise expert, advises that people with type 1 diabetes can undertake almost any activity – including hiking and backpacking – with certain preparations and precautions to avoid those blood glucose lows and highs.
"Physical activity bestows many health benefits in these individuals, but can create medical emergencies if food and insulin are not properly adjusted to keep blood glucose levels in appropriate ranges," explains Colberg, who is an author of 2016 American Diabetes Association Exercise Position Statement.
Living in an outdoor playground such as Colorado, it would be tragic indeed if her diagnosis interfered with her ability to enjoy the outdoors, but Koskinen has found, hiking can be the healing salve her mind and body need to cope with the daily demands of diabetes.
"Diabetes can be exhausting, just constantly worrying about it. so I think the mental health aspect of getting outside in nature and testing the limits of your body – because your body is still your body – is really important."
Of course, regular physical activity is beneficial for everyone, and doing it outside in green spaces is better yet for mental health.
"Being diagnosed as such a health conscious person, nature and walking are my solstices."
Hiking with diabetes – are there any risks?
Despite the obvious gains you can make by hiking with diabetes, the combination of physical activity and being far from medical help in remote areas does carry some risk.
"It's complicated since environmental factors like temperature extremes and altitude can also impact you in different ways, as can dehydration," says Colberg.
That said, hiking in general carries some risk, even for those of us without a life-threatening condition, and the key lies in hiking with other people whenever possible – something Koskinen says she does as a matter of course – always making sure someone knows where you're going, and setting off prepared.
"People with type 1 diabetes have to be like Boy Scouts"
If you're ready to get back on the trail – or are taking up hiking for the first time as someone with type 1 diabetes – here's what you need to know and do to stay safe and enjoy your adventure.
1. Pack snacks
When you have type 1 diabetes, there isn't room for spontaneous trail trotting and just grabbing lunch afterwards – you need to keep your pantry and your hiking backpack well loaded with snacks.
"People with type 1 diabetes have to be like Boy Scouts—always prepared! That means bringing along extra food and snacks, including glucose tablets or other similar rapid-acting carbohydrate sources to treat blood glucose lows," says Colberg, who explains that physical activity of any type lowers blood glucose levels over time, and prolonged activities like hiking in general raise the chances of getting low either during or in the 24 hours after being active.
Koskinen says her favorite hiking snack to treat low blood sugar on the trail is That's It Fruit bars, which are made using only fruit.
"I tend to like those because I like to mix some fiber and sugars together. It helps stabilize blood sugars so you don't have this blood sugar spike you'll get with eating a Twizzlers or something, where you'll have a really quick blood sugar rise but then it will fall right back down."
The key is in finding something that helps to raise your blood sugar, but also stabilizes it so you don't need to keep eating all the way down the trail. If you're interested in a healthy alternative to sugary snacks, you can also read our article on how to make your own fruit leather.
2. Testing on the trail
While you're packing your snacks, you also need to make sure you have enough blood glucose testing and monitoring devices to keep your blood glucose levels in check. Koskinen brings her backup glucose monitor in case her Continuous Glucose Monitor fails, and advises getting a Continuous Glucose Monitor that syncs with a smart watch – she uses her Apple Watch to keep track.
"That really helps so I can check my numbers and I don't have to get my phone out all the time."
For long hikes and backpacking trips, Colberg also warns you to watch out for the cumulative effects of multiple hours of hiking since insulin sensitivity tends to increase with prolonged activity.
3. Safeguard your insulin
You don't need us to tell you that if you're heading out into the wild, you're going to need to carry enough insulin, but you can't just chuck it in your backpack if you're hiking in warm or cold weather – insulin can't get too hot or too cold.
To tackle this problem, Koskinen uses reusable cooler gel packs like these ones on Amazon that keep your insulin cool and can also carry other gear like syringes and insulin needles. These insulin-specific packs are best because they're TSA-friendly, which means you can take them on a plane if you're traveling for an active vacation.
4. Don't forget your first aid kit
A band aid won't do much for diabetes, but Koskinen recommends that you pack your first aid kit with plenty of alcohol swabs, to make sure that your testing conditions are hygienic, otherwise you could end up with a whole other set of problems on the trail.
"You can get quite dirty on a hike and testing your blood sugar with dirty fingers isn't ideal."
If you need to test, swab all of your fingers thoroughly first and carry a plastic bag so you can pack out any waste and leave no trace.
All the latest inspiration, tips and guides to help you plan your next Advnture!
Julia Clarke is a staff writer for Advnture.com and the author of the book Restorative Yoga for Beginners. She loves to explore mountains on foot, bike, skis and belay and then recover on the the yoga mat. Julia graduated with a degree in journalism in 2004 and spent eight years working as a radio presenter in Kansas City, Vermont, Boston and New York City before discovering the joys of the Rocky Mountains. She then detoured west to Colorado and enjoyed 11 years teaching yoga in Vail before returning to her hometown of Glasgow, Scotland in 2020 to focus on family and writing.