How to make fruit leather for hiking
Fruit leather is a chewy, tasty, lightweight way to get some vitamins on the trail and it's super easy to make with this at-home recipe for hikers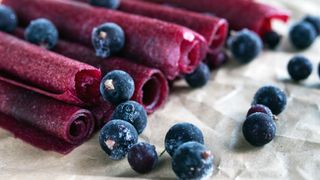 (Image credit: Larysa Lyundovska)
I love hiking and I love eating healthily, but in all honesty, hiking boots and fresh fruit and vegetables don't always go hand-in-hand, especially when you're going for longer distances. Yes, I know, you can choose nuts and dried fruit over pretzels and power bars, and you can even carry a flask full of a home-cooked meal instead of a sandwich on a day hike, but when it comes to quick, lightweight and non-bulky options, it's harder to get in the same amount of fruits and vegetables on the trail as I do at home.
That's until I discovered the joys of making my own fruit leather. From a nutritional standpoint, it might not be exactly the same as bringing several pieces of fresh fruit with me on a hike, but since I used to bring no fruit at all because it would just get bashed around in my backpack, it's a lot more than I was getting a couple of years ago.
You can buy fruit leather these days at just about any supermarket, and a lot of it seems pretty devoid of hidden ingredients, but it's also mass-produced, has been sitting on the shelves for god-knows-how-long and it adds up cost-wise if you eat a lot of it, like I do.
Making your own fruit leather on the other hand saves money and is surprisingly easy, requiring no special apparatus. Read on to discover how you can make your own tasty, nutritious trail snacks for your next hike or backpacking adventure.
What is fruit leather?
Fruit leather is made from blended fruit spread out in a thin layer and dehydrated so that it forms a leathery strip. It's chewy and delicious to eat, and often sold in a rolled up form and marketed as a vegan or healthy snack alternative for kids. Of course, you don't have to be a kid at all to enjoy it. The chewiness of it can be a really welcome relief from mushy backpacking food, and provide welcome distraction from plodding along the trail without chewing on gum.
Is fruit leather healthy?
Fruit leather is definitely healthier than a lot of other portable snacks out there. If you avoid store-bought versions that are packed full of preservatives, the only ingredient is fruit, which is known for being an excellent source of vitamins and minerals. Because it's cooked at a low heat, it retains some of its nutritional value and as a 2014 review in the International Journal of Food Science concludes, consuming fruit leather is an economic and convenient value-added substitute for natural fruits as a source of various nutritional elements.
In terms of its nutritional qualities, you can expect fruit leather to be a source of carbohydrates, which your body can metabolize into energy on the trail, as well as fiber (which helps keep you regular on a backpacking trip) and a small amount of protein, while the vitamin content will depend on the fruits in question.
How to make fruit leather
Making your own fruit leather is super easy and you don't even need a dehydrator to do it – although you can definitely use it if you have one. I tend to whip this up the day before I'm planning on hiking. I like berries so that's my go-to, but you can use most juicy fruits, like peaches, grapes and apricots if you want. Also, remember that ovens vary, so you may have to play around with the timing and temperature, but generally speaking you want a low heat, and can plan on this taking several hours. Along with my trail mix recipe, this has become my favorite hiking snack in recent years.
Ingredients
2 cups of mixed berries (either fresh or defrosted)
1 cup of unsweetened applesauce
1 pinch of cinnamon (optional)
Instructions
Step 1: Preheat the oven to 170°F (if you have a fan option on your oven, use this to speed things along).
Step 2: Puree all the ingredients in a blender until smooth
Step 3: Line a baking tray with parchment paper or a non-stick silicone baking mat. Pour the fruit puree onto it and use a spatula to spread it out evenly to about ¼ inch thick.
Step 4: Bake the puree in the oven for approximately four hours. When it is no longer sticky to touch, remove it from the oven and take it off the parchment paper while still warm to prevent it from sticking. Cut it into strips (I use scissors), roll them up and pack them up in an airtight container in the fridge. If you've made extra, you can also freeze fruit leather.
All the latest inspiration, tips and guides to help you plan your next Advnture!
Julia Clarke is a staff writer for Advnture.com and the author of the book Restorative Yoga for Beginners. She loves to explore mountains on foot, bike, skis and belay and then recover on the the yoga mat. Julia graduated with a degree in journalism in 2004 and spent eight years working as a radio presenter in Kansas City, Vermont, Boston and New York City before discovering the joys of the Rocky Mountains. She then detoured west to Colorado and enjoyed 11 years teaching yoga in Vail before returning to her hometown of Glasgow, Scotland in 2020 to focus on family and writing.