Here's how much time should you spend in nature for your health
Research has pinpointed the exact amount of time you need to spend in nature to get the health benefits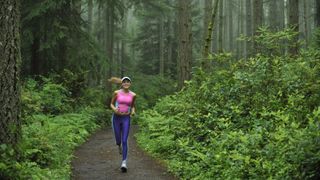 (Image credit: Pete Saloutos)
The sound of a rushing river. The fresh scent of pine. Brilliant green against a stark blue sky. Nature's medicine feeds all five senses and here at Advnture, we've written plenty about the benefits of green exercise, from stress reduction to vitamin D and melatonin boosting. But how much time do you actually need to spend in nature to get those benefits such as reduced anxiety and better sleep?
We'll start by saying that no amount of time in nature is likely to be bad for you, assuming you're not out in dangerous conditions like on a mountain top in a lightning storm, hanging out under falling trees or getting in between a mountain lion and her cubs. In fact, well-circulated research published in the Journal of Positive Psychology in 2018 found that just five minutes in nature can improve your emotional wellbeing, but can you really gain all of these benefits with just a five minute stroll once a week? Or is there a minimum amount of time you need to regularly spend in nature to reap the benefits?
We couldn't help but think that nature's merits are cumulative, and a 2019 study suggests that there is indeed a certain number of minutes per week you need to spend in nature before you'll see any changes in your health and wellbeing. Furthermore, researchers have pinpointed an ideal number of minutes per week, and even a point at which there may be diminishing returns.
The study, published in Scientific Reports, drew from nearly 20,000 participants in the Monitor of Engagement with the Natural Environment Survey and asked them to self-report on their health and wellbeing after spending time in nature, and include how much time they had spent over the course of a single week. The conclusions were pretty encouraging for those of us that already like to spend time outdoors, and they do suggest that there's a minimum amount you need to notice a difference. According to the study, there's no obvious difference between spending 0 - 59 minutes per week outdoors versus spending no time at all outdoors, so if you only get out into natural spaces for eight minutes a day, or an hour long walk or run once a week, it appears that it wouldn't bring you any significant benefit over just staying indoors or in urban areas all the time (note that significant is the operative word here).
Once you spend 60 minutes per week in nature, however, you'll start to see the benefits and those benefits increase significantly at the 120-minute mark, so that means if you're enjoying a 30 minute jaunt in your trail running shoes four times a week, you might be well on the way to health and happiness.
The real sweet spot, however, seems to occur with between 200 and 300 minutes of time spent in nature every week, during which the researchers found people reported the highest positive returns on their health and wellbeing. Depending on your current lifestyle, three to five hours in nature might sound like a lot, but if you break it up, it can start to look more manageable:
30 minute walk or run 6 days a week.
45 minute walk or run 4 - 6 days a week.
60 minute walk or run 3 - 5 days a week.
Two-hour walk or hike twice a week.
You might also save it all up and tackle it in one long haul in your hiking boots once a week, which is great for those of us with regular jobs, although presumably it's a good idea to be reasonably active and get at least some fresh air on the other days.
Now you might be raring to go and get out in nature as much as possible, but is more always better? Well, after 300 minutes, the study noted there were no further benefits and may even be some diminishment of returns, but if you easily spend more than five hours a week in nature, we don't think you need to be too worried about overdoing it. Remember that the results in this study were self-reported, and there could be lots of reasons why spending more than five hours a week might reduce your sense of wellbeing. For example, more time allows for more things to go wrong, you might be thru-hiking or training for a marathon which can have a particularly deleterious effect on your body, or perhaps you work long hours outdoors and aren't just forest bathing and hiking.
The good news is that you can tell your partner/boss/anyone who will listen that your regular romps in the woods are scientifically proven to be good for you, and remember that you don't have to be exercising outdoors to get the benefits of time in nature – you can always grab a hammock and hang out with your book in the forest or pitch a tent by the lake and do some stargazing. If you live in a particularly green area, every time you walk to the grocery store, you're getting some benefit, and if you live in a concrete jungle, city parks count as nature, so make the most of them and check out your local Parkrun events.
All the latest inspiration, tips and guides to help you plan your next Advnture!
Julia Clarke is a staff writer for Advnture.com and the author of the book Restorative Yoga for Beginners. She loves to explore mountains on foot, bike, skis and belay and then recover on the the yoga mat. Julia graduated with a degree in journalism in 2004 and spent eight years working as a radio presenter in Kansas City, Vermont, Boston and New York City before discovering the joys of the Rocky Mountains. She then detoured west to Colorado and enjoyed 11 years teaching yoga in Vail before returning to her hometown of Glasgow, Scotland in 2020 to focus on family and writing.