I finally started wearing a running watch – here are 9 lessons I've learned so far
After shunning trail running tech for years, here's what I've learned from wearing the Coros Pace 3 for the past two weeks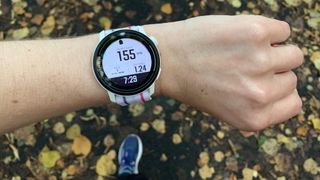 (Image credit: Future)
I'm an avid hiker and trail runner and I have been for years. Now that I get to write about it for a living, I can justify spending even more time in my hiking boots and trail running shoes and I love every part of it – the views, the exercise, time in nature, the gear and even the tech. That said, I've never regularly worn a GPS sports watch.
Now I'm not a total novice to running watches – I used to attend a trail running club in Vail, Colorado where I got to try them out a few times and I thought they were, well, fine. But I didn't really feel like I needed one. I run and hike for the love of it, not because I want to improve or compete, and I thought I was pretty good at listening to my body for cues of depletion.
Over the last couple of years, however, since working here at Advnture and learning more about running gadgetry, I've definitely become more curious about running watches, especially as the technology has advanced. That's why, when I was offered the chance to test out the new Coros Pace 3, I jumped on it.
I've been wearing the Pace 3 for just over two weeks now, and in that time I've put in 60k on foot and 2k in the pool. I know that three weeks is the minimum recommended time to give a watch for accurate readings, so while my full review won't be coming until next week, I've definitely learned a few interesting lessons already. Here are just a few of the most important ones.
1. It's surprisingly easy to get used to
I haven't worn a watch of any kind regularly since 2004, when the cheap one I was wearing gave me a bad rash. I know that to be really accurate, you need to wear your sports watch all the time, so with the exception of the 15 minutes I spend most days in the sauna, I haven't taken my Coros off my wrist.
I really thought this would take some getting used to, especially while I'm sleeping, but I've barely even noticed it, except for when I have to pull of the sleeve of my running jacket to take a look. If you're concerned that you'll find a sports watch irritating, they really are designed for comfort.
2. There's a lot to learn
I may have shunned wearables in daily life, but I've spent the past 13 years working in the fitness industry and I am pretty up-to-date on training terms and methodology like VO2 max, heart rate zones and the importance of recovery. Consequently, I thought I already understood all the metrics, but it turns out that there's a lot more to learn.
For example, there's Training Load, where Coros stacks up each of my workouts according to its intensity and duration against a suggested load, my Threshold Heart rate, which is the maximum heart rate I can sustain over a longer period of time and Running Power, which measures how much effort I put into my runs. I'm still coming to terms with what everything means and trying to enjoy the learning curve without getting bogged down.
3. It helps to focus on the positives
With all the new terminology and heaps of data, anyone could be forgiven for feeling a bit overwhelmed, but I've found it's really helpful to focus on the positives. Once or twice, I've felt discouraged when, after a long, slow and enjoyable run, my watch tells me my performance has been poor – so rude!
Despite the occasional slight from my watch, however, there's always lots of positive news. My VO2 max of 40 is considered excellent for a woman of my advanced age, my ticker is in great shape if my average heart rate is anything to go by and even when I go for a slow run, my fastest mile is often a lot faster than I'd have guessed.
4. I'm checking my phone less
To be honest, the biggest reason I've shunned wearing a sports watch until now is because the absolute last thing I want is another screen or piece of tech controlling my life. I'm on my laptop most of the day on weekdays and never far from my phone and I'm one of those old school people who actually thinks it's not a great idea to be tied to our screens.
So when I got my usual Monday morning alert from my iPhone telling me my screen time was down by 43 percent, I was pretty both pleased and surprised. That's because I set my Pace 3 up to receive notifications when I get messages (you know, in for a penny, in for a pound). My watch vibrates every time I receive a message but doesn't offer me endless options for scrolling, so I can take a quick glance and then nine times out of 10 I just go back to whatever I was doing if it isn't important.
Ordinarily, if my phone pings, I check the message, then check Instagram, then check my email, then check the weather and before you know it 20 minutes have passed and I hate myself.
I'm certain this isn't what the manufacturers had in mind when they came up with sports watches, but I consider this a major advantage for my health.
5. I'm more motivated when I think I'm being watched
I'm probably on the highly active side of things, at least if you don't include people like Courtney Dauwalter on the spectrum, and in general I don't need much of a push to get out on a hike or trail run, hit the pool or unroll my yoga mat. That said, I don't tend to have a really militant schedule either, for various reasons, which does mean that sometimes I end up not hitting the trail if I haven't planned it all out in advance.
Since I started wearing my watch, however, I've been running on average every other day and making sure I schedule in swimming and yoga on the other days. I've not exactly been regimented, but something about knowing that this little machine on my wrist is going to record everything I do, and don't do, propels me into action almost as if I have a coach. Is that why they call it a watch?
6. I don't give myself enough recovery time
If you were paying attention to my last point, you might have figured this out already, but at least according to my watch, I don't give myself enough time to recover between longer workouts. My watch nearly always says I'm either "exhausted" or "fatigued" (which at times feels spot on and others a bit presumptuous) and I'll be writing more soon on how sports watches calculate recovery.
At any given time, I'm usually about 48 - 58 hours away from full recovery, and I've only reached it once in the past two weeks. People who like to take it easy would find this reason to celebrate; I've found this a bit of a tough pill to swallow. I like to move, a lot, and these days I'm moving considerably less than when I lived in the Rocky Mountains and hiked five or six days a week, so it's hard for me to consider moving even less. I also definitely know that sometimes I'm a bit tired for my run, but I want to squeeze it in anyway.
Anyway, I'm still figuring it all out, but I am willing to concede that maybe I could put a little more time in between long runs and hikes, prioritize shorter runs in addition to 10ks (which to be honest I never do) and spend more time in the pool and on my yoga mat.
7. I need to slow down (sometimes)
This one was a big surprise to me. I'm a slow runner. I know this because it never takes me less than an hour to run 10k and also because other runners always pass me on the trail. I never get faster.
But at least according to my watch, I could actually slow down a little from time to time, and that's because I've been pretty much exclusively training in heart rate zones 3, 4 and 5. In general, I don't feel super out of breath during my runs or exhausted after, but I think I've basically found the best pace I can sustain for an hour where I feel like I'm actually doing something, and have grown pretty comfortable there. And that's pretty much zone three.
This explains why I never really progress as a runner (though I'm not training for anything, so I don't necessarily see that as a huge problem) and tells me I'm forgetting about the all-important Zone 2, where I'm still burning a decent amount of fat and, over time, increasing my cardiovascular fitness and endurance.
A couple of times a week now, I'm focusing on really slowing down to so-called 'conversation pace' and I'm excited to see the results. I also won't be offended when you sprint past me on the trail.
8. It's okay for my weekly training load to vary
I'm guessing I'm not the only one here, but I've always kind of tried to reach the same amount of mileage each week. According to my sports watch though, my training load should be adjusted based on what I've done in recent weeks, which obviously makes a lot more sense.
Just because we organize our time into seven day periods of work and rest, doesn't mean the physiology actually follows those rhythms. If I did more than usual last week, it makes perfect sense to lighten the load this week. Or stop thinking about my time in terms of weeks and just take a bigger picture view of everything that I've been doing and intend to do.
9. When it comes to sleep, quality trumps quality
One of the most interesting features of my watch for me is the sleep tracker, since I know that sleep is absolutely essential for health. I know that the sleep tracker won't be totally accurate until it comes up with a sensor that can pick up on brain wave states, but it's still interesting to see how much time I'm potentially spending cycling between deep, REM and light sleep.
Now I'll be honest, I'm a lifelong champion sleeper. In fact, I recently showed the results of an 11-hour nap to my friend who's going through menopause and getting about three hours a night and she threatened to murder me. But like most of us, I tend to associate longer night's of sleep with better rest, and shorter sleeps with inadequate rest.
Since tracking my sleep each night using my watch, I'm realizing there are nights where I'm in bed for a long time but lacking in a lot of deep sleep, and other nights where I'm in bed for less than eight hours but still get two hours of deep sleep. The latter in particular definitely gives me a little energetic boost whereas in the past I'd just have been tired and grumpy at "only" getting seven hours, and the former explains why some runs are harder than others.
All the latest inspiration, tips and guides to help you plan your next Advnture!
Julia Clarke is a staff writer for Advnture.com and the author of the book Restorative Yoga for Beginners. She loves to explore mountains on foot, bike, skis and belay and then recover on the the yoga mat. Julia graduated with a degree in journalism in 2004 and spent eight years working as a radio presenter in Kansas City, Vermont, Boston and New York City before discovering the joys of the Rocky Mountains. She then detoured west to Colorado and enjoyed 11 years teaching yoga in Vail before returning to her hometown of Glasgow, Scotland in 2020 to focus on family and writing.