What are junk miles in running?
Is there such a thing as junk miles in running? We examine the concept, and how to know if you need to be putting in all those miles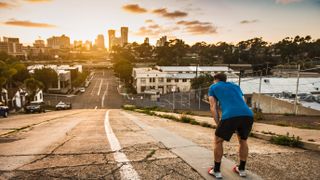 (Image credit: Getty)
We've all had it drilled into us that running is good for you. It's what fit, healthy people do, and the more, the better. So you might be surprised to discover that not every coach and runner thinks every mile is worth running. I know when I first heard the term "junk miles" a few years ago, it seemed a pretty foreign concept. Not so much because I was running every mile I could, but because I couldn't really imagine ever running so much that any mile I spent in my trail running shoes could possibly not hold any value.
But the more I learned about training methods, the more I understood that in certain scenarios, some runs may not hold much worth. But then again, not everyone agrees with the idea of junk miles at all. In this article, we take a look at some of the definitions of junk miles, and how to know when you might be able to trim some of your total distance – and see greater gains in the process.
What are junk miles in running?
What counts as a junk mile really depends on who you ask. They may be defined as any of the following:
Easy runs that you put more effort into than necessary for training purposes
Runs with no specific, quantifiable goal or training purpose
Any non-quality miles run
Moderate-intensity runs
In short, junk miles is an umbrella term in training describing miles that you've run that don't directly improve your performance or help you reach training goals, and may even hinder your performance. They are considered different from so-called recovery runs, however, which are short, easy and follow a more challenging run such as intervals or your long run. Recovery runs do add a small amount of mileage to your weekly totals, but don't further fatigue your muscles or cardiovascular system.
Is there really such a thing as junk miles in running?
As you can see, if junk miles exist, they only do so within the context of your specific training regime. Some believers in junk miles say that not only do they not serve your aspirations, they might even impede your success because they can get in the way of precious recovery time and in doing so deplete your energy reserves and even increase your risk of sustaining running injuries.
So for the runners who believe in junk miles, every run has a defined purpose and any runs that don't support their training goals are considered disposable. If you can figure out a really good training plan to help you achieve that goal running your first half marathon or even full marathon, it sounds like you could actually cut back on the amount of training you need to do, buy yourself more recovery time and be more efficient. But then again, can any time spent on the roads and trails really be without value?
Again, it depends on what you're trying to accomplish with your running in the first place. If you, like many, run because you love running but aren't actually training for an event, then it's hard to make the case for any of those miles being superfluous. Sure, you could overtrain and end up fatigued or injured, but so long as you're not running to the point of injury, there are always fitness gains to be made from regular cardiovascular exercise, such as living a longer and happier life. Hard to describe any of those miles, then, as "junk."
If you're training for an event and simply running as far and as often as you can, without giving much thought as to how and why, you might be slogging more than you need. Calling those excess miles "junk" may sound a little harsh, but perhaps they are unproductive, or even counterproductive towards your goals. A better approach would be to create a training plan for that 10k or whatever your milestone is, to get the most out of your miles. In doing so, you might end up running less.
How do you know if you're running junk miles?
So how do you know if you're running junk miles? It all depends on your goals and definition of junk miles, really. But for starters, if you're increasing your distance beyond your ability to adapt, then you might be losing any gains you're hoping to make. Yes, we recently reported that the median weekly training mileage amongst ultra runners is 41 - 60k, and that's a lot. But at a certain point, you'll no longer see gains from a long run, only diminishing returns. You'll know if you fall into this category because you'll be constantly fatigued, you might start to experience pain after a certain mileage, and all your runs will be bad runs. The simple solution is to figure out when you hit that plateau and stop before it.
Further, if you run a lot of your miles at a steady, medium pace and moderate heart rate, some argue you're not going to see as much gain as if you focus on mixing up high and low intensity training and skip the middle altogether. We discuss this in our article on polarized training for runners and presented research showing that this method has a greater impact on endurance. If you ditch the moderate intensity training and replace it with a combination of low and high intensity workouts, you'll more than likely run fewer miles, but see greater improvements and enjoy more rest days.
Finally, if the miles you're running aren't part of your training plan, but just because you have the time and like running (or are a little obsessive about it), then they might be hindering you overall because they're robbing you of energy for those goal-focused training runs. Better to save your legs for tomorrow's long run and do some cross training instead, like yoga, pilates or weight lifting.
All the latest inspiration, tips and guides to help you plan your next Advnture!
Julia Clarke is a staff writer for Advnture.com and the author of the book Restorative Yoga for Beginners. She loves to explore mountains on foot, bike, skis and belay and then recover on the the yoga mat. Julia graduated with a degree in journalism in 2004 and spent eight years working as a radio presenter in Kansas City, Vermont, Boston and New York City before discovering the joys of the Rocky Mountains. She then detoured west to Colorado and enjoyed 11 years teaching yoga in Vail before returning to her hometown of Glasgow, Scotland in 2020 to focus on family and writing.