Winter isn't over yet, but rev your engines anyway
Mountain leader Kat Roberts shares her top tips on how to stay motivated and get outside during the winter months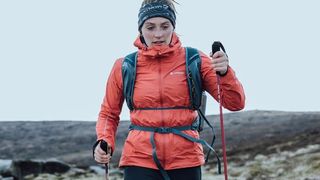 (Image credit: Montane)
My alarm sounds on a chilly February morning and I'm barely even aware of hitting snooze on reflex. The natural daylight alarm is flooding the room with a synthetic sunrise, but I ghost that too and bury my head under the covers. It's pitch black outside but not even that early – at this time in the summer months, I'd have no problem hitting the trails before work. At this time of year, however, the thought of getting my trail running shoes on seems impossible, and I can't even fathom how I used to squeeze in a hike before work? Perhaps I'll go for a swim at lunch time, I think as I drift back into REM sleep for another glorious seven minutes.
I can't find any studies on this, but I really believe that mid winter is the hardest time of the year to rev our engines and stay active outdoors. I often end up hitting the trail at weird times, or road running in the evening after work, which is one of my least favorite ways of getting outdoors if I'm being honest. The days are still short, the weather doesn't seem to be getting any better, and most of the New Year's resolutions have long since worn off. Whether you're struggling to find the motivation or just don't know how to dress for winter hiking and running, the struggle is real. To help you get some spring in your step before the season actually arrives, we recently caught up with Welsh-born mountain leader Kat Roberts, Montane ambassador and founder of Altitude Snowdonia to get her expert tips on how to get – and stay – motivated during these final weeks of winter.
1. Explore new places
Because of the dearth of daylight and sketchy weather, I often find myself revisiting familiar trails over and over in the winter. When I lived in Colorado, this helped me avoid avalanche conditions and now I'm back in Scotland, it's useful for the times when I'm hiking in a cloud, which is often. So I was surprised when Roberts told me she often does the exact opposite. Based in Snowdonia, she frequently finds herself fighting against strong winds and torrential rain, an obstacle she finds she can overcome with the excitement of exploring a new place.
"Find cool places to explore and get excited about going outdoors. There is nothing quite like seeing a new hill or summit for the first time. Winter adds more challenges and so sometimes this variety can also add to the excitement," says Roberts, who can usually be found trail running, mountaineering and wild swimming in the wilds of Wales no matter the weather.
Of course, she advises you'll want to follow all the usual-but-crucial steps for staying safe, such as checking the weather, learning navigation, carrying a first aid kit and telling someone where you are going. It's a lot of preparation, but she says, all the planning can actually increase the stoke level.
"With less daylight in the winter months, I like to start out earlier and plan in stop-off points such as pubs and shops," adds Roberts, who suggests route-finding apps such as Komoot for discovering new trails, which allow you to view routes before you go and offer suggestions from seasoned walkers.
New routes with pubs on the way? That sounds like something I can commit to.
2. Make a day of it
It occurs to me here that another reason why I tend to revisit my old faithfuls in winter is due to the fact that I like to get outdoors most days. So trail runs and hikes are often shorter affairs, squeezed in around work, and it makes sense. However, on weekend adventures, it might still be dark, wet and cold, but you have the opportunity to make your jaunt more of an event, something Roberts says is more important to her at this time of year.
"The hiking community is a wonderful and welcoming place. Invite friends and family along and make memories with loved ones. We always like to factor in snack breaks and pub stops to provide anchor points for the day and something to look forward to."
If you're already seeing friends and family on your day off, suggest you take it outdoors and you can use those pit stops to tempt them. Chances are, they're aching for some of nature's medicine and an endorphin release themselves and are just waiting for someone to take the reins.
3. Get back to your goals
Only a few short weeks ago, you were probably excitedly writing out your New Year's resolutions and envisioning your faster, fitter future self. Statistically speaking, you've already failed at those goals – Forbes reports that a staggering 80% of us will fail in our resolutions within just 30 days. But who's to say that you can't just set new goals for yourself? Certainly not Roberts, who recommends setting achievable milestones that give you a little boost along the way.
"Remember this is your personal journey in the outdoors and so avoid comparing what you are doing with others. Winter is tough; you are doing amazing just by getting out. I like to keep a personal log of my winter adventures and I find reflecting on past adventures is always a nice little pick-me-up and helps me to savor the moment."
Because my usually goal is a little general – as in, get outside as much as possible – I admit that I might fall short of meeting it in the depths of winter. Instead, finite, achievable goals such as 'hike once a month', or 'increase distances by five miles' can be more useful according to Roberts. The research shows that writing your goals down helps you to achieve them, so if you're hoping to finally run that half marathon this summer, add a journal and pen to your kit.
4. Build up your tolerance
It's not all in your head – staying active outdoors in winter really can suck. So far this winter, I've had frostnip on my cheek, taken a few hard falls on ice that looked like snow and been blown off my feet twice, so particularly if you're newer to outdoor winter pursuits, easing in is the right approach.
"Start cautiously and don't pick a long remote journey until you have some experience. Get excited and just start small, we are outside to enjoy it and the moment you stop enjoying it, that's your time to go to the coffee shop and re-assess," says Roberts.
It can definitely be a challenge not to get over excited, especially if you're not getting outdoors as frequently as you'd like, but it's vital not to overdo things and get yourself in a sticky situation where you run out of daylight, or energy. Speaking of energy, Roberts explains that in winter you'll want to consider your fuel intake more carefully than perhaps you do in the summer.
"We burn more energy when our body is fighting to keep us warm so carry high-energy foods such as Clif Bars, trail mix and tasty sandwiches, as well as making sure to eat more frequently."
5. Dress to win
Mental preparation might be your biggest hurdle, but you're not likely to get out the door – or last long in the hills – if you're not dressed to protect yourself against an arctic gale hurling ice daggers at you.
"Being Welsh, I went to school in 70 mph winds on a good day," jokes Roberts about her lifelong training in dealing with the elements. "But in all seriousness, it's all about preparation. The variable conditions of a winter hike mean that getting the right kit can make or break an adventure."
Not only does she impress the importance of hiking layers, with moisture-wicking base layers worn closest your skin and waterproof clothing to pull on over your mid layer and hiking pants, she reveals she also goes up a size in her waterproof jacket and rain pants to allow plenty of room for all those layers underneath, which is super smart. She carries extra hiking socks in her backpack along with her Montane Fireball jacket which is really light and packable, but still provides welcome insulation for chillier days.
"If you find yourself overheating or feeling colder then stop and sort that layering system out," she advises, rather than just trying to push through and get to the finish line faster.
Of course, warm, windproof and waterproof clothing can protect you against cold and wet weather, but it won't do you much good if you find yourself outdoors after dark, something that can happen more easily in winter if you're not careful.
"If you keep track of your time you can then also make check out points. For example, if you are not at a certain spot by midday then you know you will be walking in the dark at some point and plan for this."
For this reason, she always carries her Silva Trail Runner Free headlamp – and makes sure to keep it fully charged.
6. Everything in moderation – even motivation
Winter adventures often mean looking out at an overcast sky and going out anyway in a howling wind, knowing that it will probably be worth it in the end. But some exploits turn sour simply because people don't know when to quit. No matter how motivated you are to stick to your goals, Roberts says, always keep the mental flexibility required to know when to change course.
"Be prepared to turn around if the weather changes as there will always be another day."
All the latest inspiration, tips and guides to help you plan your next Advnture!
Julia Clarke is a staff writer for Advnture.com and the author of the book Restorative Yoga for Beginners. She loves to explore mountains on foot, bike, skis and belay and then recover on the the yoga mat. Julia graduated with a degree in journalism in 2004 and spent eight years working as a radio presenter in Kansas City, Vermont, Boston and New York City before discovering the joys of the Rocky Mountains. She then detoured west to Colorado and enjoyed 11 years teaching yoga in Vail before returning to her hometown of Glasgow, Scotland in 2020 to focus on family and writing.