Weather basics for hiking and trail running
Learn how to stay safe, dry and warm on any hike or run, without needing a degree in meteorology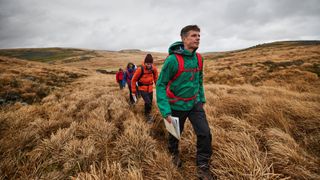 (Image credit: Ed Smith)
An old friend of mine, Marianne, recently got in touch to tell me about a near-disaster she'd had on a hike. She's been thinking about getting into hiking for years, and finally asked her husband for a pair of hiking boots for her birthday, and started researching good beginner hikes near her home in north Yorkshire. Being positioned so close to Yorkshire Dales National Park, she was spoilt for choice and after a couple of months of walking once a week, she became curious about hiking the three Yorkshire Peaks. She decided to start with the lowest peak, Pen-Y-Ghent, which is considered beginner-friendly and involves a fairly gentle, circular route.
On the morning in question, she and her husband set off soon after breakfast under a grey sky. The forecast for Settle, the town where they live, looked to be mostly cloudy all weekend, with no more of a chance of rain than any other weekend in Britain. On the drive over, a few drops of rain hit the windshield, but what of it? Once they parked the car, a light rain was falling and a wind had picked up, which made it difficult to pull on their waterproof trousers, but they had a chuckle about it and set off.
The ascent is just over two miles, but as they climbed, the gusts grew to a gale, hurling rain at them at such force that it felt like daggers piercing their skin. Marianne's lovely new down jacket, which promised superior warmth, was soon soaked through. At the top, they found themselves barely able to stand against the assault of the wind, with no visibility, never mind a view, and faced with a slightly treacherous-looking scramble to reach the trig point. Marianne wasn't having fun anymore, and kept sitting down for a rest, which had her husband understandably worried. They turned round at his entreaty and hastened back to the car where they arrived an hour later, a bit blue in the fingers but happy to be safe.
Keen not to repeat this experience, Marianne decided to do some research into weather basics for hiking. But after an hour or so of clicking on various websites, she grew discouraged, finding them to be overly advanced and going into detail into different types of clouds and pressure systems.
"I just want to know how to go for a hike safely without needing a degree in meteorology!" she lamented.
So she asked for my advice on some weather basics for next time. Based on her tale, it was immediately clear to me that she'd done a few things wrong. First, she'd checked the forecast where she lives and not where she was going hiking. Making matters worse, she hadn't checked the forecast the morning they'd set off, to see if it had changed. She had also worn all her best new hiking gear, but she actually didn't have the right gear for the elements. And finally, she'd probably picked the wrong route given the conditions. Read on for the top weather basics tips I gave her to keep her safer on her next adventure.
1. Check the forecast like a pro
Hopefully, most people considering going out in the wild or up a hill will check the forecast, but there are a few details here that new hikers often miss. Marianne's mistake was that she checked the forecast for Settle, where she lives, and not Pen-Y-Ghent. It's only six miles away, but as it turns out, six miles can be a long way in meteorology.
Likewise, if you live in Denver but you're driving up to the mountains for a hike, there's no point in checking the Denver forecast, as it could be 70 and sunny in the city, and 20 degrees cooler and cloudy where you're going. Start by checking the weather forecast where you're actually going, even if it's only a half hour's drive away.
Second, use a reliable weather app to check the forecast. The one in the back of the newspaper probably just lists the temperature and whether it will be sunny or rainy, but you need a bit more detail than that for a hike. At the very least, look for an hour-by-hour breakdown with details such as those cold fronts that can bring severe weather, and look out for wind speed, gust speed and windchill. If you decide you do want more than just the basics, check out our article on how to read a mountain weather forecast.
It can also be useful to check two or three different forecasts for the same area. It's amazing how different they can be. As I write this, I just checked three different forecasts for Ben Lomond and got these three different assessments of the weather today:
Light snow
Sunny and light winds
Light rain
Now, there are lots of reasons for these variances, from the position of the weather station to the period of time the forecast is covering, but the bottom line is to examine more than one to determine what you might be in for.
Finally, check the weather again the morning you plan to set off – conditions can change quickly, particularly at higher elevations, so take one last look and be willing to change your plans if needed. In Marianne's case, had she done all of this, she'd have seen that while Settle was in for light rain through the early afternoon becoming heavier towards evening, Pen-Y-Ghent was expecting heavier rain earlier on, combined with gale force winds and she'd have left it for another weekend.
2. Prepare for the worst
No matter what the forecast says, you always want to go for a hike prepared for inclement weather. Marianne had worn a down jacket that she'd just recently brought, which is far more 'outdoorsy' than her other jackets, so she thought it would be more than ample. What she didn't know is that, when they get wet, the feathers that make up down insulation clump together and don't do their job to keep you warm, and the water-repellent outer shell wasn't enough to fend off a driving rain. As a result, she was soaked through and freezing, which could have become really dangerous if they hadn't turned back when they did.
In addition to the obvious items, like hiking pants and boots, these are the following clothing items you should wear, or carry in your backpack, for any hike:
3. Know when to stay low
No matter the season or location, the higher you go on a hike, the colder it will be, to the tune of about 1°C for every 100 meters (328ft). I know I said we wouldn't go into meteorology, but just in case you're curious, this is because at altitude, the oxygen molecules are further apart, which makes it harder for heat to be transferred between them. Colder air means that rain down low can be hail, sleet or snow up high. Furthermore, wind speed increases as you go up in altitude due to the loss of friction and the effects of gravity. This means a breeze at the bottom can be a gale at the top, and in Marianne's case meant that she was being pelted with hailstones and barely able to stay upright.
Not all inclement weather means you need to stay home – far from it – but it can be a good reason to stay lower in altitude. Seek more sheltered trails in forests, along rivers and valley floors or coastal routes, and stay away from areas of high elevation that take you above treeline and exposed ridges, especially if there's lightning in the forecast.
With the right gear, you can take a walk in rain and winds, but you'll be safer doing so crossing a moor without trees or other hazards that can hit you in a howling gale than you will climbing a peak. Remember that you can walk faster on flatter terrain, so make up for the lack of climbing by going further, and save that peak for a better day.
All the latest inspiration, tips and guides to help you plan your next Advnture!
Julia Clarke is a staff writer for Advnture.com and the author of the book Restorative Yoga for Beginners. She loves to explore mountains on foot, bike, skis and belay and then recover on the the yoga mat. Julia graduated with a degree in journalism in 2004 and spent eight years working as a radio presenter in Kansas City, Vermont, Boston and New York City before discovering the joys of the Rocky Mountains. She then detoured west to Colorado and enjoyed 11 years teaching yoga in Vail before returning to her hometown of Glasgow, Scotland in 2020 to focus on family and writing.