Are one-person tents worth it?
Is it better to get a one-person or two-person tent? We look at the pros and cons of saving on space and weight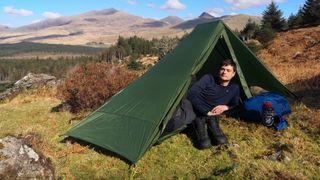 (Image credit: Matthew Jones)
Lots of people get a dog after a breakup; I got a one-person tent. My ex and I had been traveling the west for a few years, comfortably camping in his dome-shaped, two-person North Face tent (and using his camping stove, water purifier and bear bag, I might add) when suddenly I found myself single, living in the Rockies, and with only a sleeping bag and sleeping pad to call my own when if came to camping equipment.
I needed a tent and I wanted something super packable and lightweight that was easy to pitch by myself, since there was a good chance my backpacking trips were going to be solo for a while. So I started exploring the world of one-person tents, and after a few weeks of researching I took the plunge on The North Face Stormbreak One-Person tent which promised to be light, easy to put up, breathable and waterproof, with room for me, my backpack and my non-existent dog.
The first time I used it was at a music festival where I was teaching yoga. It was the middle of summer in Colorado so rain wasn't a worry, and I did indeed find it very easy to pitch. Inside, there was just enough room for my sleeping pad with about a foot at one end where I suppose you could technically place a backpack, but practically speaking that wasn't possible, and it being warm and dry at the time it didn't matter. I kept my backpack outside and my friends and I had a good chuckle about my tiny tent all weekend, which as I recall we referred to as my coffin.
Since then, it's been my shelter for loads of one-night backpacking trips plus a jaunt along the West Highland Way last year, and I still love it for how light it is to carry and how easy it is to put up. I must admit, however, that now I've returned to Scotland, the lack space inside for a backpack is more of an issue. It's one which I've solved by placing my backpack outside in a large black trash bag, but I have found myself having the conversation with other campers – are one-person tents worth it?
It seems obvious that if there are two of you camping, you'll want a two-person tent, and if there's only one of you, you only need a one-person tent, but as I'm learning, it may not be as simple as that. Let's take a look at the pros and cons of one-person tents to help you decide that's the best purchase for your camping endeavors.
One-person tents: the pros
Obviously, the biggest advantage of a one-person tent is going to be its light weight and smaller pack size. Because they're smaller, they use less in the way of materials and they often have a simpler design, too. My Stormbreak tent tips the scales at 3.7 lbs (1.7 kg) and packs away to 6 X 22" so it slides neatly into my backpack. It's a simple design with only one entrance and though the tent stakes are fairly flimsy, they're super lightweight. For long journeys, there's no question about bringing it along from a weight standpoint.
Because one-person tents are smaller, they're also as a general rule easy to put up by yourself. I can get mine up within mere seconds, thanks partly to the design – two poles which just clip in externally and the rain fly that clips in at the pole attachment points – and due to its tiny size. Even on a gusty day, I haven't been overwhelmed by a massive sheet of fabric blowing into my face, and I can easily keep a foot or rock on one edge to hold it in place till it's up.
So in terms of weight, packability and ease of use, a one-person tent could definitely be worth it if you're planning on camping solo.
One-person tents: the cons
Now for the disadvantages of a one-person tent. Obviously, the smaller size in your pack means a smaller space to keep your gear. Most one-person tents will say that they can fit your backpack, and that may be technically true, but in reality it's probably a tighter squeeze than you'd like. As I've said, my tent floor is only slightly larger than my Therm-A-Rest ProLite Apex sleeping pad, so it's cozy, but not roomy by any measure. However, it does have hand pockets where I can keep all my essentials inside with me. They also tend to only have a small vestibule, so you may end up doing what I do and just keeping the bulk of your gear outside your tent in a waterproof cover.
You might not be worried about keeping your gear outside your tent, especially in the backcountry, but the lack of inside space also means that your one-person tent may not make an amazing hangout spot if the weather isn't playing ball on your camping trip. I can sit up in mine to change clothes, but I'm only 5' 4" tall and I imagine someone six inches taller than me might find they have a lot less elbow room. It's fine for lying back and reading a book in, but not much else besides sleeping.
Then you've got the issue of versatility. While a two-person tent can be used by just one person, a one-person tent can't be used by two people, so if you buy one, you can only use it when you're camping alone.
Is it better to get a one-person or two-person tent?
If you're really looking to save on weight and pack size above all else, and you plan on doing a lot of solo camping, you should definitely look into one-person tents. You won't have loads of spare room, but it will be a light carry and no-fuss setup. If you think you might be doing quite a bit of camping with friends as well as alone, or are planning on camping in more extreme conditions where you'd like all your gear inside with you, you probably want something more versatile with more inner space. That said, there's no reason why you can't own one of each if you do a lot of camping.
Finally, I'd urge you to look into smaller, lightweight two-person tents. After a few more uncomfortable solo backpacking trips in my Stormbreak, I got my hands on the MSR Hubba Hubba NX two-person tent. When it's pitched, it's a dome shape with tons of space, but when it's packed up, it's exactly the same weight and size as my one-person tent! It's a little trickier to pitch by myself, especially when it's windy, but when I know I want more room I've started bringing it on my solo trips as a roomier alternative.
All the latest inspiration, tips and guides to help you plan your next Advnture!
Julia Clarke is a staff writer for Advnture.com and the author of the book Restorative Yoga for Beginners. She loves to explore mountains on foot, bike, skis and belay and then recover on the the yoga mat. Julia graduated with a degree in journalism in 2004 and spent eight years working as a radio presenter in Kansas City, Vermont, Boston and New York City before discovering the joys of the Rocky Mountains. She then detoured west to Colorado and enjoyed 11 years teaching yoga in Vail before returning to her hometown of Glasgow, Scotland in 2020 to focus on family and writing.