Why you should try a one-night backpacking trip
One night backpacking trips deliver stunning scenery, awesome adventure and bust some stress, but you don't need to put your life on hold to reap the rewards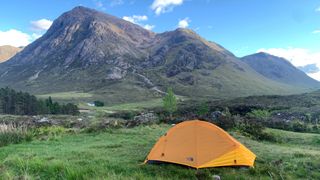 (Image credit: Julia Clarke)
Backpacking is just loaded with adventure, from planning your meals and packing your backpack, to setting off down the trail and finding an idyllic spot to set up your home away from home. But for some of us, the whole idea of it can seem more daunting than rousing. How do you know if you have enough food? Is your pack too heavy? What do you do if you can't find anywhere to camp? These questions get bigger the longer the trip, and they're one reason I've become a huge fan of the one night backpacking trip.
I'm not saying I don't love a more extended backpacking journey – I've had plenty of weeklong tent stays in the deserts near Moab, along the West Highland Way and in Yosemite National Park – but I honestly think it's hard to beat a good single night backpacking adventure. My very first backpacking experiences all involved single nights in the wilderness surrounding Vail, Colorado and to this day remain some of the most memorable adventures I've ever had. In the last year, I've taken to escaping off into Loch Lomond and the Trossachs National Park for the night, which is only 20 miles from Glasgow, but offers a complete respite from city life, and I'm starting to think these trips are the way of the future.
Often, when you only have a night spare, it's easy to think that car camping is the way to go, but there are a million spectacular places you can reach with a couple of hours (or less) of walking, and isn't it nice to get into the wild without bringing exhaust fumes with you? Whether you're looking to be persuaded to try backpacking at all, or wondering whether a single night is even worth all the hassle, read on for my top reasons to try a one night backpacking trip this year.
1. It takes less planning
A multi-day backpacking trip or thru-hike is a life-changing experience, but it takes some serious planning, from plotting out your route to figuring out your meals, and possibly even arranging for someone to mail your supplies to post offices along your route. For a single night, you just need to know roughly where you want to pitch your tent and how to get there, pack up your base load (we'll get to that in a moment) and start walking. When I lived in Colorado, I had a handful of alpine lakes that were secluded, stunning and required anywhere from three to six miles of hiking that I could head to on a whim.
2. Your pack is lighter
OK, so obviously you still need all the essential camping gear, meaning your tent, sleeping pad and sleeping bag, but there are quite a few items you'd need for a longer trip that you can leave at home for a one nighter. For example, you won't need extra clothes, though you should always bring a spare pair of hiking socks in case your feet get wet, a down jacket for cold nights, and a waterproof jacket in case of rain. You might be willing to put up with a smaller one-person tent or bivy sack if you're not going to be living in there all week. You'll only need one dinner and one breakfast, and if I'm being honest, I do occasionally just grab a sandwich and a breakfast bar on my way in, meaning I don't even have to bring my camping stove. That also buys me more time relaxing round the campfire once I've pitched my tent.
3. You don't have to put life on pause
For a longer trip, there are items that need to be checked off the to-do list to make sure things keep ticking over while you're gone. Plants that need watering, cats that need to be fed and bills that need to be paid. But if you head out in the afternoon and are home soon after breakfast the next day, even your cat won't be mad at you (any more than it usually is).
4. You might be able to do it on a weeknight
While longer backpacking trips can eat up your whole weekend, or most of your paid leave from work, you might be able to squeeze a one night trip into a weeknight. This holds especially true in the summer months, when you still have hours of daylight left for hiking after work, but even in the shoulder seasons, you might be able to make it work, especially if your work can be a little flexible.
I've been known to hop on a 3 p.m. or 4 p.m bus with my laptop so I can finish up my day's work on the wifi, then hike in around 5 p.m. and still get a full evening of campfire fun and downtime before getting back on the wifi the following morning for the ride home. It's a little off-piste, and it means you need to be willing to hike with your laptop for this approach, but as far as remote working goes, I can think of few better ways to do it. Plus, this means you'll have your whole weekend free for other adventures.
Think your boss won't go for it? Send them this research on how work productivity increases by a whopping 45% when employees spend just half an hour outdoors and see how they feel.
And don't forget, too, that your hike in and out can replace your workouts on both days, so you buy yourself a little time back there too!
5. You can bust some stress
Have you noticed how an evening at home cooking dinner and slumping in front of the telly goes by in the blink of an eye? But when you're away from all the demands and distractions of modern life, time stretches out. Research shows that you need to spend between 200 and 300 minutes in nature each week in order to receive the benefits of stress reduction and improved mental focus. Sure, you can eke these minutes out with 30 minutes here and there, or take an overnight in the wild and get them all in one, uninterrupted nature dunk.
Even a single night of backpacking is bookended by some green exercise on either end. Once you get to camp you are far away from the city lights, pollution and screens and can bask in all the health benefits of being immersed in nature and listening to the call of the birds, things that are now prescribed by doctors for mental health purposes. I find that one night in the wild really leaves me feeling revitalized for weeks to come.
All the latest inspiration, tips and guides to help you plan your next Advnture!
Julia Clarke is a staff writer for Advnture.com and the author of the book Restorative Yoga for Beginners. She loves to explore mountains on foot, bike, skis and belay and then recover on the the yoga mat. Julia graduated with a degree in journalism in 2004 and spent eight years working as a radio presenter in Kansas City, Vermont, Boston and New York City before discovering the joys of the Rocky Mountains. She then detoured west to Colorado and enjoyed 11 years teaching yoga in Vail before returning to her hometown of Glasgow, Scotland in 2020 to focus on family and writing.