For the best summer adventures, head to a ski resort
It's easy to forget about ski resorts in summer, but they can make the best destinations for adventure holidays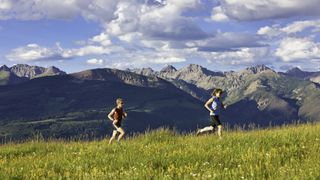 (Image credit: Jack Affleck/Vail)
For all the charms of jetting off to go snorkeling, surfing or on safari in exotic locations, long haul adventure holidays aren't necessarily the most appealing option these days. Between rising cost of living and more concern for the environment, you might be seeking to save money or travel closer to home this summer. Believe it or not, for the best summer adventures, you might consider heading to a ski resort.
I spent 11 years living in the resort town of Vail, Colorado, and I was one of those rare few who came for the summer and stayed for the summer. Yes, the skiing was epic, but I lived for those brief few months each year when the snow was mostly gone and I could be exploring the valley and mountains in a variety of sports. In any given week, I might be on top of a 14er in my hiking boots one day, on belay doing a multi-pitch climb the next and then riding over mountain passes on my road bike the day after that.
To be honest, over the last couple of years since moving back to Scotland, I'd forgotten how incredible ski resorts are in summer, but I recently found myself in Chamonix, France, attending the Arc'Teryx Alpine Academy, and it reminded me of what a great destination they make during the warmer months. I was there for only three days and in that time I managed to do an unforgettable hike, trek across a glacier and go on a gorgeous trail run to a secluded mountain refuge.
It's easy to forget about them ski resorts once ski season is over – if you're anything like me, your mind just instantly switches over to beach mode – but these destinations really shouldn't be overlooked if you're looking for an adventure holiday this summer. Read on to find out what makes them so great for summer escapades.
1. There are more adventure to be had
The thing about a ski resort in winter is that all there is to do is ski. Okay, sure you can go snowshoeing, ice climbing or maybe even fat biking, but basically if you want an adventure, you'd better be ready for snow. If you don't love the cold, have never used crampons or just need a break from skiing, you're pretty much looking at a day at the spa. Not bad, certainly, just not an adventure.
In the summer when the snow melts, the resort and surrounding mountain suddenly become havens for a massive variety of adventures. You can go hiking, trail running and mountain biking on the trails, and may be able to access high altitude zones without mountaineering gear. Mountain valleys always have streams or rivers running through them that may be hot spots for water sports like white water rafting and kayaking. There's often brilliant rock climbing on local granite slabs plus the road's are clear and dry for road running and bikepacking.
Between the warmer weather, dry ground underfoot and the longer days, you can be outdoors all day long, and the summer views are out of this world.
2. It's better for your budget
You probably know that the vast majority of ski resorts aren't exactly synonymous with budget travel, and in the winter months, the price of flights, hotel stays and lift tickets can be positively eye-watering. It's during these months that ski resorts, hotels and airlines make hay.
When summer rolls around, the fancy resort restaurants might still be charging an arm and a leg for a burger, but everything else can come substantially cheaper. Your hotel room could be a quarter of the price of winter rates, flights can be as much as half and your adventures like hiking and trail running don't have to cost you a penny. Instead of forking out hundreds of dollars for a lift ticket to access the ski runs, you can lace up your hiking boots or trail running shoes, head out of your hotel and enjoy an incredible adventure without opening your wallet.
Finally, thanks to the great weather, you may also be able to pitch your tent in summer instead of staying at a hotel, which will leave your wallet in much better shape and means you can afford that $25 burger.
3. Travel is easier
If you've ever traveled to a ski resort in winter, you'll know that doing so can be a logistical nightmare. Ski resorts are, by nature, in remote places, which means you either have to fly to a nearby city and then drive for at least an hour, or fly into a small regional airport. In either scenario, all it takes is one snowstorm to totally turn your well-laid plans upside down.
Canceled flights and road closures are just part and parcel when it comes to ski season, but if you're traveling in the summer, there's far less chance of you spending 12 hours in your car on the side of I-70 or having your tiny plane diverted back to Denver due to a snowstorm. Not accounting for traffic, which seems to persist in all seasons, you can land in the nearest city then hop in a rental car or shuttle and be in the mountains in no time and without chains on your tires.
4. The weather is great
Obviously I can't promise you'll have great weather in every ski resort in the summer, but for a lot of them (especially in Colorado and the Alps), the chances are good. Because resorts are usually positioned at high altitude, they're a bit cooler than at sea level, which in the summer months means much more comfortable conditions for hiking and biking where you're likely to work up a sweat.
Often, the temperature difference between Denver and Colorado resorts is up to 20 degrees Fahrenheit, which can make the difference between high energy and heatstroke. Remember to wear sunscreen and sunglasses, as the UV rays gain intensity the higher you get, and know that afternoon thunderstorms may be likely, so plan to be off the summit by noon.
All the latest inspiration, tips and guides to help you plan your next Advnture!
Julia Clarke is a staff writer for Advnture.com and the author of the book Restorative Yoga for Beginners. She loves to explore mountains on foot, bike, skis and belay and then recover on the the yoga mat. Julia graduated with a degree in journalism in 2004 and spent eight years working as a radio presenter in Kansas City, Vermont, Boston and New York City before discovering the joys of the Rocky Mountains. She then detoured west to Colorado and enjoyed 11 years teaching yoga in Vail before returning to her hometown of Glasgow, Scotland in 2020 to focus on family and writing.