The best running apps for road, trail and treadmill training
Track your performance, plan your runs, and smash your goals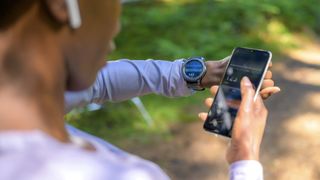 (Image credit: Getty)
Whether you're new to running and aiming for your first 5k, or you are an experienced ultra runner, there are running apps that aim to help you to keep track of training and also to improve your performance. Here we've rounded up a list of our top recommendations to help you find the one that's right for you.
Many of these apps can connect to your GPS watch, and can be used to keep track of a range of data, such as route, distance, pace, cadence, time and calories. Most also offer coaching and fitness tips too, often personalized to suit your current activity and fitness levels.
Most running apps are free to download and use, but there's often a subscription cost if you want to make use of more detailed features. Many of the running apps are better for different types of runners, such as runners who spend most of their time on a treadmill, those who want to route plan and others who are more focused on gathering data and stats.
Strava
The saying goes: If it's not on Strava, it didn't happen. The app combines sport analysis with a social media platform and it's very popular. You can check out a wide range of data on Strava, from distance, time, pace, elevation gain and route.
If you sign up to a subscription, you'll also see extra data such as relative effort and heart rate, plus the maps become downloadable. The subscription also gives access to customised training plans, and segment leaderboards, which shows how your actives rate against other runners on the same route.
Cost: Free; £8.99 per month or £54.99 annually.
Platforms: iOS, Android
See: Strava
Zwift
Another popular training app is Zwift. You might think it's cycling specific but it also offers plenty of useful info for runners.
The app is useful for remote training for runners and brings a gaming-style focus to running. Just like cyclists can take on turbo challenges on Zwift, so runners can do the same with treadmill sessions.
To use the app you pair with a Bluetooth-enabled treadmill. There are many hundreds of workouts to choose from, as well as group challenges and races.
Cost: Free (there is a fee if you use it for cycling)
Platforms: iOS, Android
See: Zwift
NHS Couch to 5K
This is a free running app aimed at newcomers to running, or people who re returning to running. It is a guide to building up to a 5k run. The app has been created by a partnership of the NHS and the BBC and provides a step-by-step training guide over nine weeks.
There are tips, progress awards and trainers to help keep you motived. You might recognise the voices of celebrities such as comedian Sarah Millican and presenter Jo Whiley. In addition, the app allows you to connect with an on-line community of Couch to 5k runners.
Cost: Free
Platforms: iOS, Android
See: NHS Couch to 5K
Nike Run Club
Several running brands, including Nike, have created their own running apps. The Nike Run Club app has a range of features and tools for all levels of runner, from beginner to ultra.
You'll find all the usual run tracking features, including distance, pace and heart rate, plus training plans for runners aiming fro different goals and distances. Some of the sessions are audio guides so, for example, you are instructed on intervals for a speed session.
There are also guided mindful runs led by experts from mental health app Headspace.
As well as being able to see a host of data and analytics, Nike Run Club operates like a community so you see what friends are doing and also stay motivated thanks to different challenges and rewards .
The app integrates with Spotify and Apple Music and it is compatible with Apple Watch, TomTom and Garmin devices.
Cost: Free
Platforms: iOS, Android
See: Nike Run Club
Adidas Running
The free version version of this app ticks off most of the run tracking aspects you'll need, including distance, pace, time, time, calories and heart rate.
The brand has included a range of motivational features, such as virtual races and challenges and the app allows you to connect with and track the activities followers.
There is a membership that you pay for and that gives access to a range of customised training plans, for example if you are aiming for a 10k or marathon, or you want to lose weight.
The app is compatible with Apple Watch and other apps such as Zwift and Garmin Connect.
Cost: Free; Premium £9.99 per month, £49.99 per year.
Platforms: iOS, Android
See: adidas Running
Runkeeper
The Runkeeper app – supported by Asics – allows you to track and plan running routes as you go. You can also create running goals and take up different in-app challenges. The app allows you to connect to virtual running groups and provides rewards to keep your motivated. All the usual metrics are covered, from distance to pace.
If you pay for Runkeeper GO, you gain access to personalised training plans and more in-depth running data. Plus there are guided workouts with Asics coaches should you want them. The app is compatible with Garmin, Apple Watch and Fitbit.
Cost: Free; subscription £7.99 a month, £29.99 a year.
Platforms: iOS, Android
See: Runkeeper
Garmin Connect
This app is useful and free to use if you own a Garmin device, such as Garmin Enduro sports watch. The app syncs with Garmin watches and provides a wealth of running data. As well as the usual analytics, there are plenty more metrics such as blood oxygen, sleep pattern, hydration, respiration, stress etc.
The app offers information in graph format for better understanding of fitness and health.
You can also use the Garmin Connect app as you would social media and share and like other user's activities. The app aims to help with motivation for runners by creating challenges and rewarding with badges.
Cost: Free (when you buy a Garmin device)
Platforms: iOS, Android
See: Garmin Connect
Weav Run
This app is useful if you like to run while listening to music. It's actually a clever app and can help you to find music on your playlist that matches your running cadence. It even remixes songs to sync with your pace. A newer feature is instructor-led workouts.
Cost: Free; some in-app purchases
Platforms: iOS
See: Weav Run
Map My Run by Under Armour
This is a useful app for people who are looking for new routes to follow. You can choose from one of more than 70 million routes on Map My Run. The app allows you to create your won routes and share them with other people.
Map My Run also records all the usual data while you run, including distance, pace, elevation and calories etc.
There are paid-for premium features such as live location tracking for safety, heart rate zone analysis and audio coaching.
Cost: Free; premium £5.49 per month, £27.99 per year
Platforms: iOS, Android
See: Garmin Connect
Runna
This app, which has been created by running coaches and focused on running plans, whether your goal is a 5k or marathon. You can create customised running plans that provide step-by-step sessions.
The app syncs with Garmin, Coros, and Apple watches, so the sessions can be downloaded to your sports watch. You do need to pay for this app after the first free week.
Cost: Free for the first week; £15.99 a month after that
Platforms: iOS, Android
See: Runna
All the latest inspiration, tips and guides to help you plan your next Advnture!
Fiona Russell is a widely published adventure journalist and blogger, who is better known as Fiona Outdoors. She is based in Scotland and is an all-round outdoors enthusiast with favourite activities including trail running, mountain walking, mountain biking, road cycling, triathlon and skiing, both downhill and back country. Her target for 2021 is to finish the final nine summits in her first round of all 282 Munros, the Scottish mountains of more than 3,000ft high. Aside from being outdoors, Fiona's biggest aim is to inspire others to enjoy the great outdoors, especially through her writing. She is also rarely seen without a running skort! Find out more at Fiona Outdoors.