5 unforgettable ways to see the Grand Canyon
From hiking down to rafting and riding mules, we weigh up some of the popular ways to view this natural marvel and help you choose your adventure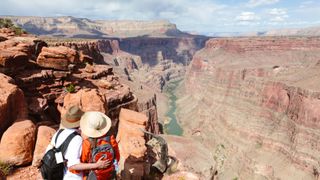 (Image credit: Matteo Colombo)
Larger than the entire state of Rhode Island and deeper than four Empire State Buildings stacked one on top of the other, it's no surprise that the Grand Canyon is one of the seven natural wonders of the world. This monumental chasm holds countless secrets and scientific findings including five major ecosystems, hundreds of caves and fossils dating back billions of years. Moreover, it's a feast for the eyes.
There's no dispute that you want to see this National Park before you die; the question is, how do you want to see it? You might have thought your only option was to roll up in a tour bus and peer over the edge – and to be fair, that's still an experience of a lifetime – but you can explore the canyon on foot, from the air, in a raft or even on an equestrian ride. In fact, there's so many great ways to see it that you might find yourself, like me, going back for a second or third look. In this article, we weigh up some of the popular ways to view this natural marvel to help you choose your adventure.
1. On foot
For my first trip, I made the 280-mile drive from Las Vegas and spent a few nights camping at Mather Camping so I could explore some of the best hikes in the Grand Canyon, and I think this is the best way to get a really tactile experience of the place. You need a little more time than some other options on this list, but it's the cheapest way to do it and you get your feet in the dirt, the sun on your skin and breathe in that scent of ponderosa pine mixed with western honey mesquite.
You may have heard that hiking to the bottom of the canyon is gruelling, and it is. For an overnight rim-to-valley-floor trek on the Bright Angel or South Kaibab trails, you'll want to be in great shape, experienced in backpacking and carry a lot of water. For any hikes where you'll be descending into the canyon – even if you're not going to the bottom – wear sturdy hiking boots and carry trekking poles to help with the steep nature of the trails.
Steep climbs aren't your only option, however – most bodies can walk along the largely paved South Rim Trail, and you should definitely plan to end your day at Mohave or Pima Point on Hermit Road for a spectacular sunset.
2. By plane
In 2016, my mum and I were in Las Vegas after a weeklong adventure in Yosemite and Death Valley National Parks. Being so close to the Grand Canyon, she didn't want to pass up the opportunity to view it before flying home to Scotland, but neither of us was up for another nine hours (there and back) in the car. So, we took a plane ride, and I must admit, it was far better than I expected it to be.
There are several outfits that, for a fee of anywhere from $140 to $600, will pick you up from your hotel, shuttle you to the airport and fly you over the Grand Canyon. The planes are small – ours carried 16 passengers and you should get at least 45 minutes in the air, though that usually includes taking in some other nearby sites such as the Hoover Dam.
I let my mum sit in the window seat, since she'd never seen it, but even from my aisle seat the views were breathtaking and it was a really exciting way to see the canyon. This is a great option if you're short on time and have a little cash, though of course the adventures are weather dependent and you could be delayed if there are high winds or lightning.
3. In a chopper
If you get a kick out of adrenaline, you can raise the bar a little and take a helicopter ride. These are only a little more expensive than a plane ride, and you can depart from Vegas or from the South Rim, with different outfits offering flights that range from a half hour tour from the rim to ones that land at the bottom of the West Rim and last a couple of hours. Compared to a plane, you'll be sharing the views with fewer people, as the helicopters usually only ferry six people at a time.
A word of warning: my step sister took a helicopter ride over the canyon a few years ago, and while she was waiting, the chopper ahead of hers crashed which made for a hair-raising day. These crashes do occasionally happen, and such is the risk of flying in a piece of machinery that becomes a concrete block the moment there's a mechanical failure, but they're not common. Now that that's out of the way, she had a great time and this method is definitely more exhilarating than from a plane as you get closer to the action.
4. From the river
That tiny glint you see at the bottom of the canyon is a river and rafting down it is a rite of passage for river rats. It's such an epic adventure that I have friends who have done it six or seven times. A full Grand Canyon float takes up to three weeks and requires a permit and major rafting experience, but there are one-day guided whitewater raft trips on motorized boats that just require you to own some water shoes and drive a couple of hours down from the South Rim. There are also two to four-day packages which may include a hike back up to the rim in the adventure.
Rafting the Grand Canyon gives you a completely different perspective of the place. From above, we think of it as just a giant, albeit spectacular, hole but once you're down on the Colorado River, you'll get more of a feel for the life that these towering walls have supported over millennia. In the currents are glimpses of humpback chub and razorback sucker, nesting above you are hawks, eagles, falcons, ospreys, owls, condors, and vultures, then there are the remnants of ancient civilizations. The rafting itself can be thrilling, and there are waterfalls to view and swimming opportunities, but overall it's more peaceful down here than up at the busy rim.
A rafting trip is an expensive option and you might part with $600 for the day, but it will be the adventure of a lifetime, and if money is no object you can shell out a little extra for a helicopter ride out at the end.
5. The old fashioned way
By far the most unique means of experiencing the Grand Canyon is on muleback. Visitors have been using mules to see the canyon since the 1800s, and the Supai Village in the canyon is the only place in the country where mail is still delivered by mule. Today, Grand Canyon Lodges offer short two-hour guided rim rides for about $160 as well as overnight rides down the Bright Angel Trail to Phantom Ranch for $700 including meals.
Riding a mule through the canyon is definitely easier on your legs than walking it yourself, but it's no cakewalk either. You do need to be in good physical condition, especially for an overnight ride, however if you have equestrian leanings, this will be the thrill of a lifetime and gets you as close to the action as hiking. Wear hiking shoes so that you can easily use the stirrups and explore on foot during breaks, long hiking pants to protect your legs and carry a waterproof jacket as well as a brimmed hat.
All the latest inspiration, tips and guides to help you plan your next Advnture!
Julia Clarke is a staff writer for Advnture.com and the author of the book Restorative Yoga for Beginners. She loves to explore mountains on foot, bike, skis and belay and then recover on the the yoga mat. Julia graduated with a degree in journalism in 2004 and spent eight years working as a radio presenter in Kansas City, Vermont, Boston and New York City before discovering the joys of the Rocky Mountains. She then detoured west to Colorado and enjoyed 11 years teaching yoga in Vail before returning to her hometown of Glasgow, Scotland in 2020 to focus on family and writing.