Why don't down jackets have temperature ratings?
Sleeping bags have temperature ratings, so why don't puffer jackets?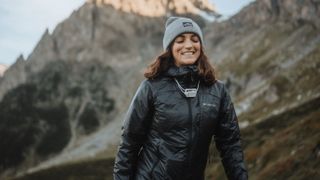 (Image credit: Manon Guenot)
This fall, I was at Columbia's headquarters in Geneva for a presentation on their new line of outdoor gear, examining the tech that's gone into one of their new puffer jackets. The jacket in question uses a technology called Omni Heat, which incorporates NASA technology into clothing to keep you warm in the coldest of temperatures.
After the presentation, a fellow outdoors journalist from Germany asked a really great question that has never occurred to me to ask until now – why don't down jackets have temperature ratings? Sleeping bags, whether they're made from down or synthetic insulation, always tell you what temperature range they're meant to be used in, after all, so why don't down and synthetic puffers give you the same information?
If you're curious how comfortable a puffer jacket will be when you're out on a mountain, read on to learn about all the factors that go into determining its insulating power, and how to make sure yours is going to be warm enough.
What are temperature ratings on sleeping bags?
First off, what are temperature ratings anyway? When you're shopping for a new sleeping bag, it should come with certain temperature ratings, such as Comfort, Limit and Extreme, which offer the temperatures your bag is best used at. We explain these more in our article on temperature ratings, but for our purposes here, it's helpful to know that these ratings are determined in a lab setting, where each bag is tested with a dummy in the same conditions, such as wearing the same clothing and at the same temperature. Sleeping bags are not required to be tested in this way, but if they have been, it will be indicated as an "ISO" or "En" temperature rating.
Why don't down jackets have comfort ratings?
So coming back to the original question, if sleeping bags can have temperature ratings, why can't down jackets? They are, after all, made using the exact same materials, but as I'm soon to find out, the differences end there.
British outdoor clothing brand Mountain Equipment explains that the reason they don't rate their jackets the way they do their 250 Helium sleeping bag is because the perceived warmth of a jacket varies so much from person to person depending on use.
"If you are climbing steep ground quickly then a down jacket will feel much warmer than if you are stood still belaying or around camp for hours on end," they explain in their down clothing guide.
California-based Patagonia's Customer Service team gives an even more detailed response to this common question, explaining that air temperature isn't the only factor in how cold you feel when you're outdoors.
"Factors such as humidity, wind, sun, and clouds all affect how cold a given temperature feels. And let's face it, some of us just don't handle cold as well as others so the first variable is whether you run cold or hot."
That latter point is key, something you'll know if you've ever been outside in winter with any other human. More often than not, you're unzipping while the other person is bundling up, or vice versa, and a 2020 study of people in 26 countries found that so-called thermal subjectivity varies according to climate, seasons and even language.
Beyond those factors, there are all kinds of other details that can influence how warm or cold you feel, regardless of which jacket you're wearing, such as whether or not you're acclimated to the cold, what you've eaten that day, whether you cruise groomers or ski moguls and, of course, what else you're wearing underneath. After all, a down jacket layered over a wool base layer and a gilet is likely to feel a lot more snug than one piled on over a cotton hoodie or T-shirt.
Temperature ratings for down jackets would simply be too subjective, as our Columbia rep Christelle Bretaudeau explains in the boardroom, as there are far too many variables around how they're being used. Sleep bag ratings can be pretty subjective as well, but the reason that companies like Mountain Equipment and Patagonia feel they can reasonably rate their bags is because when you're inside your bag, you'll definitely be inactive (as in, not hiking or skiing) and you'll almost certainly be sheltered from the elements by the walls of your tent or a bivy sack, which eliminates enough variables for them to be able to give you a ballpark figure.
How do you know if a down jacket is warm enough?
If you're looking for a new down jacket for winter escapades, it's fair to say that you're going to want to make sure it's warm enough – they're not the cheapest pieces of kit – and some of you will also be worried about it being too warm, if you're the type who runs hot.
The official advice from Mountain Equipment here is that it is usually best to err slightly on the side of caution and end up carrying a little extra weight than being a little too cold, which can set you up for hypothermia if you're not careful. You can always unzip or even take your jacket off if you feel too warm.
Patagonia's advice here is that there's one basic rule that determines how warm a jacket will be, and that is how thick it is. Thickness equals warmth, so if you're in the market for an extra warm Patagonia down jacket, go for the big, thick Fitz Roy Hoody and not the AlpLight, which is better suited to those who are doing highly aerobic activities or tend to feel warm all the time.
If you prefer to get a little more technical about it all, one more big factor to understand is that of fill power, which is a way of describing its insulating power. This is a little complicated, but as a general rule of thumb a jacket that's got a fill power of 700 or higher will be warm.
There are, of course, other factors that might influence a jacket's warmth, such as whether it has a cozy hood and if it leaves enough room to be layered over a fleece jacket, and you can learn more about this in our article on how to choose a down jacket and stay warm this winter.
All the latest inspiration, tips and guides to help you plan your next Advnture!
Julia Clarke is a staff writer for Advnture.com and the author of the book Restorative Yoga for Beginners. She loves to explore mountains on foot, bike, skis and belay and then recover on the the yoga mat. Julia graduated with a degree in journalism in 2004 and spent eight years working as a radio presenter in Kansas City, Vermont, Boston and New York City before discovering the joys of the Rocky Mountains. She then detoured west to Colorado and enjoyed 11 years teaching yoga in Vail before returning to her hometown of Glasgow, Scotland in 2020 to focus on family and writing.