How to breathe while hiking
Our guide to how to breathe while hiking covers some of the reasons you might be short of breath, and how to improve your breathing so you're getting all the air you need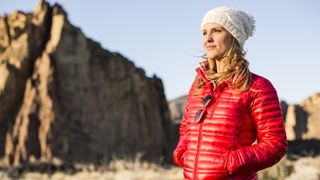 (Image credit: Jordan Siemens)
There's no question that hiking is great exercise, particularly when it comes to strengthening your cardiovascular system. A strong cardiovascular system takes the strain off your heart and makes it function more efficiently, which means lower blood pressure and better blood flow, according to Integra. It's something we should all strive for, and hiking seems like a great way to achieve it with a low impact form of green exercise that gets you out in the fresh air, but sometimes, it can feel like it's doing the opposite.
If you often find yourself gasping for breath with the sound of your heart pounding in your ears and unable to hold a conversation when you're out in the hills, it can be downright uncomfortable and discouraging, but don't give up. Follow our guide to how to breathe while hiking for a few practical tips to improve your breathing, and have a more enjoyable experience on the trail.
Why can't I breathe when hiking?
Breathing is the most natural thing in the world, but many of us struggle with it. We live an increasingly sedentary lifestyle thanks to the advent of computers, which aren't doing a whole lot to improve our posture either. These two factors definitely make for a lot of shallow breathing in life generally, and you might be inadvertently taking those habits out onto the trail with you.
When you start hiking, your body requires more oxygen to make sure your muscles function properly, so it's normal to start breathing more deeply. However, there's a difference between breathing deeply and wheezing, or total breathlessness. Assuming that you don't have a medical condition that is affecting your breath, there are a few reasons why you might be struggling to breathe on the trail:
Fitness: if you're new to hiking or out of shape, your heart and lungs will need some conditioning to catch up with your desired activity level.
Posture: a slouching position when you lean into the hill too much makes it difficult to breathe.
Speed: you might be going too fast, particularly if you're hiking with other people and trying to keep up with them.
Altitude: if you're hiking at a mile or more above sea level, there's a good chance that the lack of oxygen is the culprit and you'll want to read our tips for hiking at high altitude.
How to breathe while hiking
Learning how to breathe better when hiking means you'll be more efficient and may help you avoid dizzy spells, and if you don't have to keep stopping you'll get farther, faster and almost definitely have a better time, so it's worth trying these simple techniques next time you're out on the hill:
1. Breathe through your mouth
As we already mentioned, you need to take more oxygen in when you're hiking, so you can't expect to breathe the same way you would when you're sitting on the couch. One of the simplest solutions is to just start breathing through your mouth, since it's bigger than your nostrils and will allow for more air to pass through, faster. This may be uncomfortable at higher altitudes or when you're hiking in the desert, because the air is so dry, and in that case you might want to stick with breathing through your nose, or carry extra water in a hydration pack to counter dry mouth and dehydration.
2. Practice deep, rhythmic breathing
The best approach to breathing while hiking is to try to sustain deep, rhythmic breathing. Deep breathing, also known as diaphragmatic breathing, feels like you're breathing all the way down into your abdomen, and uses more of your lungs, while rhythmic breathing can be as simple as making sure your exhales are the same length as your inhales, so you're not holding your breath in.
If this feels very unfamiliar to you, you can practice it at home, lying down with a folded blanket on your belly. For five minutes a day, practice breathing in such a way that you feel your abdominal muscles inflate against the cushion. You can also practice deep breathing with yoga and swimming.
Once you get out in your hiking boots, make sure that the waist belt of your backpack is secured around your hips and not around your belly, where it might restrict your breath, and try to maintain your deep, rhythmic breath as you walk.
3. Maintain good posture
Posture has everything to do with healthy breathing. Your lungs and diaphragm need room to move and if you're slouching, they can't expand. Try hunching over your computer now and taking a deep breath or two. Impossible, right? Now, imagine doing that same thing when you're walking uphill and hunching over to carry a heavy backpack. Suddenly, it's no wonder why you can't breathe, is it?
When you're hiking, you want to maintain a nice, upright position in your spine with your shoulders back. If you think your backpack is what's causing you to slouch, read our guide to how to adjust a backpack.
4. Slow down
Finally, whether you're trying to set a new personal best time or want to keep up with your gazelle-like friends, you simply might be going too fast. If you're unable to breathe properly while you're hiking, slow down until you find a pace where you can maintain your deep breathing and train at that pace. It won't take long for you to build up your fitness and stamina, and your friends won't mind slowing down, or stopping occasionally to enjoy the view while you catch up.
All the latest inspiration, tips and guides to help you plan your next Advnture!
Julia Clarke is a staff writer for Advnture.com and the author of the book Restorative Yoga for Beginners. She loves to explore mountains on foot, bike, skis and belay and then recover on the the yoga mat. Julia graduated with a degree in journalism in 2004 and spent eight years working as a radio presenter in Kansas City, Vermont, Boston and New York City before discovering the joys of the Rocky Mountains. She then detoured west to Colorado and enjoyed 11 years teaching yoga in Vail before returning to her hometown of Glasgow, Scotland in 2020 to focus on family and writing.