Best backpacking food: recipes of 9 great meals to cook over a camp fire
The best backpacking food, using a little imagination, will make camp cuisine filling and fun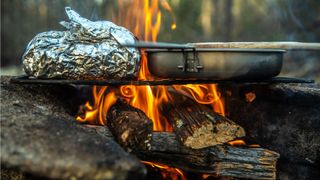 (Image credit: Getty)
There's no reason that the best backpacking food can not only fuel your adventures but also taste amazing. When we're out hiking in the wild, we tend to work up a ferocious appetite. Long descents are often spent dreaming of the meal you're going to cook up on your camping stove once you've pitched your tent. What you eat for your backpacking meals is just as important as how you eat it.
If you're planning a multiday backpacking trip, freeze-dried meals are among the best backpacking food you can buy. These packets of deliciousness are be brought to life with nothing more than boiling water. Carrying food in your backpack will make your load heavier, but it will also expand your culinary options.
"Unless you're willing to survive with very spartan diet, you should definitely plan meals you'll enjoy eating when you're out on the trail," says Michael Isacson, an avid backpacker from South Bend, Indiana. "Real food might taste better and can be fun to make, but you have to consider the cost and benefit of it in your pack and the time it takes to prepare it. And that's especially true if kids are on your trip."
Consider the weight and freshness values of things like eggs, meats and cheeses. Pack hard cheeses (romano, parmesan, vintage gouda or aged cheddar), hard meats (salami, pepperoni, prosciutto or summer sausage) or consider taking pre-cooked sausages or portion-sized tuna, salmon or chicken sold in foil packets. Take only fresh eggs that don't need refrigeration and carry packets of ramen noodles, which are very light and easy to heat up with boiling water. Then of course, you've got to consider the weight of your camping stove too.
You should also weigh up what utensils to bring – check out our guide to the best camping utensils for some pointers.
To bring out the flavours of your camp cuisine, makes sure to pack a small bottle of hot sauce, some mixed herbs, and small packets of salt and pepper (such as those that are typically available at fast-food restaurants).
Here are 9 meals you can make in a pinch on your next camping trip using a hot campfire or miniature camping stove.
1. Tin foil dinners
A swath of aluminum foil can go a long way when it comes to making backcountry cuisine. You can wrap just about anything in foil to heat it up or cook it from scratch, perfect when you are wild camping. Form a piece of foil into the shape of a bowl or a long narrow canoe and fill the bottom with a little bit of butter or olive oil, then fill it with chopped cooked sausage, sliced vegetables, diced potatoes and seasonings. (Using veggies with high moisture content like tomatoes, celery or onions will help keep the meat and potatoes from drying out and burning.) You can even add some pre-cooked ramen noodles to the mix.
Close the top of the foil securely and carefully place it directly into the hot embers or your campfire or on a grate directly over the fire, but avoid putting it directly in hot flames to keep it from burning. (If you don't have heavy duty foil, consider doubling up with a second piece of foil to keep the package from splitting open over the fire.)
Cook the packet for 10–15 minutes, carefully pull it off the fire and open it up. Eat it with a fork or spoon right out of the foil or on a camping plate.
2. Camp quesadillas
Tortillas can be especially versatile as a backpacking meal because they can be a supplement to just about any meal or wrap up just about any food that you want to warm over a fire. One of my favorite things to make on the second or third day out while backpacking, is what I call 'camp scraps pizza' or 'leftover quesadillas'.
Often after a day or so, I'll have a smattering of leftover meats and vegetables, just a little bit of cheese and some hot sauce remaining. Those are the ideal ingredients for a campfire pizza or quesadilla for lunch on your last day. Let the tortilla warm up on a skillet or the fire grate and empty your pack or cooler with all those leftover bits and let it warm up to melty goodness. Leave it to cook open face like a pizza or fold it over to make it an easy-to-eat quesadilla.
3. Egg in a hole breakfast sandwich
Sometimes the best backpacking food is when you improvise a bit. In a skillet over an open fire, place a half a bagel face down over some melted butter and let it simmer. Crack an egg into the hole of the bagel and let it cook in place. (You might need to expand the hole in the bagel a bit.) As the egg is nearly fully cooked after 5 minutes, add a slice of pepperoni or prosciutto, sprinkle some cheese over the top and let it cook a few more minutes to warm the meat and cheese. Season it with salt and pepper and perhaps a touch of hot sauce before enjoying your tasty makeshift breakfast sandwich. It's perfect along with coffee from your hiking flask.
4. Camp stew
While it's easy to try to plan out your meals ahead of time, sometimes that plan can go sideways for any number of reasons. If you've brought fresh food along with you, or if you and your trail mates find you have leftovers, chop it all up and put it into one pot over the fire or in a pot on your lightweight camp stove. For example, sliced sausages, diced vegetables, some pre-cooked ramen noodles, a little bit of cooking oil and a cup or water (about 240ml) can make a scrumptious camp stew that you can season however you'd like. Serve it with crackers, a side of bread or half of a bagel.
5. Baked mac'n'cheese
To expand your culinary range, consider cooking macaroni noodles (or another variation like ziti, rotini or farfalle) before your backpacking trip and packing it in a sealed plastic bag. They'll stay fresh for a few days and can be added to just about anything you're cooking or eaten as a carbohydrate-rich snack. It's the energy benefits that makes this high on our list of the best backpacking foods.
To make a batch of campfire mac 'n' cheese, soak a cup of cooked noodles in water and put them into a foil pouch with a dash of cooking oil, salt and shredded cheese. Seal the pouch and put it over the fire (but not directly in the flames) for 10 minutes and you'll have a scrumptious meal. Open the pouch, add seasonings and eat it right from the foil with a fork. With that extra energy, it would not be a surprise if you were suddenly inspired to go for a spot of night walking.
6. Pancakes
Pancakes are easy to make on a small griddle over an open fire, but the bigger challenge is carrying the ingredients into the backcountry. Pack the dry pancake mix in a plastic bag or bottle. Whether you're able to carry butter or an egg in a cooler bag will determine how you make your pancakes. As an alternative, you can carry a small leak-proof bottle of canola oil or possibly some ghee, which is an Indian form of butter that's had all of the milk solids taken out and therefore doesn't need to stay cool.
From there, simply mix your ingredients, add water and pour out onto a hot griddle for palm-sized cakes. Add some sliced fruit and chocolate chips to spruce them up a bit. Eat them by hand and dip them in maple syrup or powdered sugar if you brought those luxury items in your pack.
7. Grilled trout
Some might argue the best backpacking food is that which you catch while in the backcountry. If you're fishing on your camping trip, you can cook up your fresh catch in a jiffy. Filet the fish but leave the skin on. Add butter or a few droplets of cooking oil and seasoning to the meat, close it back up and put it in a foil packet with more butter or oil and some green beans, onions, capers and lemon slices or whatever you might have available in your pack. Thoroughly wrap the foil packet and put it over the heat of the campfire, carefully flipping it over every 3-4 minutes for 15 minutes. Unwrap the foil, open the filet, spritz it with more lemon and serve with crackers or bread on a camping plate. The fish should flake away from the skin and small bones with ease. It's surely one of the most satisfying and best camping meals.
8. S'mores
Even amongst the best backpacking food, s'mores are king. If you're camping with kids or camping with teenagers and you have a campfire, you absolutely have to have s'mores! In fact, you can even make this classic treat on the low, open flame of your miniature camping stove. All you need to carry are graham crackers, marshmallows and a chocolate bar or two. Also, if you don't want to pack graham crackers and chocolate, you can simplify the process by carrying chocolate chip cookies and marshmallows.
When it comes to making s'mores, gently pushing a piece of chocolate into the marshmallow you're roasting to ensure the chocolate melts a little. Assemble your s'mores with a thin slice of apple or a wild raspberries picked off the trail. Don't want to deal with burning marshmallows on a stick? Make a s'mores dip by layering the bottom of your skillet or fry pan in chocolate chips and topping it with marshmallows. Put it on the heat for 10 minutes and then dig in with graham crackers. Or pack a few ice cream cones and fill them with tiny marshmallows and chocolate chips, wrap them in foil and warm them over the heat of the fire. Unwrap and enjoy!
9. Dehydrated and freeze-dried meals
If you're camping for more than a night or two, it's wise to primarily carry dehydrated or freeze-dried meal packets. In terms of convenience, they have to be the best backpacking food option. They're very light, easy to pack and simple to prepare with boiling water. There are dozens of varieties of meals for all dietary needs that are ideal for breakfast, lunch, dinner and dessert – everything from egg scrambles to vegetable korma to jerk chicken and vegetables and even dark chocolate cheesecake.
Most require about 250–300ml of boiling water and many can be made right in the pouch. If you're trying to keep your backpacking meals simple and straightforward, dehydrated and freeze-dried meals are the way to go because all you need is a micro camp stove, a small pot to boil water and a single spork. They might not be multi-course gourmet meals, but they'll sate your appetite and replace the calories and nutrients you're burning out on the trails.
All the latest inspiration, tips and guides to help you plan your next Advnture!
Brian is an award-winning journalist, photographer and podcaster who has written for Runner's World, The Times, Outside, Men's Journal, Trail Runner, Triathlete and Red Bulletin. He's also the author of several books, including Kicksology: The Hype, Science, Culture and Cool of Running Shoes. He lives in Boulder, Colorado, and loves to run, bike, hike, camp, ski and climb mountains. He has wear-tested more than 1,500 pairs of running shoes, completed four Ironman triathlons, as well as numerous marathons and ultra-distance running races.