How to use guy lines on a tent
We walk you through what guy lines are and how to use guy lines on a tent for maximum weather protection, breathability, stability and space when you're camping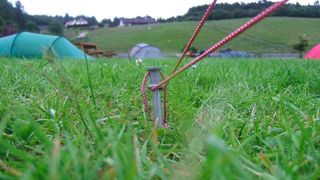 (Image credit: LHOON / Getty Images)
There's no denying that tents have come a long way from the days when pitching a tent meant nerves of steel, a herculean struggle, a tantrum or two and, on really regrettable occasions, the whole family driving home again in bitter silence. Nowadays, you can usually pop a good tent up in a matter of seconds, single-handedly, and be chortling with your buddies around the campfire in minutes.
But there's one hitch with the ease of set up we now enjoy, and that is that sometimes, you overlook certain features because the tent seems to be pretty stable without them. Like guy lines, for example. These seemingly superfluous ropes are actually incredibly useful when it comes to the functioning of your tent, so let's talk about what they are, what they do and how to use guy lines.
What are guy lines?
Guy lines are those skinny rope cords that usually have plastic sliders tied to them and are usually on your fly sheet when you buy a new tent. They are also sometimes on the tent body itself, and occasionally they come separately with no instructions as to what to do with them.
Not knowing what they are for, you might have just neatly tied them out of the way in the past, or maybe you actually did stake them out once, then proceeded to trip over them every time you walked past your tent and decided you weren't going to bother with that again. But they do have a purpose. Guy lines are staked into the ground to pull your rainfly and/or the walls of your tent out into a nice, taut shape. There are several reasons you'd want to do this:
Increased waterproofing: as you hopefully know, your waterproof rain fly isn't super effective if it's touching the walls of your tent, so guy lines pull the fly sheet out to keep your tent body dry when you're camping in the rain.
Improved stability: most freestanding tents today are pretty stable thanks to more aerodynamic structures and improvements in tent pole design, but in severe weather, the more taut you can make your tent, the better it will hold up. Just imagine what all that loose canvas flapping would do to your tent poles if you're camping in the wind and you know what we're talking about here.
Better ventilation: in addition to keeping rainwater out, one of the best ways to stop condensation from gathering inside a tent is to let water vapor from your breath and wet gear out. A good tent will be made with breathable mesh panels and breathable fabric but once again, they only go so far if your non-breathable rain fly is resting against it. Guy lines pull your rain fly out which allows air to circulate better.
More space: this mostly applies to non-freestanding tents, which need properly staked guy lines for maximum inner space which means more room for you, your backpack and possibly your dog. However, even in freestanding tents, guy lines can be what allows you to have a vestibule so your muddy hiking boots can be sheltered from the rain, without actually having to join you in the tent.
Do you need guy lines?
So, guy lines certainly sound pretty important, but if your tent body doesn't even come with them and they're just on your rain fly, which is often the case, do you actually need them? After all, you might not even bother with the rain fly in good weather or when you're desert camping. If your tent body doesn't have any, you can probably assume it's pretty stable without them, and on a calm night, it will be fine. But if your tent and/or rain fly come with guy lines, it's a great idea to use them – after all, guy lines are super easy to use and provide you with better protection against the elements and more space and stability.
How to use guy lines
Using guy lines is really easy, especially if you've already read our article on how to stake a tent the right way, as it's really just an extension of that process. Here are a few tips for how to use guy lines:
If you're pitching a freestanding tent (which most of them are), you'll stake out the guy lines last of all; with a non-freestanding tent, you'll need to stake them out first (find out the difference between freestanding vs non-freestanding tents).
A good tent today will come with the guy lines already attached – if they're separate, you'll want to tie them on to the loops on your tent or rain fly so you have one on each side.
To stake out your guy lines, pull each guy line out so that it stays in line with the seam on the tent or rain fly that it's attached to.
Angle the guy line so it's at about a 45 degree angle to the ground, hook the loop around a tent peg and stake it into the ground, keeping the guy line fairly loose for now and making sure it's not more than a couple of feet from your tent.
Make sure the hook of the tent peg is facing away from the tent and the stake is going vertically into the ground for stability.
Use a camping mallet or rock to hammer the tent stake as far into the ground as it will go.
Slide the plastic tensioner on the end of the guy line up towards the tent until the line and tent/rainfly are nice and taut, but not so tight as to damage the tent – this can also be achieved using an Adjustable Grip Hitch which we outline in our article on the best camping knots.
You will almost definitely need more tent pegs than what came with your tent in order to stake all the guy lines, so get yourself an extra set.
Because guy lines extend out quite far from the tent, they're notorious tripping hazards – tie brightly colored ribbons onto their tent pegs to make them visible, and arrange your best camping lanterns next to them at night.
All the latest inspiration, tips and guides to help you plan your next Advnture!
Julia Clarke is a staff writer for Advnture.com and the author of the book Restorative Yoga for Beginners. She loves to explore mountains on foot, bike, skis and belay and then recover on the the yoga mat. Julia graduated with a degree in journalism in 2004 and spent eight years working as a radio presenter in Kansas City, Vermont, Boston and New York City before discovering the joys of the Rocky Mountains. She then detoured west to Colorado and enjoyed 11 years teaching yoga in Vail before returning to her hometown of Glasgow, Scotland in 2020 to focus on family and writing.