Freestanding vs non-freestanding tents for backpacking
We answer your questions on freestanding vs non-freestanding tents to help you find the best sleep shelter for your backpacking adventures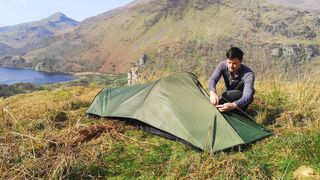 (Image credit: Matthew Jones)
If you're searching for the best tent for your next backpacking adventure, chances are you've got one key objective: to shed as much weight as possible. As you browse, there are probably some non-freestanding tents that may have caught your eye as they seem impossibly light – as in, well under 2lbs. But what actually is a non-freestanding tent? And come to think of it, what is a freestanding tent? And which is best for your adventures in the backcountry? We answer all of these questions with a deep dive into freestanding vs non-freestanding tents for backpacking, so you can make sure you're not sacrificing other important characteristics in the name of a few ounces.
Freestanding vs non-freestanding tents: what are they?
Before we get into the debate over these two sleep shelters, what do the designations freestanding and non-freestanding mean? The answer lies in the names themselves.
Once erected, a freestanding tent stands freely by itself. If you've been camping at all in the last decade or two, chances are that you used a freestanding tent. Freestanding tents use poles that, once inserted, maintain the tent's shape and structure without the tent needing to be staked. If the inside of your freestanding tent gets dirty, you can just pick the whole tent up, shake it out and put it back down. If you set your freestanding tent up and you notice that it's on more of a slope than you realized, you can just pick it up and move it without having to break it down first. That said, once you have found the perfect spot for your freestanding tent, you should know how to stake it out to protect it – and you – from stormy weather.
A non-freestanding tent, also known as a trekking pole tent, such as the Six Moon Designs Skyscape Trekker, forgoes the tent poles for minimal pack size and weight. These tents usually need to be staked out first, and are just piles of nylon lying on the ground until you prop them up, usually using a trekking pole or two. If you need to move your non-freestanding tent, you need to take it down, remove the stakes, then pitch it again.
Freestanding vs non-freestanding tents: weight and packability
Let's start with weight, which is typically the top criteria when it comes to choosing a backpacking tent. Freestanding tents are usually double-walled, meaning they come with the actual tent body plus a rain fly, and of course, they come with tent poles.
Non-freestanding tents not only do without tent poles, but they are usually single-walled, so they also use less fabric. This means non-freestanding tents weigh less and cut down on pack size quite a bit over their freestanding cousins.
As a comparison, the High Side 1 Person freestanding tent from Sierra Designs weighs 2lb 7oz while their non-freestanding High Route 1 Person weighs only 1lb 15oz. In terms of packability, basically any freestanding tent is not going to pack down any smaller than the length of one section of the poles, whereas you can use a compressible stuff sack for your non-freestanding tent to get it down to minimal pack size. So, purely in terms of weight and bulk, non-freestanding tents easily win this round.
Freestanding vs non-freestanding tents: weatherproofing
In addition to a backpacking tent that you can carry in your backpack, you obviously want one that provides plenty of protection from wind and rain. This is another area where freestanding tents usually win out. Their tent-pole design does make them sturdier in high winds compared to the trekking pole setup, and as long as you pick one with a double-walled design, which most of them are, and stake the rain fly out properly, you'll get better protection from moisture too.
Non-freestanding tents are surprisingly robust, but between the trekking pole, the guy lines and poor staking, there's simply more that can go wrong on a blustery night and the typically single-wall design means that anything touching the edge of the tent will pull moisture in.
There is one catch though – if you're setting up a non-freestanding tent in the rain, the inside will stay dry, whereas your freestanding tent is likely to get wet on the inside until you get the rain fly on it.
Freestanding vs non-freestanding tents: ventilation
Like all outdoor gear, the best tents keep external moisture out and allow internal vapor to leave so you don't end up with a tent full of condensation. This is another area where freestanding tents generally have the upper hand; if they're double-walled, the tent body will be made using a breathable fabric and the rain fly can take on the burden of waterproofing.
A typical single-walled non-freestanding tent, however, will be made using waterproof fabric, which has a high likelihood of poor breathability in comparison.
Freestanding vs non-freestanding tents: ease of setup
One of the amazing things about camping today and not in the 1980s is how easy it is to set up a tent these days. You can just spread the tent body out on the ground, thread your tent poles into place and you're ready to get the sausages on.
So you might be wondering why you'd want to mess around with proper staking and trekking poles, which sounds a bit more precarious. Though it's true that setting up your non-freestanding tent can take a bit more trial and error initially, once you've figured out exactly how long your trekking poles need to be, you'll be a dab hand at setting it up each time and the difference between the two will be nominal at best. One reader who uses a Big Agnes Copper Spur tells us, "I put down the ground cloth, put up the rain fly, climb under and add the tent body" – so she gets an easy set up and some protection from the elements.
Freestanding vs non-freestanding tents: internal space
To be honest, you shouldn't expect a whole lot of space from a backpacking tent, particularly if it's a one-person tent, but it's still worth considering. Because of their tent pole design, freestanding tents can have more vertical walls or dome designs which usually offer more room.
The classic non-freestanding tent shape was an A frame design using a single trekking pole in the center, which meant sloping walls and a pole in the middle which definitely cut down on usable space, but nowadays you can find ones that use two poles to create vertical walls, which does buy you a little more room. Generally speaking, you'll get a bit more room to stash gear and sit upright in a freestanding tent, but it does ultimately depend on the design.
Freestanding vs non-freestanding tents: versatility
In the past, we'd have given this one to freestanding tents. Because there's more to them, there's more ways you can use them: with or without the rain fly, for example, while sometimes you can pitch the rain fly without the tent and along with the groundsheet as a shelter.
That said, lots of newer non-freestanding tents can be used either as a tent or as a tarp, so there's probably not much in it.
Freestanding vs non-freestanding tents: durability
Honestly, the durability of any tent really depends on its quality, so this is a bit difficult to compare. That said, ultra lightweight freestanding tents probably sacrifice some robustness in order to use the thinnest possible fabric, while a non-freestanding tent can afford to use sturdier fabric and still keep the weight down thanks to the lack of poles.
Speaking of poles – if you don't take care of them, they can break easily, and you don't have that problem with a non-freestanding tent. In these regards, a non-freestanding tent might actually come out on top, but as the saying goes, you do get what you pay for.
Freestanding vs non-freestanding tents: price
And speaking of paying for your tent, we couldn't find any marked difference between the two types of tent. In fact, in the two Sierra Designs tents we compared earlier, the difference was $20 in favor of the freestanding tent. Ultimately, the lighter you go, the more you're likely to pay, but you won't find any major argument for a freestanding tent vs a non-freestanding tent on the price tag alone.
Swipe to scroll horizontally
Freestanding vs non-freestanding tents

| Header Cell - Column 0 | Freestanding tents | Non-freestanding tents |
| --- | --- | --- |
| Weight and packability | Poles add extra weight and bulk | No poles mean ultralight plus added packability with a compressible stuff sack |
| Weatherproofing | Usually double-walled for waterproofing and sturdier, but aren't waterproof until you get the rain fly on | Usually single-walled, offering less protection from wet weather, but the inside won't get wet if it's raining during setup |
| Ventilation | Double-walled structure lends breathability, rain fly can be removed | Waterproof material is usually not very breathable |
| Ease of set up | Easy to set up | Takes a bit of practice in the beginning |
| Internal space | Pole design allows for dome shapes and more vertical walls for more space | A frame designs mean sloping walls while one pole in the middle takes up room, but designs are getting more spacious |
| Versatility | Can be used with or without rain fly | Can often be used as a tent or a tarp |
| Durability | Poles can break easily, the thinner the fabric the less durable it is likely to be | Less to break, fabric tends to be tougher |
| Price | The lighter the tent, the higher the price | The lighter the tent, the higher the price |
Freestanding vs non freestanding tents: the verdict
Overall, it definitely seems like the freestanding tent wins more rounds here in terms of aspects like weather protection, set up and breathability but if you're going a long distance on foot, we can see why you'd opt for the non-freestanding tent purely for its advantages in weight and packability alone.
If you're not totally convinced either way, there are a few semi-freestanding tents out there – such as the MSR Freelite – which combine elements of both worlds but aren't particularly common. For super lightweight alternatives, you can also consider hammock camping with a tarp, or using a bivy sack.
All the latest inspiration, tips and guides to help you plan your next Advnture!
Julia Clarke is a staff writer for Advnture.com and the author of the book Restorative Yoga for Beginners. She loves to explore mountains on foot, bike, skis and belay and then recover on the the yoga mat. Julia graduated with a degree in journalism in 2004 and spent eight years working as a radio presenter in Kansas City, Vermont, Boston and New York City before discovering the joys of the Rocky Mountains. She then detoured west to Colorado and enjoyed 11 years teaching yoga in Vail before returning to her hometown of Glasgow, Scotland in 2020 to focus on family and writing.