How to keep ants away from your campsite
Simple advice for how to keep ants away from your campsite so you can spend more time relaxing and less time shrieking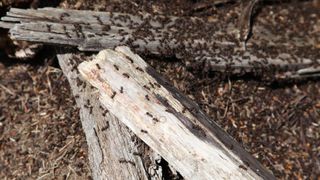 (Image credit: Janja Milosevic / EyeEm)
Life outdoors is the good life, but as you probably know, it isn't all lounging in a hammock and stargazing. You need to make sure you're managing your food to keep curious critters like racoons and perhaps even bears at a safe distance and then managing your flesh to keep munching mosquitos and troublesome ticks from leaving you covered in red welts and potentially transmitting diseases. Hard work, but ultimately, it's worth it when you sit down to enjoy a delicious camping feast, safe in the knowledge that nothing higher up the food chain is coming to feast on you while you're distracted by burgers.
That's until an army of tiny ants start marching their way up the table legs intent on joining you. Ants may be an inevitable part of the outdoors, but you don't have to share every meal – or your tent – with them. In this article, we provide some simple advice for how to keep ants away from your campsite so you can spend more time relaxing and less time shrieking in horror.
Ants, tiny invertebrates that live and move in droves, have been described by National Geographic as "enthusiastically social" and exist practically everywhere on earth – the only true way to avoid them outdoors is to go camping in Antarctica and that's a whole separate article. Though they quite resemble termites, they are descended from an ancestor of the wasp, which may explain why they're so annoying. Not only are they annoying, and not only can they march off with your food astonishingly quickly, they can bite and often sting, too. Whatever your reason for wanting them out of your home in the woods, you'll be pleased to know that there are lots of effective and easy solutions for parrying the platoon.
1. Avoid mounds on the ground
Some ant colonies live underground while others live in mounds on the surface of the earth and others live in trees. Particularly if you're going dispersed camping (or wild camping as it's known in the UK), it's helpful to scope out the area where you're planning to pitch your tent to avoid setting up on or near an ant colony. If you see any mounds on the ground, move on and find a different spot.
2. Leave scented toiletries at home
Like a lot of insects, ants rely on a powerful sense of smell to track down food. Though you'll be used to leaving scented toiletries at home and packing your toothpaste away if you're camping in bear country, you might be a little more lax about this elsewhere, but it's a good idea to leave smelly items like scented face creams and deodorants at home, bring unscented alternatives and keep your toothpaste secured inside a Ziploc bag.
3. Secure your food and drinks
The biggest factor that will draw an army of ants to camp is your food, so make sure that you keep food secured inside sealable plastic containers and bags inside your camping cooler when you're not eating. As soon as you've finished a meal, pack everything away again and avoid leaving open bags of chips and half-drunk cans of soda out for long. If you're at a campsite that provides bear storage lockers, use these for all of your food. You can also bring your own bear canister.
4. Build a moat
No, don't build a trench around your campsite. If you're struggling with getting through a meal without an ant invasion, a really nifty trick is to bring four jam jar lids or small plastic containers. Put each leg of your folding camping table in a lid and fill it with water. Ants will most likely turn back when they reach your castle moat and go and look for lunch elsewhere, leaving you to enjoy yours in peace.
5. Wipe down your chairs and table
Spillages of juice and soda leave sticky messes that will draw ants like moths to a flame. After meals, wipe down your table and camping chairs with soapy water. Make sure to wipe the legs as well as the surfaces.
6. Be vigilant about trash
It's easy to just brush the crumbs off your table and onto the ground when you're camping, but this can attract all manner of pests. Set up a proper garbage disposal system and make sure all food scraps and empty food containers and drink cans are disposed of in a timely manner. Use the trash cans provided in a developed campground or bring sealable plastic bags for backcountry camping and pack it out with you when you leave.
7. Use a repellent
You don't have to kill intrusive ants, but you can repel them with various options from DEET-based products to home remedies using household items you probably already own:
Chili powder
Vinegar
Lemon juice
Talcum powder
Campfire ashes (note that warm ashes can starts a wildfire, so practice campfire safety and only use ashes from a fire that has been completely doused)
Spray or scatter your chosen deterrent on the ground in a ring around your campsite or tent to try to hold the army back, however don't spray insect repellent on your tent as it can affect the waterproof treatment. If you spot an ant brigade coming towards you, they've probably detected something that smells good so you can quickly intervene and disrupt the ant trail with one of these repellents.
All the latest inspiration, tips and guides to help you plan your next Advnture!
Julia Clarke is a staff writer for Advnture.com and the author of the book Restorative Yoga for Beginners. She loves to explore mountains on foot, bike, skis and belay and then recover on the the yoga mat. Julia graduated with a degree in journalism in 2004 and spent eight years working as a radio presenter in Kansas City, Vermont, Boston and New York City before discovering the joys of the Rocky Mountains. She then detoured west to Colorado and enjoyed 11 years teaching yoga in Vail before returning to her hometown of Glasgow, Scotland in 2020 to focus on family and writing.