How to start ultra running: 10 top tips for going the distance
Start building up your mileage with our guide to ultra running for beginners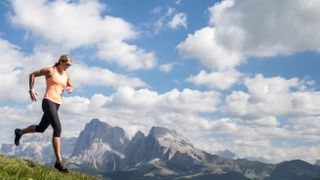 (Image credit: Getty)
Ultra running is the new marathoning it seems, with races and entries skyrocketing over the last decade for these super long running races that stretch over the magic 26-mile mark. But even for seasoned long-distance runners, the question of how to start ultra running – and tackling races of 30, 50,, or even 100 miles – is a challenging one.
If you're used to running road marathons as fast as you can go, take a deep breath and relax – unless you're an elite athlete, most people run ultras at well below their marathon PB pace. Indeed, some seasoned ultra aficionados describe it more like a jogging picnic; you're even advised to walk up the hills, stop for snacks/chats/hugs with the marshals at aid stations, and take photos of the incredible views. If you up your long run distance gradually, slow the pace down, look after your feet and keep eating and drinking, all runners are capable of starting ultra running.
Before you hit the road or trails, here's how to start ultra running, with our top 10 tips for going the distance.
1. Increase your race distance gradually
We can't stress this enough! So many marathon distance runners get lured in by the thought of that enigmatic 100-mile ultra that they book one in as their first ever ultra later that year. Yes, the body can handle this, and some people might be fine (for a while), but for most runners it's too much too soon and can lead to race-ruining injuries. It's much better to be patient and take a couple of years to work your way up to running a 100-mile race. If you're an experienced marathon runner, book between two and four 30-50 mile races during the year, spacing them out to allow sufficient training and recovery time. Early-ish in the following year, do a 75-miler or similar, then aim for a 100 towards the end of the year.
2. Increase your training distance gradually
Sorry to be boring, but your training distance needs to go up just as gradually as your race distance, or again you risk injury and overtraining. As the courses are so long with ultra running, you aren't expected to build up to a 90-mile training run en route to a 100 miler, you're more likely to be looking at running 90-100 miles over a week at the peak of your training. Training for ultras can be done on three runs per week plus 10-20 minutes of daily strength work and one or two cross training sessions. Consistency, a slow-paced long run and a gradual build up of distance is a key part of ultra running for beginners. Getting a coach or using a training plan is also a great idea for newcomers.
3. Enjoy the training
A 50-mile or 100-mile race goal is obviously awesome, but with ultras you aren't always guaranteed a finish like you are with most 10Ks, half marathons and marathons. Anything can go wrong over such a long course, from kit fails to blisters, dodgy stomachs to inclement weather, so it's important that you enjoy your time out training too.
Make the most of fresh, early mornings; find new trails near you and explore the local woodlands; pop on your best running headlamp and run old routes in the dark to make them more exciting; meet friends to make things more social; wear your best running headphones for motivating music and entertaining podcasts and make training for an ultra your way of life for a while.
4. Test your gear
So many people focus only on the physical training side of an ultra and neglect the kit, fuel and mental side. These become so important when running such long distances, much more so than in shorter races. Use all your longer training runs to test out the clothing and equipment you plan to use in the race to make sure it doesn't chafe and that you can operate it quickly and easily in any weather conditions.
For example, can you use the touch screen on your best GPS watch when it's raining or you're wearing gloves? Does your running backpack chafe after a couple of hours sweaty running? Do you get a blister hot spot in certain running shoes? Will poles help or hinder you? How long does the battery last on your headphones? You will only find out for real by using everything in all conditions.
5. Eat and drink on the move
Unlike shorter events where you can get away with eating nothing, or just a couple of gels or jelly babies and a swig of water, ultra running is a real game-changer when it comes to your guts. Some people seem to be fine wolfing down whatever they find at the aid station from sports drinks to beer to running gels, pizza and homemade cake, but it's definitely prudent to find out if you're one of these gifted cast-iron-stomachers well before the race!
This is why building up to your goal ultra race slowly with so many long runs and training races is such a good idea. You can only find out what food you can tolerate when you've been on the go for more than 12 hours by being there and doing it. You might find your mouth gets very dry and you need gels and energy drinks from a certain brand of sports nutrition, or slippery, moist real foods like rice pudding, tinned peaches and quiche.
6. Visualize
The mental aspect of ultra running is very, very interesting. You do have to possess a certain amount of determination (some call it obstinance, others sheer madness) to train for and then finish an ultra. As you can imagine, you often have to ignore a significant amount of discomfort from your muscles, joints and stomach, contend with sun, wind, snow and rain all in one race or training run, and we've not even touched on the tremendous urge to nap if your race goes through the night and into the following day. Who knew that a camping chair at an aid station could be that difficult to get out of?
It helps to train in all weathers, break down the race into easy-to-complete smaller sections, have a reason for running like a charity and have a strong mental image of yourself crossing the finishing line. Another trick is not to give up the first time the feeling strikes you. It doesn't always get worse, so carry on and you might feel better later. Only when you have felt like giving up more than five times should you actually quit. Caveat – if you are injured or conditions have become dangerous quit straight away!
7. Get injuries treated fast
One of the biggest reasons people fail to get to the start of an ultra or DNF it shortly after starting is because they've picked up an injury in training. It's important to listen to your body, do plenty of cross training and not fall into the trap of overtraining for this reason, but if you have a niggle the worst thing you can do is bury your head in the sand. Get it seen to pronto by a trusted sports physio – and not Dr Facebook Group, because no one knows how to solve your unseen problem just because theirs sounded similar.
8. Train on race terrain
It's even more important for ultra runners to train on terrain similar to what you'll be racing on. If you've signed up for a flat 100-miler along a canal, train on your nearest canal tow path. If you've a 50-miler in the Lake District run up all the hills you can find and take several trips to the Peaks, Lakes, Snowdonia, anywhere the footpaths and tracks will be at all similar to your race. Read race report blogs and watch YouTube videos of past competitors to get a feel for what you need to replicate.
9. To pole or not to pole?
A lot of ultra runners find running poles a huge benefit for taking the strain off the legs, managing knee injuries, balancing safely over river crossings and powering up hills. It does depend on the terrain of the race – poles might be more of a hinderance on steep, muddy jungle paths, unless you're batting away a tiger. On ultras with a lot of wide, smooth paths poles can really speed you up, but if you plan to use them it's a good idea to use them on your longer runs so you can get your arms used to the extra weight and different movement, make sure there's no hand-chafing and practise stowing them away quickly when they're not needed.
10. Learn to navigate
It takes quite a long time to fully waymark a ultra, especially the 100-milers, so often with the longer, more remote races there is more responsibility on you to navigate your way along the course. Many race organisers allow you to download GPX files of the route to your GPS watch so you can follow it on there, but it's even better to learn some basic navigation skills in order to make sensible decisions around what the watch appears to be telling you, and even more important if the battery dies mid-race. A navigation course is the best value and most fun way of doing this, and will open up a whole host of new areas for you to run in reading a map and possibly also using a compass.
All the latest inspiration, tips and guides to help you plan your next Advnture!
The co-founder and former editor of Trail Running magazine, Claire now runs the YouTube channel Wild Ginger Running, creating films packed with trail- and ultra-running content. An award-winning journalist, writing for outdoor and adventure sports magazines and websites, her first book The Ultimate Guide to Trail Running 5k to 50k is out in January 2021. Claire also speaks and presents at events and races.