Bed bugs on a backpacking trip? Here's what you can do
Bed bugs love mountain huts, but getting bitten doesn't have to spell disaster for your backpacking trip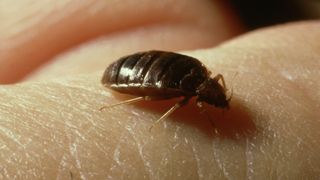 (Image credit: John Downer)
Walking into the Refuge Des Pres, a mountain hut that is to be our home in the French Alps for the next two nights, my aching feet long to be free of my hiking boots so I can kick back in a comfy bunk after the long, steep hike to get here. I open the door and am hit by a current of warm air and the welcoming smell of fresh pine. Our host for the trip greets me, and immediately instructs me to head downstairs, deposit my backpack and boots, and only bring up the items I need to my dorm room.
"There is an infestation of bedbugs in the Alps right now and the owners want to make sure they don't come into the cabin," she explains.
Wait, bed bugs? Aren't they just for people who live in New York City?
Having lived in the Big Apple, as well as several other large cities, I'm not exactly a stranger to the idea of bed bugs – though I've yet to fall foul to the nasty little critters – but I definitely felt immune to these foreign invaders out here in the backcountry.
Turns out that bed bugs are a problem in backcountry huts as well as subway seats and apartment buildings. In 2019, remote alpine huts in Germany had to take action to battle a bedbug infestation, and now that they're back on the rise in 2023, it's clear no one wants to repeat that experience. The issue is somewhat common in mountain huts, from the Alps to the Rockies, and as explained in a 2019 article in the Guardian, it's not an indication of poor hygiene – bed bugs are particularly drawn to mountain cabins, which are usually built from wood.
If you're on a hut to hut backpacking trip, where you'll be sleeping in beds recently vacated by other hikers rather than in your tent, it's good to be mindful of bed bugs and know what to watch out for. I don't love the idea of sleeping in a bed bug-infested bunk myself, but I'm also not about to give up the joys of hut hiking. If you're feeling the same, let's take a look at how you can best defend yourself from these blood sucking critters.
What are bed bugs, anyway?
The other day, as the news was reporting on the latest bed bug infestation in France on the radio, my seven-year-old asked me if bed bugs are real, which I realized was a fair question, thanks to adults telling kids not to let them bite in a playful manner every night before bed.
Bed bugs are very much real. They are small, biting insects that live in bedding, mattresses, clothing, furniture and other textiles like your hiking backpack, and feed exclusively on blood. Their bites aren't harmful unless you have an allergic reaction, which is rare according to the NHS, but can be itchy.
How do you know if you've been bitten by bed bugs?
There are three telltale signs that you've been exposed to bed bugs on a hut trip (or at home, for that matter):
Small red raised bumps on exposed skin
Small spots of blood bedding
Small brown spots on bedding (bed bug poop)
Now, if this happens at home, the official advice is to call pest control. Solutions might involve using heat, freezing temperatures, extra vacuuming or in the worst instances, burning your mattress.
Naturally, when you're backpacking, you can't easily access a hot wash, leave your clothes in a freezer for days or set fire to your belongings, so waking up in a remote cabin to these telltale signs is going to cause you some consternation. Fear not, however, as there are things you can do to keep exposure to bed bugs on the trail to a minimum.
How to avoid bed bugs when backpacking
First off, if you're backpacking using mountain huts, you may not be able to completely avoid bed bugs. Sadly, they don't respond to insect repellents and the only way to do so would be to bring your tent and camp instead. But if you don't want to give up the luxuries of a cabin – soft beds, hot showers, freshly prepared meals and not having to carry all your gear – the main thing is not to panic about bed bugs.
Easier said than done, I know, but they're honestly not nearly as creepy or potentially dangerous as ticks, and not every bed bug bite means a full blown infestation. Here's how you can avoid bed bugs when backpacking:
Always carry – and use – a sleeping bag liner for hut trips to minimize any contact between your skin and communal bedding (I used my Mountain Warehouse sleeping bag liner for this most recent expedition).
Follow any guidelines set out by cabin hosts to reduce bed bugs.
Pack your clothes inside plastic bags to protect them from any hitchhiking critters on your backpack.
Check the bed, including the frame and mattress, as soon as you arrive, and report any concerning creepy crawlies to management.
Leave your hiking boots outside, or in the boot room.
If possible, leave your backpack outside your room. If you need to bring it into your room, keep it well away from your bed.
Only unpack what you need, like your pajamas and toiletries. Leave everything else inside your backpack.
What to do if you've been bitten by bed bugs when backpacking
If you wake up in the morning and realize you've been bitten, you're going to be a little freaked out, especially if you're three days into your trip and have another four to go. If you've been following the above advice, however, most or all of the bed bugs are probably in the bed where you've been sleeping, and not in your backpack, and they'll prefer to stay where they are.
Here's what you can do to reduce your chances of being bitten again, and avoid spreading them to the next cabin or bringing them home with you.
Tell the cabin hosts immediately so that they can take action – remember bed bugs aren't an indication of poor hygiene on their part, and it's possible that you brought the bed bugs in yourself.
Change into fresh clothes, if you have them.
Use heat: If you have access to a sauna on the trail, which many huts do, place all of your gear, including your backpack in the sauna for at least 90 minutes. As long as the sauna is 113°F or hotter, this can kill the bedbugs.
Wash your clothes: If the cabin has laundry services, ask if you can wash your clothing on a hot wash.
When you get home, wash everything immediately using a hot wash (60°C) followed by 30 minutes in the dryer, or place everything in plastic bags and freeze it for four days.
Don't let the experience put you off hut hiking in the future.
All the latest inspiration, tips and guides to help you plan your next Advnture!
Julia Clarke is a staff writer for Advnture.com and the author of the book Restorative Yoga for Beginners. She loves to explore mountains on foot, bike, skis and belay and then recover on the the yoga mat. Julia graduated with a degree in journalism in 2004 and spent eight years working as a radio presenter in Kansas City, Vermont, Boston and New York City before discovering the joys of the Rocky Mountains. She then detoured west to Colorado and enjoyed 11 years teaching yoga in Vail before returning to her hometown of Glasgow, Scotland in 2020 to focus on family and writing.