What is the Higg Index? Another can of worms in the sustainability odyssey
Most outdoor brands use the Higg MSI Index to rate the sustainability of their products, but what does it mean, and is it accurate?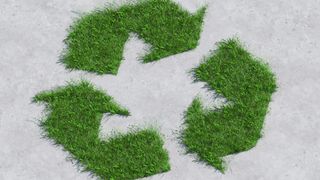 (Image credit: Andriy Onufriyenko)
If you love the outdoors, you probably give a damn about the planet, and if you give a damn about the planet, you should be looking for ways to lower your carbon footprint whilst protecting yourself against the elements with that fabulous new waterproof jacket. That's how I recently found myself up in the Scottish Highlands at a presentation on the new GORE-TEX membrane, which promises to be more environmentally friendly than its predecessor.
Such a claim is obviously good news for those of us who like to stay warm and dry in the mountains but feel conflicted about investing in something that, once in the landfill, stays there forever, and I'm always keen to know more about what products are more sustainable, and how. As you may already know, sustainability in the outdoors industry can be a bit of a minefield and there's a great deal of greenwashing that takes place to make products seem more sustainable than perhaps they are.
When I saw that GORE-TEX was measuring its new fabric against the Higg Index, I was curious to learn more and thought it would make a good article for Advnture readers, who are usually keen to learn more about the materials that make up their gear. As I soon realized though, learning about the Higg Index opened yet another can of worms when it comes to the outdoor industry and sustainability – here's what I turned up.
What is the Higg Index?
The Higg Index is a self-assessment tool used by the apparel and footwear industry to help them rate the environmental impact and sustainability measures of their products. It was created by the Sustainable Apparel Coalition (SAC) in 2012, a nonprofit organization formed after two retail giants, Walmart and Patagonia, identified a lack of standardization in sustainability. Today, the SAC comprises more than 270 fashion brands and manufacturers as well as academic institutions, affiliates, NGOs and governments. Its tools for gauging sustainability are used by more than 21,000 outfits and organizations around the world, according to the SAC.
The Higg Index supplies the apparel and footwear industry with a suite of five tools to help them assess the sustainability of a product throughout its life cycle, including factors such as how much water went into the making of it, its carbon emissions and how the labor conditions are rated for the people who make it. All very useful information indeed.
If they wish to, brands can then direct their consumers to a page on their website where you can view the rating for an item like a down jacket,, based on the Higg Index.
Essentially, rather than leaving brands to assess themselves using their own internal standards, the theory behind the Higg Index is that it furnishes organizations with a standardized measurement that's been devised by an independent third party.
What brands are using the Higg Index?
A ton of outdoor brands are currently using the Higg Index – Patagonia, Nike, Arc'teryx, Asics and Columbia just to name a few – and you can find a full list on the SAC's website. When you're examining a product online, or looking at the tags if you actually shop in 3D, you'll often see reference to the use of the Higg Index to backup sustainability claims, while some brands will even have a page on their website where you can look up specific garments.
Is the Higg Index good?
Here's where things get a little bit murky. The Higg Index definitely sounds good in theory, and in practice is arguably better than everyone just doing whatever they want to the planet with no oversight, but it has come under fire from critics who argue that the data can be misleading to consumers while the claims that brands can make about their products remain unsubstantiated. As in, there still might not be much oversight.
In June 2022, the Guardian reported that fashion retailer H&M was pausing its use of the Higg Index after being accused of greenwashing by the Norwegian Consumer Authority; today the brand's website still showcases their use of the Higg Index to rate their clothes from one to three using the index, with items rated three as having the lowest carbon footprint.
According to that article, the Higg Index only rates a small portion of a garment's environmental impact and not whether or not it releases microplastics into the environment. This is something that GORE-TEX acknowledges on their own site, where they explain that the index represents the impact from "cradle to gate," meaning raw material to shipment, but not the whole life cycle, or all the way to the grave, as it were.
The article also claims that organizations are able to cherry pick which data they use to assess a product. For example they might rely on stats from a single farm that uses all the best practices, and leave out another that doesn't. Problematic, to say the least.
Then you've got a New York Times piece that came out the same month, which claims that SAC is funded by the synthetic fabrics industry enabling them to make potentially false claims about the sustainability of synthetic fabrics versus natural materials like merino wool and cotton. If true, this would obviously present a major conflict for what's supposed to be an independent organization.
So whether or not the Higg Index is any good is a tricky question to answer. It might be a good start, but it seems that there are some valid concerns and it all needs a little more fine-tuning. It's also important to note that it's not the only assessment tool that brands use and its rating should be considered alongside other factors such as whether an item in bluesign approved.
What are the benefits of the Higg Index?
For you, the consumer, the Higg Index might give you a little information about what goes into the making of that pair of hiking pants you're eyeing up. The data might not be complete, but it's arguably more than what you might have been able to find out 10 years ago.
What I personally find more beneficial than Higg is a new tool launched by the outdoor brand Rab, called Material Facts, which essentially shows you the details of any Rab Garment the way a granola bar would list its ingredients and nutritional information on the wrapper.
When I heard about it, I looked up my Rab Infinity Microlight Down Jacket and was able to see that it consists of 61% recycled content, and how that content is distributed throughout the various components, which components contain fluorocarbons (fabric, outer and zips) and where it was made (Indonesia). Again, this doesn't necessarily present a complete picture, but it's definitely useful and easy to understand.
In conclusion, I think it's really important for us to keep pressing forward with choosing more sustainable gear, and doing the work to find out if and how it's better for the planet. It might all make you want to crawl under a rock and hide, but if you give a damn about the planet, it's worth doing.
All the latest inspiration, tips and guides to help you plan your next Advnture!
Julia Clarke is a staff writer for Advnture.com and the author of the book Restorative Yoga for Beginners. She loves to explore mountains on foot, bike, skis and belay and then recover on the the yoga mat. Julia graduated with a degree in journalism in 2004 and spent eight years working as a radio presenter in Kansas City, Vermont, Boston and New York City before discovering the joys of the Rocky Mountains. She then detoured west to Colorado and enjoyed 11 years teaching yoga in Vail before returning to her hometown of Glasgow, Scotland in 2020 to focus on family and writing.