Advnture Best Kit 2021: our favourite hiking, camping and trail running gear of the year
Find out which products our experienced reviewers have picked as Advnture's Best Kit 2021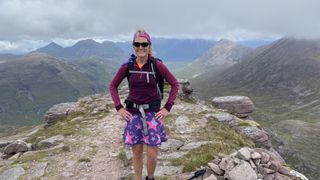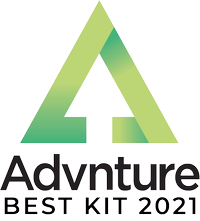 (Image credit: Fiona Outdoors)
After a busy year of testing and reviewing a huge range of kit for hiking, camping and trail running, we bring you a round up of Advnture's Best Kit of 2021.
As the year comes to an end, these are the highlights from our regular clothing and gear reviews.
Salomon Cross Hike Mid GTX hiking boots
The lightweight summer Salomon Cross HIke Mid GTX, one of our best hiking boots, feel more like a trail running shoe but still offer all the features you would expect for keeping feet dry and sweat-free. Of note is the secure toggle lacing system, as well as a grippy outsole, even on steep slopes.
Danner Mountain Pass hiking boots

Stylish but lightweight, sturdy and highly practical, the leather Danner Mountain Pass hiking boot is highly recommended. The boots are versatile for use on hills and around city streets, with good traction in wet and dry conditions.
Darn Tough Hike/Trek Micro Crew Cushion socks
A mid-weight sock for hiking, the Darn Tough Micro Crew comes with the reassurance of a lifetime guarantee. Rated among our best hiking socks, they are recommended for warmth, fit and keeping moisture at bay thanks to being sweat wicking and fast drying.
Montane Prism Gloves

The Montane Prism Gloves are made using recycled materials and while they are very lightweight and highly packable, they still offer excellent warmth, windproofing and water-resistance.
The gloves, which are sold in male and female-specific fit, also have the advantage of offering touch screen compatibility, so you don't need to take them off to operate your smartphone – it's easy to see why they're included in our guide to the best hiking gloves.
Adidas Terrex MyShelter Gore-Tex Active rain jacket
When it comes to the best waterproof jacket, look know further than the Adidas Terrex MyShelter Gore-Tex Active rain jacket. Although fairly pricey, it packs in a list of great features, while also providing good versatility – you could wear the jacket for hiking trails, walking around town and then on the ski slopes.
The stylish design includes Gore-Tex waterproofing, high breathability, adjustable hem and cuffs, a helmet compatible hood and plenty of pockets.
Páramo Grid Technic base layer
A good base layer is an essential part of your outdoor kit, and there was a lot of competition for our top choice. The Páramo Grid Technic base layer stands out for a number of reasons, however, not least the fact that it's made ethically and from products that are fully recyclable.
It is also a product that is useful year-round because it is created with Parameta G fabric, which provides warmth when you need to be warm and keeps you cool when temperatures rise. It's very clever.
Helly Hansen Power Air Heat Grid fleece jacket
If you're in the market for a new fleece jacket, the Helly Hansen Power Air Heat Grid fleece Jacket ticks plenty of boxes – especially if you care about the environment.
The brand makes use of an innovative fabric that aims to reduce the eco-baddie of fibre-shedding synthetic fleece. This fact, above all features, makes it a winner for us.
Aside from the environmental tick, the jacket is a solid performer and offers warmth and breathability, as well as useful thumb loops.
Helly Hansen Paramount gilet
This hiking vest is different from all others we tested in our best gilets round-up. The Helly Hansen Paramount gilet combines fleece – for insulating warmth – and soft-shell for wind and rain protection. This means it's great for outdoors use when you want both warmth and breathability.
Again, Helly Hansen have considered the environment and have ensured the water-repellent treatment is PFC-free, while the gilet is made with Bluesign-certified manufacturing process.
Fjällraven Keb trousers curved

If you are looking for a recommended pair of the best hiking trousers, Fjällräven Keb trousers curved pants score highly on the technical front with a durable materials and a flattering tailored fit that incorporates stretch panels for freedom of movement.
They are practical, too, with water and wind resistance and generous ventilation zips and openings for knee pads.
In addition, Fjällräven make environmentally friendly products.
Rab Kangri Gore-Tex pants
For our best waterproof trousers, our testers have chosen Rab Kangri Gore-Tex pants as being a great buy.
They might not be the cheapest but they pack a wealth of features into one pair of over-trousers and they are built to last.
The details include three-layer Gore-Tex for excellent waterproofing, articulated knees to give good freedom movement, plus full-length two-way zips and under-boot loops.
Vango Magma Flask
Whether you want to take a hot or cold drink with you into the hills and mountains, you'll need one of the best hiking flasks.
The 500ml stainless steel Vango Magma costs only £10 yet it's a simple design that does exactly what you hoped it will. Insulation is excellent and there is nothing fancy to go wrong.
Vango Osiris Air 500 tent
Choosing one of the best tents is not an easy process and it does depend on the type of adventure you are planning, from lightweight wild camping trips to full-scale campsite camping with the family.
The Vango Osiris Air 500 is a well designed tent for families and large groups and one of the major plus factors is that it is made from recycled plastic bottles.
The design incorporates airbeams instead of traditional poles, which makes it quick and easy to erect. Features that our tester liked include good head room, a spacious living room and bedrooms that keep out the light for a good night's sleep.
Klymit Insulated Static V-Lite sleeping pad

The Klymit Insulated Static V-Lite sleeping pad is recommended for its innovative V-shaped design. It offers campers warmth and comfort in a lightweight and packable inflatable mattress that is also competitively priced.
Kelty Loveseat camping chair
If you're looking for a new camping chair, the Kelty Loveseat is a winner. It offers space for two people and is a comfortable chair that can be used while camping or in the garden.
If there is just one of you, or one of you and a dog, the chair is still very useable because it's a sturdy design.
SOTO Windmaster camping stove
Every camper needs a decent camping stove and when it comes to wild camping, the stove should be lightweight and compact.
The SOTO Windmaster is ideal and our reviewer reckons it's the most effective screw-in, canister-top stove available.
It is very lightweight, packs into a small space, has great wind resistance and includes an integrated ignition and built-in micro regulator for a consistent power output and better fuel efficiency, especially in colder weather or when your gas canister is running out.
Salomon Wildcross trail running shoe
We've put so many great men's trail running shoes through their paces this year, it's not easy to pick just one to recommend. However, the Salomon Wildcross trail running shoe is described as a "virtually faultless trail running shoe… that excels in rough, tough conditions on technical trails".
Plus points include great grip and stability, an intelligent lacing system and an upper that is both water repellent but breathable. Note, too, that the fit is comfortably wide.
Dynafit Ultra 100 trail shoes
Again, it's not easy to choose the best of the best women's trail running shoes, but Dynafit Ultra 100 trail shoes are a bit special. The footwear offers maximum cushioning and a comfortable fit for long-distance training on the trails.
Other nice features are the bright colours and the lacing system that is protected from trail debris with an in-built stretch cover.
Flanci running skort
A skort is a short-skirt combination and these garments are fast becoming a favourite of many women runners, as well as hikers.
The Flanci brand designs and creates the brightest and most cheerful running skirts with attention to high quality fabrics and great details, such as a zipped rear pocket and phone sized thigh pockets.
Our reviewer reckons the Fianci skort is the best of the best women's running shorts and skorts. (She wears Flanci skort every day without fail!)
1000 Mile Run Socklet trail-running socks
A good pair of socks will be comfortable and long-lasting. The 1000 Mile Run Socklet trail-running socks are rated highly in the best trail running socks category.
They are a good choice for summer trail running and boast good credentials such as comfort, padding where needed, Achilles heel protection, great durability and at a favourable price.
Harrier Kinder 10L hydration pack
If you are a runner, a well-fitting hydration packs that offers enough space for your kit, plus plenty of great features is a must. One of the best hydration packs we're tested recently is the Harrier Kinder hydration pack, especially because of the price.
The Harrier hydration pack has been designed by trail runners for trail runners and has a host of thoughtful features, including a range of four sizes so you can make sure you get a good fit, easily adjustable chest straps, lots of pockets, a water-resistant phone pocket and a secure key clip inner.
inov-8 Extreme running mittens
The rise of the running mitten has been a trend of the past few years and inov-8 scores top marks in our round up of the best best running gloves.
The brand is trusted by runners and the mittens are recommend for lightweight insulation, breathability and a lovely fleece inner. They also have useful elastic wrist loops so the gloves won't fly away when you take them off mid-run.
All the latest inspiration, tips and guides to help you plan your next Advnture!
Launched in July 2020, Advnture is the ideal destination for anyone who loves the great outdoors. Whether you're into epic hikes through the wilderness, camping trips with the family, climbing with your friends, or looking for a trail running personal best, our team of experts will point you in the right direction, with top buying advice and in-depth guides to help you get the most of your time in the backcountry.