The best lightweight camping gear you can buy
Searching for a list of the best lightweight camping gear that keeps you dry and comfortable during camping trips into the wilds? Look no further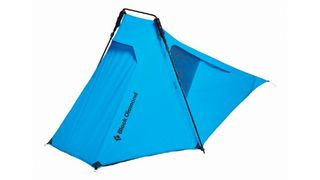 (Image credit: Black Diamond)
The best lightweight camping gear can help make you completely independent and free to make quick decisions about where to stop and stay for the night because carting a big heavy backpack long distances can leech the fun right out of the experience. Packing for a successful wild-camping adventure can often be difficult when you're balancing weight, budget and pack size considerations – but there's plenty of great gear out there for the gram counters.
Here's our guide to some of the best lightweight kit to keep you comfortable for your wild camping adventure.
Osprey Backpack Kyte 46L (women's version)/ Kestrel 48L (male version)
A multi-day trekking backpack with lid, side access and raincover
RRP: $180 (US) / £140 (UK) | Capacity: 36L (women's) / 48L (men's) | Weight: 1.54kg/3lb 6.1oz (women's) / 1.6kg/3lb 8.4oz (men's) | Colors: Icelake green/ Mulberry Purple/ Siren grey (women's) loch blue/picholine green/ rogue red / black (men's)
Pros
Torso length is adjustable
Comfortable backpanel with foam ridges
Easily accessible hipbelt pockets for snacks, phone, compass, sunglasses, etc
Cons
Sleeping bag compartment separator can slip
Full of features, the Osprey Kyte/Kestrel backpack is ideal for lightweight wild camping adventures. An adjustable back system, complete with Airscape backpanel featuring foam ridges, means the bag is super comfortable to carry, even when fully loaded with bulky and heavy kit. Side straps make it easy to attach walking poles or a sleeping mat on the side, while the roomy top section allows enough space to fit a map and food supplies. A large side-zip enables you to access the contents of the bag without unloading everything, while a drawcord closure ensures items are stowed safely inside, and the lid easily closes over the rest of the bag. There is also a separate zip to access the sleeping bag compartment, with a removable inner divider. It's worth making sure this is adjusted so the divider doesn't let the sleeping bag wiggle around the bag.
Black Diamond Distance Tent with Z-Poles
A brilliant marriage of lightweight convenience between tent and trekking poles
RRP: $400 (US) / £400 (UK) | Capacity: 2-person | Total weight: 1kg 200g (tent 820g + trekking poles 380g)/2lb 10oz | Packed Size: 13 x 30cm (5 x 12in)
Compatibility: 3-season
Pros
Clever combination of tent and trekking poles
Trekking poles are excellent
Reasonable price for poles and shelter
Cons
Limited ventilation
Space tight for two adults
Providing both shelter at the end of the day, and support while you're on the trails, the Black Diamond Distance tent with Z-poles is an ingenious design that combines a great little tent with an excellent pair of trekking poles to produce a robust but lightweight shelter. The two-person single-wall structure has just one tiny cross pole, used to connect with Black Diamond's excellent Distance Carbon FLZ-AR Trekking Poles to make a three-season tent, absolutely perfect for gram-counting thru-hikers and ultralight enthusiasts. The shelter is a tight squeeze for two adult males but will fit one with a pack quite easily. The poles themselves are very lightweight (380g/13.69oz per pair) but high performing, and have a comfortable EVA foam grip and a breathable, moisture-wicking strap. A classic Z-pole design, they fold down to an impressively small stash size (38cm/15in). Assembly is simple (just pull down on the slider shaft) and the strong and reliable FlickLock feature means you can adjust the operational height of the pole (105–125cm/41–49in) easily while out on the trail.
Thermarest NeoAir XLite Sleeping Pad
A lightweight, but luxuriously comfortable inflatable sleeping mat
RRP: from $145 (US) / £136 (UK) | Sizes: small/regular/large/regular wide |
Weight (regular): 340g/12oz | Pack Size (regular): 23 x 10cm/ 9 x 4.1in |
Color: lemon curry
Pros
Available in women's specific model
Excellent warmth-to-weight ratio
Cons
Care required to avoid puncture
Light-weight wild-camping adventures don't need to be uncomfortable – especially if your budget can stretch to an inflatable sleeping mat of such superb quality as the NeoAir XLite sleeping pad. Thermarest pioneered high-tech inflatable mats, and this model is the latest incarnation. The sumptuously comfortable mat is 6.4cm (2.5in) thick when inflated, uses a 'triangular core matrix' design to minimize convective heat loss and Therma capture technology to trap radiant heat. The high-performance WingLock valve allows you to inflate the sleeping mat fast, thanks to a larger opening and one-way inflation. The pad includes a breath-saving pump sack, stuff sack and field repair kit.
Petzl Swift RL Head lamp
A powerful, compact and super-smart headtorch, which offers extraordinary power for its weight
RRP: $120 (US) / £72.50 (UK) | Weight (regular): 100g/3.5oz | Light output: 900 lumens | Charging time: 6 hours | Colors: Black/Orange/Blue
Pros
Super lightweight and powerful
Good headband, offering excellent stability
Simple to use
Cons
Spare batteries are expensive
Lightweight adventurers need to get the most out of their kit, and the Petzl Swift RL delivers in spades. This is arguably the ultimate headtorch for weight-conscious campers, offering 900 lumens of light output while tipping the scales at just 100g. Despite its svelte weight, the torch packs in some very clever sensor technology; Petzl's reactive lighting system analyzes the ambient light around you and automatically adjusts the brightness of the beam accordingly. The headband, which is reflective so you can locate it easily, is extremely adjustable and its two-part construction provides excellent stability, keeping the lamp in place even when you're running or taking part in other outdoor sports in the dark. The Swift is designed to be simple to use, with a single button controlling all functions. It's rechargeable via Micro USB, with a five-level gauge enabling you to monitor the level of charge left in the battery.
The Deuce #1 UUL Trowel
RRP: $18.50 (US) / £20 (UK) |Weight: 12g/0.45oz | Colors: Blue/Orange
Pros
Super Lightweight
Brightly colored so easy to find in your pack
Cons
Struggles in really rocky ground
pricey
Weighing about the same as two teaspoons of sugar – much lighter than a traditional 'poo shovel' – the Deuce #1 UUL Trowel is the kind of tool you barely realize you're carrying. With more people using trails all the time, it's more important than ever to adhere to 'Leave No Trace' principles, which means carrying a shovel and making sure that when you need to make like a bear you dig a 'cathole' at least 50m away from any sources of water (and places that might be used by other hikers and campers). The product has a sharp handle that is used first to break up the hard ground, and a scoop to pry the soil away, using the Deuce's spine. The idea is to lift the soil to create a plug, which can be levered off to make a cathole (the ideal size is at least 6-8 inches below the surface). This is an excellent piece of kit for any outdoor user, particularly when walking in wild places where toilets don't exist.
EXPED Air Pillow
An easy to inflate air pillow that packs down super small
RRP: from $35 (US) / £26.50 (UK) | Size: Medium, Large, X-Large | Weight (L): 85g/3oz | Colors: red | Dimensions (L): 46 × 30 x 11cm/18.1 x 11.8 x 4.7in
Pros
Easy to inflate
Packs down small
Soft tricot material that feels premium
Cons
Can move about if using an inflatable sleeping mat
There's nothing worse than going wild camping and forgoing a few luxuries, only to wake up with a stiff neck from a night sleeping on a makeshift pillow made out of a fleece/trousers stuffed into a drybag. For a more decadent night's sleep, try the EXPED Air Pillow. The inflatable pillow ensures your head is raised off the ground, with a divet that contours around your neck, and horizontal contours to support the back of your head. Personal adjustments can be made for those who prefer a softer feel. The Air Pillow has a sturdy flat valve for inflation and deflation, no extra pump required, and there's a simple deflation pin. There are two grommets (little holes either side of the pillow) that allow you to fix the Air Pillow in place using some cord – these are also compatible alongside other EXPED sleeping mats, so the pillow stays put rather than moving about in the night. Another plus point is that the Air Pillow can be used both inside the sleeping bag (medium fits most sleeping bags) while a large can fit certain bags inside but is mainly used outside the bag.
Rab Neutrino Pro 400
A reassuringly snug sleeping bag designed for climbers tackling fast-and-light mountain missions – also the perfect three-season camping cocoon
RRP: £355 (UK) | Weight 819g/1lb 13oz | Length: 190cm/75in (regular) / 205cm/81in (long) | Max user height: 185cm/6ft 1in (regular) 200cm/6ft 6.5in (long) | Packsize: 36x19cm (14-7.5in) Fill: Ethically sourced/ certified European goose down | Comfort: -1°C/30°F | limit: -7°C/14°F | Compatibility: 3-season
Pros
Comfortable
Packable
Lightweight and Warm
Cons
Pricey
Getting a good night's sleep is important when you're out in the hills – and a decent sleeping bag is a vital investment. The Neutrino Pro 400 seamlessly blends functionality and performance and justifies its price tag with the use of durable PERTEX Quantum fabric on the outer, so you know the bag will be able to withstand continual usage in environments from mountain bothies to bivvies. The high-quality 800 fill power goose down (ethically sourced) offers impressive warmth-for-weight as well as packability, and Rab proudly fills each of their sleeping bags in their factory in Derbyshire. This bag's intended use is as a specialist mountaineering piece, where every gram and cubic inch counts, but it's too good a sleeping bag to be reserved solely for elite climbers, particularly since so many of the features that enable the Pro to excel in high alpine environments mean it is also brilliant for backpackers and wild campers. Firstly, the hydrophobic fill and water-resistant shell makes it far more resistant to moisture than most down bags. Generous length and extra room for the upper torso tapering to a contoured footbox means this is a comfortable bag to lie in, whether you're perched on a rock ledge or not. And even the little details are great, like the handy internal stash pocket or the 'noctilucent' zip puller – which means it glows in the dark.
Alpkit Koro Stove
A powerful, titanium stove that is compact yet sturdy
RRP: £45 (UK) | Size: 8 x 8 x 9cm/3.1 x 3.1 x 3.5in | Weight: 124g /4.37oz
Pros
Packs down small (fits inside a pot)
Cools down quickly
Brass pre-heat tube makes the stove more efficient so you can carry less gas
Cons
Armoured Gas hose can be vulnerable to breakage, care required when storing
The competitively priced Koro is the ideal stove for a lightweight wild camping adventure. Standing on three retractable legs, it's very stable to use when cooking up a feast, whether you're boiling a pan of water or using it to fry breakfast. With the canister attachment away from the stove itself, it lends itself to being used alongside a windshield so that less gas is used overall. A large burner head makes it ideal for evenly heating across the pan. The armored gas hose gives the product durability, although care is still required when attaching a gas canister to avoid cross-threading and gas leakage. When wild camping, finding a flat stable surface to cook on can be difficult, so having three retractable legs to support the stove means it's more stable and not perched directly above the canister itself, helping to make your refueling at the end of a long day easy and painless. Finally, the Koro is covered under Alpkit's 3-year Alpine bond, meaning the product is covered under warranty.
Alpkit Mytistax Titanium Pots
A titanium 3-piece pan set including two pots and non-stick frying pan lid.
RRP: £60 (UK) | Size: 13.5cm/5.3in (height) x 14cm/5.5in (external diameter)
|Weight: 272g /9.6oz
Pros
Lightweight
Stackable (packs down into a small mesh bag)
Comes with rubber-coated handles
Cons
Can develop a discolored patina over the surface after use with a stove
Cook up a storm using the Alpkit Mytistax titanium pots – a 3-pot stackable pot set designed for portable cooking. The pots use 0.4mm brushed titanium, and easily fit a medium gas canister and a stove snugly inside, producing a complete camp kitchen that takes up less room. For super lightweight adventures, a 400ml pan can suffice as a pan to boil up water and double up as a mug, while 800ml pan is perfect for boiling up pasta and noodles. The lid helps speed up the boiling process, while the curled lip rims help prevent drippage when pouring water away. The rubber-coated handles help avoid hand burns, although care is required as these can still get hot.
Light My Fire Titanium Spork
Lightweight reusable cutlery, ideal for wild camping
RRP: $11.75 (US) / £12.90 (UK) | Weight: 20g/0.7oz | Length:17cm/6.7in
Pros
More durable than plastic sporks
Heat resistant
Cons
Doesn't come with any bag/sheath
An extra-light cooking utensil that might just do it all – a spoon, a fork and a small serrated edge as a knife – basically the only cutlery you will ever need. Entirely made out of titanium, the spork is easy to clean, yet doesn't leave any taint or taste to detract from the enjoyment of your al fresco feast. Completely rustrproof, heat resistant and non magnetic, the spork can also be popped in the dishwasher when you're back from your wild camping adventures. Just be careful when you're packing – put it in a backpack pocket or somewhere else that it won't put a hole in your expensive inflatable sleeping pad.
All the latest inspiration, tips and guides to help you plan your next Advnture!
A former brand ambassador for Merrell and current Ordnance Survey #GetOutside Champion, Jessie Leong's lifelong outdoor odyssey began with Duke of Edinburgh's Award walks in the Peak District. This segued into long hill hikes in the Yorkshire Dales, multi-day treks in the Lake District, scrambles in North Wales and adventures scaling alpine pinnacles. When not walking, she can be found rock climbing, wild swimming, cycling, photographing, filmmaking, writing and modelling. Jessie's most recent claim to fame is playing a Miss World contestant in the 2020 feature film Misbehaviour.