Black Friday fishing deals: for rods, reels, combos, electronics, kayaks, lures, line, clothing and tackle items
By Ben Hervey-Murray published
All the best Black Friday fishing deals in one place, chosen by our Advnture experts and regularly updated to save you time and money with amazing sale prices on fishing tackle plus great buying advice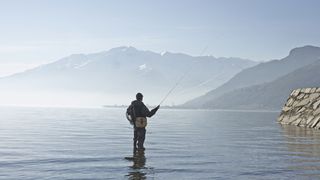 (Image credit: Getty)
If you're the kind of angler who loves a bargain, Black Friday fishing deals are your number one opportunity to score a great deal. Advnture is here to help you find those money–saving discounts with our regularly-updated list of incredible, can't-miss deals, including Cyber Monday fishing sales.
Although generally associated with electronics and big–ticket items, not many people know that lots of tackle retailers also run huge sales offering great Black Friday and Cyber Monday fishing deals on kayaks, rods, reels, line, end tackle, lures, luggage, clothing and more. These prices will probably be the best you'll find all year round as companies compete on price–matched deals and look to offload stock in time for the Christmas rush.
Black Friday bargain hunting also extends to camping and hiking goods, so if you're looking to get kitted out for a real fishing adventure, be sure to check out those pages for a handy guide to the best deals and sales on items that lots of anglers will find useful. Headlamps, waterproof clothing, footwear, tents, beds and camping stoves are just some of the items on sale.
One aspect of Black Friday that anglers should be aware of is that lots of big fishing tackle companies use the sale period to offer incredible deals on models that have recently been superseded by a new version, or to boost awareness and sales of a new model with a discount.
And the great news is that many tackle companies, like car manufacturers, regularly change or update their model line–up, and this often results in lots of great Black Friday fishing deals on equipment like rods, reels and combos (rods and reels combined) We'll list these further down this page, along with more great fishing tackle sale items.
So, whether you're loading up the tackle box in time for your next trip, pressing the button on that new reel you've been hankering after for months, or grabbing family–pleasing gifts for Christmas, this page will help you find the best Black Friday fishing deals and sales out there, saving you a ton of money in the process.
When is Black Friday this year and what is Black Friday?
Black Friday refers to the day after Thanksgiving, which in 2021 falls upon November 26. Traditionally, people worked off their indulgences with a vigorous shopping spree as retailers take advantage of the national holiday time to offer great deals on stock and clear the way for Christmas. But with sales moving increasingly online, Black Friday has quickly become the biggest online shopping day in North America (and beyond) as shoppers score bargains from the comfort of their own home.
When is Cyber Monday and how is it different to Black Friday?
Cyber Monday occurs on the first Monday after Black Friday, on November 29th this year, and is really just an extension of Black Friday, but with greater emphasis on digital-only deals and sales. You can find lots of awesome Cyber Monday deals on fishing tackle below as the same offers will carry on over that period, but with new ones added all the time, it's worth checking back on this page regularly if you want to snare the best prices.
When do Black Friday fishing deals begin and end?
As companies compete to offer the best Black Friday deals, the starting date for many sales is now early November with new offers being posted throughout the month. Thanksgiving week sees a peak in sales activity as people have more time to scour retailer websites for deals, which is something you won't have to do because we've already listed the lots of great Black Friday fishing deals further down this page.
What sort of items are discounted in Black Friday fishing deals?
Almost anything you can think of fishing–wise will be found for sale in Black Friday fishing deals, but generally items like reels, rods, rod and reel combos, fish-finders, polarized glasses, clothing, line, lures, gift sets, starter kits and waders are commonly found at amazing prices. These are the sorts of things that manufacturers refresh every year or so, which creates a situation where retailers often want to get rid of old stock at bargain prices around Black Friday.
The best Black Friday fishing deals: the top 50 best items on sale right now
We've been scouring tackle retailer websites for the best Black Friday fishing deals around, and the following are the best offers we've found with categories for rods, reels, clothing, electronics, fly fishing and general tackle. Check out the amazing $2,000 discount on fish–finders, fillet knives for $4 or Salty Crew shorts for $15!
The best Black Friday fishing deals on electronics
We've hand-picked the best Black Friday deals and sales for offshore fish finders, marine electronics and kayak fish finders - score huge discounts with any of the items below
The best Black Friday fishing deals on reels
The sweetest Black Friday sales on spinning, baitcaster and conventional reels, all hand-picked by our buying experts. Check out the $100-plus discounts on baitcasters!
The best Black Friday fishing rod deals
The biggest Black Friday bargains on fishing rods and poles for all sorts of freshwater and saltwater species
The best Black Friday fishing deals on rod and reel combos
Our Advnture buying experts have scoured the sales for the best Black Friday deals on rod and reel combinations for every species imaginable
The best Black Friday fishing deals on clothing, waterproofs and waders
Looking good and keeping warm whilst you're fishing is easy with these great Black Friday deals on fishing clothing, including sales on waders, shorts, waterproof boots and waterproof jackets.
The best Black Friday fishing deals on tackle, kayaks, storage boxes, bags, polarized glasses and accessories
Fisherfolk love gadgets, tackle and accessories, so here are some awesome Black Friday bargains on kayays, tackle boxes, polarized sunglasses, line, knives and pliers that anybody who fishes will find useful
The best Black Friday deals on fishing lures and lure fishing accessories
Awesome Black Friday deals on lures, lure fishing kits and all sorts of fish catching baits, as selected by our expert buyers for your money-saving delight. Check out the three-pack of awesome Storm baits for less than $5 or 30 crankbaits for $22!
The best Black Friday deals on fly fishing tackle
Fly fishers will find lots of big Black Friday bargains from this hand-picked selection of deals on rods, accessories, Simms gear and fly tying kits, plus a sweet Cyber Monday deal on new Greys fly reels
The best places to get Black Friday fishing deals on rods, reels, combos, tackle, clothing and lures in the US
Lots of retailers regularly update their Black Friday pages, so to help you out we've listed a few of our favorites below for easy bargain hunting. Have a look back regularly for all sorts of heavily–discounted fishing equipment.
Tackle Direct A popular online destination for all sorts of freshwater and saltwater tackle, including big game fishing kit. Lots of clearance items.
Dicks Sporting Goods Outdoor megastore with a massive range of fishing, camping, hunting and shooting equipment on sale. Often shares stock with Cabelas.
Fish USA Giant online fishing store with a decent clearance section that'll grow as Black Friday approaches. Great for any sort of rod, reel, lure or luggage.
Tackle Warehouse A goldmine for bass and freshwater lure anglers, Tackle Warehouse is home to a motherlode of bargains if freshwater is your thing.
Bass Pro Nationwide stores and a huge online inventory make Bass Pro a great place to find Black Friday bargains on all sorts of fishing tackle for bass and any sort of fresh or saltwater species. Massive selection of lures and baits.
Penn Fishing Rod and reel manufacturer Penn often has sales at key times like Black Friday and great deals can be found on last season's models, combos and apparel.
Amazon Fishing Equipment A must–visit for any serious fishing tackle bargain hunter, especially around Black Friday. Tons of deals and great prices on tackle, pliers, lures, line, reels and combos.
Walmart Fishing Department The online behemoth has money–saving deals on tons of tackle including reels, bass lures, lines and beginner sets.
Fishing tackle buying guides
To make choosing the best Black Friday deals as easy as possible, we've put together a selection of our most useful buying guides that'll help you pick the right piece of equipment.
The best fishing line An expert guide to choosing the right type of fishing line.
The best catfish rods and catfish bait Everything you need to hook one of America's favorite fish species.
The best ice fishing rods What you need for a catch when things get chilly.
The best waders you can buy: Tips and info on choosing the perfect pair of waders.
How to catch bass General information on the types of tackle you need to catch lots of bass.
How to pick the right type of sinker A guide to choosing the best type of weights for fishing.
An obsessed fisherman since childhood, Ben's career in fishing has taken him from working as a magazine writer and editor to running his own guiding business in California, where he targets salt and freshwater fish. Ben has decades of experience in selecting the right tackle and honing the best tactics to target all sorts of species, from surf sharks to freshwater catfish, and loves sharing this knowledge. His favorite fishing moments usually involve helping clients catch the fish of a lifetime – and not getting eaten by great white sharks while out on his kayak.
All the latest inspiration, tips and guides to help you plan your next Advnture!
Thank you for signing up to Advnture. You will receive a verification email shortly.
There was a problem. Please refresh the page and try again.