What is breadcrumb navigation on your GPS watch – and when should you use it?
So-called breadcrumb navigation can help to guide you along a route safely in certain situations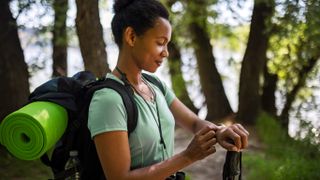 (Image credit: Getty)
Most days, the main function of your GPS watch is to record your adventures. When you get back to the trailhead, you can look at your workout and see where you went plus other details like how long it took you, your average pace and heart rate. Hopefully you feel pretty good about yourself and often you identify areas where you need to train.
It's all handy stuff, but sometimes you might want to use the GPS technology on your watch proactively – as in, to actually help you navigate from A to B. Though it might seem impossible using something as small as a watch face, so-called breadcrumb navigation can help to guide you along a route safely in certain situations. Read on to find out what breadcrumb navigation is and when to use it.
What is breadcrumb navigation on your GPS watch?
The term "breadcrumb" predates your GPS watch and indeed GPS technology by a couple of centuries. It comes, as you probably recall, from the Brothers Grimm fairytale Hansel and Gretel, in which an attempt to lead two innocent children deep into the forest where they won't be able to return home is foiled by the ingenious idea of leaving a surreptitious trail of breadcrumbs. The children are then able to follow the breadcrumbs back and find their way home.
Of course, in real life we all know that dropping breadcrumbs on the forest floor as a navigational aid is a terrible idea. Your mapping would quickly get scoffed up by birds or raccoons or entice a peckish bear to follow you through the woods, plus nobody wants to hike or run carrying a bag of stale breadcrumbs anyway.
However, the idea is a solid one and it's the inspiration behind the breadcrumb navigation feature that's available on most good GPS watches these days, like the Garmin Instinct 2X Solar, Coros Pace 3 and Suunto 9 Peak Pro. On these and other watches, breadcrumbs help you retrace your steps without having to get a giant paper map out.
Breadcrumbs capability varies slightly from watch to watch. In some cases, like the Pace 3, to use breadcrumbs you'll need to download a map to your watch. Once it's on your watch, you can essentially hit Start and follow it.
Many Garmin watches like the Enduro 2 have a TracBack feature which means you can use breadcrumbs to return to your starting point even if you didn't initially download the map.
When you're using breadcrumbs, the map won't offer you all the topographical information and details that you'll get from using a paper map or even a GPX map on your phone; rather, it will show a line indicating the trajectory of the trail, or course, and a chevron indicating where you are on the course, and what direction you're heading in.
In many cases, when you deviate from the trail by a certain distance (usually 10 to 20 meters), your watch will vibrate to alert you and you can take a look, zoom in if you need to, and get back on course. In all honesty, it looks a lot like following the SatNav or Google maps on your phone when you're driving your car or navigating an unfamiliar city.
When should you use breadcrumb navigation?
As you can probably tell, breadcrumb navigation works best when you have a predetermined route in mind, whether it's one that you've created yourself or one you've found online, but with some watches it can also be used if you get lost and don't have a map and compass (you watch should have a compass of course, but it's always good to have a backup that doesn't rely on a batter).
That said, it's not a failsafe approach to navigating in the wild and when it comes to following unfamiliar routes, it's still important to do your research and have backup tools, so you don't end up like the hiker who recently required mountain rescue to get him off a dangerous cliffside after following a non-existent path.
All the latest inspiration, tips and guides to help you plan your next Advnture!
Julia Clarke is a staff writer for Advnture.com and the author of the book Restorative Yoga for Beginners. She loves to explore mountains on foot, bike, skis and belay and then recover on the the yoga mat. Julia graduated with a degree in journalism in 2004 and spent eight years working as a radio presenter in Kansas City, Vermont, Boston and New York City before discovering the joys of the Rocky Mountains. She then detoured west to Colorado and enjoyed 11 years teaching yoga in Vail before returning to her hometown of Glasgow, Scotland in 2020 to focus on family and writing.