Camping in US National Parks: a complete guide
We answer your questions about camping in US National Parks and cover what to expect from frontcountry camping as well as sleeping in the backcountry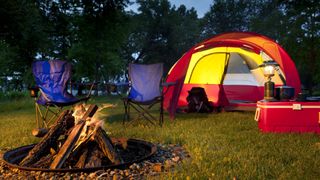 (Image credit: YinYang)
There are very few US National Parks that can be truly experienced in a day. Most of them are so vast that they require several days or even longer to really experience them, and some people visit the biggest parks multiple times and still don't see everything. So how do you plan a trip to a US National Park?
While you can often stay in a plush hotel near the park and drive in each day, there's honestly nothing quite like staying inside the park for your visit. Some of the bigger parks have hotels available, but if your whole reason for visiting a National Park is to get away from the glare of urban lights and power down, why not sleep in the wild? In this article, we answer your questions about camping in US National Parks and cover what to expect from frontcountry camping as well as sleeping in the backcountry.
Can you camp in US National Parks?
You can camp in pretty much every US National Park. National Parks are supported by taxpayer money and intended to preserve areas of natural beauty for the enjoyment of current and future generations. As such, they're intended to be accessible to visitors of all ages, with extremely affordable entrance fees and lots and lots of camping. In fact, the National Parks Service states that between its 63 parks, there are over 130 campgrounds to choose from.
The only exception that we could find to this rule was the National Park of American Samoa, where camping is prohibited but homestays are available. There are also smaller National Parks, such as Carlsbad Caverns, that have no frontcountry camping but do allow backcountry camping.
If you're thinking about camping in a US National Park, use this tool to find a campground.
How much does it cost to camp in US National Parks?
The cost of camping in a US National Park varies from park to park, campground to campground, and even season to season. However, to give you a general ballpark figure, camping fees in US National Parks are typically between $5 and $30 per night for a family site, and a little more for a group site. All in all, your camping fee is likely to be one of the smaller expenses of your trip, and you'll experience significant savings over staying in a hotel, especially if you're travelling with kids.
Camping in US National Parks: what to expect from frontcountry camping
Frontcountry camping is an amazing way to experience a National Park, as the campsites are usually centrally located and close to all the hikes and sights you'll want to visit. There might even be shuttle buses, meaning you can ditch the car for the duration of your visit.
In US National Parks, frontcountry campsites can vary quite a bit from one park to another, and the best way to know exactly what's on offer is to phone ahead. However, below are some common aspects that you can usually expect from a frontcountry campsite.
1. You'll need to make reservations in advance
In peak camping season (which basically means from spring all the way through the fall) it's unusual to be able to get a campsite without a reservation. Although cancellations do happen, campsites are often booked up for months in advance, especially in the more popular parks. In Yosemite for example, you're advised to book your campsite five months in advance. Plan ahead, and if you do leave it till the last minute, try visiting one of the least crowded National Parks for a better shot at finding a spot.
2. Easy check in
When you arrive at the park, you'll have to pass through the ranger station to enter the park where you'll pay your entrance fee or show your National Park permit. Here you can ask for directions to your campground.
Once you arrive at the campground, you'll check in and be told which campsite you have, and if it's a big campground you'll even be given a handy map. The campsites are usually arranged along circular roads and typically, you'll be able to drive all the way to your campsite, which will be marked with a number.
3. Good amenities
Although amenities vary from one campground to another, you can guarantee that you'll have a place to park your car, a clearing for your tent, a picnic table to eat your meals at and a fire ring indicating the only place suitable for a campfire. The campsites will also usually be wheelchair accessible, and often you will be able to bring your dog, however there will always be restrictions when it comes to camping with dogs. Some parks do have shops and restaurants, while for others you'll need to bring all your own food and camping stove.
In addition, there will be toilets (usually flushable) and sometimes even showers that you can pay to use. In parks where there is active wildlife such as bears, there will also be food storage lockers provided where should store all food and toiletries when not in use.
4. No cell service or Wi-Fi
What you gain in amenities in National Parks, you're likely to lose in cell and internet service. Though there is sometimes cell service in National Parks, you're unlikely to have any access to phone or internet while you're at the campground. We recommend that you enjoy the break from screen time and listen to the birds chirping instead.
5. Lots of people
OK, so this isn't a rule of thumb, exactly, but if you're seeking solitude, you're probably not going to find it at a frontcountry campground in a National Park. These campsites are highly coveted and in peak summer season, you're likely to be camping with dozens or even hundreds of other people.
Fortunately, the campsites are typically well spaced out so you won't be on top of one another, and it can be a good opportunity to stroll over to another group and make new friends.
Of course, more people means more noise and vehicles moving through the campground at all hours, but campgrounds do have designated quiet hours and the chances are high that most people there share a respect for nature and other campers. Plus, everyone has probably spent the day hiking and you'll find that the general population usually hits the hay pretty early.
6. Park rangers
Wondering who enforces those quiet hours? You can definitely expect park rangers to be on patrol to make sure campers are safe and behaving themselves. This also means there's always someone knowledgeable and friendly nearby to answer any questions you might have.
Camping in US National Parks: what to expect from backcountry camping
So let's say that big crowds aren't your thing, do you have to nix the idea of camping in a US National Park altogether? Fortunately, no. Most US National Parks do allow backcountry camping, although unsurprisingly, that doesn't mean you can just pitch your tent wherever you want either.
You'll have to call ahead and check with the park you plan to visit, but most US National Parks will have designated areas where backcountry camping is permitted, and within that area, you can camp pretty much wherever you want (though it's important to understand where not to camp).
Backcountry camping is a lot more labor intensive and unpredictable than frontcountry camping, but it's a spectacular way to immerse yourself in the natural environment and explore the road less travelled. Here are a few things you can expect from backcountry camping in a US National Park:
1. You'll need a permit
Even though you can camp anywhere, that doesn't mean you don't need to register your presence. You'll most likely need to apply for a permit, often called a wilderness permit, and these are limited to control crowds, so it's best to apply ahead of time. These come at a nominal fee, not usually more than $10.
2. You'll be on foot
In case it's not obvious, you won't be driving to your campsite in this scenario. To access the wilderness, you'll be doing so on two feet, carrying everything you need in your backpack. If this is all new to you, you'll need to study up on how to plan a backpacking adventure to make sure you're prepared.
3. You'll have to keep moving
The thought of just setting up camp in some sweeping valley miles from anywhere and living there for a couple of weeks sounds incredible, but sadly, it's not allowed. In US National Parks, backcountry is intended for you to travel through a certain area, so you'll need to plan a route, camp for one night in each place, then move on in the morning.
4. Natural amenities
Hopefully it's clear that in the wild, there won't be toilets and picnic tables available to you, and you'll need to know how to poop in the woods, but that doesn't mean there won't be amenities available to you. Expect abundant peace and quiet, lots of wildlife (and learn about wildlife safety before you go), heaps of beautiful scenery, inky dark night skies for stargazing, and ample time to disconnect and recover from the hectic pace of modern life.
All the latest inspiration, tips and guides to help you plan your next Advnture!
Julia Clarke is a staff writer for Advnture.com and the author of the book Restorative Yoga for Beginners. She loves to explore mountains on foot, bike, skis and belay and then recover on the the yoga mat. Julia graduated with a degree in journalism in 2004 and spent eight years working as a radio presenter in Kansas City, Vermont, Boston and New York City before discovering the joys of the Rocky Mountains. She then detoured west to Colorado and enjoyed 11 years teaching yoga in Vail before returning to her hometown of Glasgow, Scotland in 2020 to focus on family and writing.