How to plan a camping trip: 7 steps get you ready to camp
From reserving your campsite to testing your gear, our guide explaining how to plan a camping trip will give you confidence in the outdoors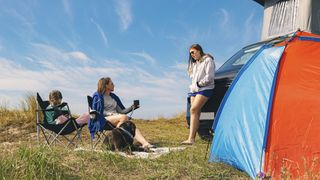 (Image credit: Justin Paget)
So you want to go camping. Great idea! Camping is a fun, healthy and relatively inexpensive way to commune with the outdoors. You get to switch off the screens, escape the hustle and bustle of urban life, and return to nature where you can eat and sleep under the stars.
But if you're new to camping, there's so much to know. What kind of tent do you need? How do you find a campsite? Where do you go to the bathroom? This guide will explain how to plan a camping trip, giving you guidance to prepare for a successful – and enjoyable – adventure under canvas. In addition, you'll want to check out our list of 12 common camping mistakes before you go.
1. Decide where you want to go
Knowing where you want to go camping involves knowing what kind of camping you want to do. There's backpacking, where you carry everything on your back and hike in to a remote destination, and then there's car camping where you load up the car and drive to a paid campsite. There's also RV and pop-up camping for a tent-free experience.
Backpacking is going to be the more minimalist – and adventurous – approach. You can only bring what you can carry so you'll need a good backpack, some lightweight gear (such as a one-person tent) and you'll want to have some knowledge of outdoor safety, navigation and be prepared for no amenities that you don't bring with you (read our article on how to poop in the woods).
If you'd prefer a developed campground where you pay for a site and have amenities like toilets and picnic tables, you can drive in which means you are not so limited in what you can bring with. This won't be such a rough and wild experience – you'll almost certainly be sharing the campgrounds with other people – but it's a good way to ease in to camping.
Camping in a camper van or RV opens up lots of opportunities too. The main benefit is that there's no real set up required for camp. Once you arrive, you can just park and sleep. But you have the added factor of finding a place to legally park. Not all campgrounds accept RVs so you'll want to research that ahead of time so you don't end up camping in a truck drivers rest stop. On that note, if you're camping in a tent and want a peaceful experience, you may want to pick a campground that doesn't allow RVs so you don't have to listen to the hum of generators and engines all night.
2. Reserve your campsite
If you've decided on a developed campground, don't assume you can just roll in and there will be room for you. Camping is becoming ever more fashionable and developed campgrounds are very popular with families, especially during the summer months. In National Parks, campsites can be reserved as early as a year in advance and competition for a spot is often fierce. Make sure you've booked your site ahead of time to avoid disappointment or you might spend the evening driving around looking for a place to sleep.
If you're planning on wild camping, you can't make a reservation but you should still research the area where you intend to pitch your tent and make sure that it's allowed – not all public land is fair game. Which brings us to our next point...
3. Research your destination
Once you've decided where you're going, do some research on the campsite and the area. This can range from mundane details such as what amenities are available and whether or not bear lockers are provided to fun stuff like what activities are available nearby. This will help you make sure you've packed everything you need, and once you arrive you can't rely on having internet connection to look things up like where the nearby grocery stores and hiking trails are.
4. Plan your meals
Meal planning can be one of the best parts of camping. If you're planning backpacking meals, you'll need to rely on cold, ready-to-eat food or have a lightweight camping stove. With the best camping stoves, you'll be able to enjoy a hot meal and perhaps even coffee, but you'll still want to pack light, easy meals like freeze dried meals, packed tuna and boxed noodles.
With car and van camping, your menu can be much more varied. In addition to a bigger double-burner camping stove, you can pack frying pans to put over the fire or bring a BBQ grill. If there are picnic tables available or you bring a folding table, you can even be slicing and dicing veggies to go in your meals. But when it comes to perishable food, like meat and vegetables, remember that you're reliant on how much ice you have in your cooler. You might find a campground that sells ice, but if not you'll want to make sure to eat any perishable food items first before they go off, then switch to non-perishables.
In all types of camping, it's probably best not to rely on being able to cook over an open fire. It's definitely possible, but it's much more difficult to control the temperature of live flames than it is over your stove at home, so you can end up with undercooked, overcooked or unevenly cooked food which can leave you with food poisoning. The other potential problem with campfire cooking is availability of dry firewood. If conditions are damp, you're not likely to be able to get a fire going, so even if you're dead set on cooking over the fire, make sure you bring a camping stove as a backup. In the worst of conditions, these can be set up on a picnic table under a tarp and you can still enjoy a hot meal on a chilly night.
Speaking of chilly nights...
5. Prepare for all weather conditions
You can't control the weather, but you can prepare for it. The thing about getting drenched while camping is there's no real way to dry off again. Wet clothes inside your tent mean damp, uncomfortable conditions, and if your best sleeping bag is filled with down, you could be in for a cold night. The most important thing to pack is a waterproof jacket, regardless of the forecast. These are lightweight and pack down small and will keep your clothes underneath dry and your body warm. If you're expecting to see a lot of precipitation, you'll want to consider waterproof trousers and shoes as well.
Even in hot desert areas, temperatures can really drop overnight, so you'll want to pack base layers which pack down small but provide lots of warmth as well as one warmer outer layer like a fleece that can also double as a pillow at night.
If you're car camping, you might want to pack a tarp or pop-up tent that can provide shelter from the elements. These also provide good sun shade if the weather is a little too good.
6. Test your gear
The next thing you'll want to do is test out your gear a couple of nights before you leave in order to make sure that it all works, and that you know how to work it. Practice setting up your tent, make sure your sleeping pad doesn't leak air and ensure your headlamp doesn't need new batteries. Check your camping stove works and has enough fuel, make sure your lighters still work and your first aid kit is properly stocked. It might seem like a drag, but what may take an hour or two could save you plenty in time and frustration when you get to your campsite – and this way you'll have plenty of time to replace any faulty equipment.
7. Make a packing list
We should have mentioned this earlier, but all this time you should have been making a camping checklist of what you need to bring. Sleeping on the ground? You'll need a sleeping pad and a sleeping bag that's the right warmth for where you're going. Driving in? You have room to bring a proper pillow if you want. Planning on cooking over a fire? Make sure you have a lighter. Items like bug spray and headlamps are absolute must-haves for any camping experience. Make a list as you go then cross the items off as you pack them to keep track. You'll want to pack ahead of time too, to make sure everything fits.
Once you get out into the wild, you may have no way of picking up provisions, so plan ahead and make sure you have what you need to really enjoy your time. Now you're ready to get out there!
All the latest inspiration, tips and guides to help you plan your next Advnture!
Julia Clarke is a staff writer for Advnture.com and the author of the book Restorative Yoga for Beginners. She loves to explore mountains on foot, bike, skis and belay and then recover on the the yoga mat. Julia graduated with a degree in journalism in 2004 and spent eight years working as a radio presenter in Kansas City, Vermont, Boston and New York City before discovering the joys of the Rocky Mountains. She then detoured west to Colorado and enjoyed 11 years teaching yoga in Vail before returning to her hometown of Glasgow, Scotland in 2020 to focus on family and writing.